Broadway Show Ticket Sales Analysis w/e 4/20/2014
Broadway Show Ticket Sales Analysis For Week Ending 04/20/2014 Overall An Excellent Week In The Box Office With Two Shows Breaking Two Million Dollar Mark.
---
The Two Million Dollar Club
Two heavy hitting shows, Wicked and The Lion King, both managed to cross the threshold into the two million dollar gross mark this past week. Whereas grossing over one million dollars is already a significant achievement for any show, even a musical, these two crowd-pleasing musicals continue to show incredible success at the box office.
The reason is that each show played nine performances this past week, which is one higher than the usual 8. The producers of both shows must have been aiming to capitalize on the higher tourist traffic due to spring break, as well as the finally balmy weather.
"Wicked" Holds The Record For The Highest Weekly Gross Of All Time
Wicked, which has now been running for over 10 years, holds the record for the highest weekly gross of all time, which was $3.2 million over nine performances in the last week of 2013. The Lion King, which has been running since fall 1997, was the highest grossing show of 2013, pulling in $97 million throughout the year.
This past week, Wicked grossed a whomping $2,769,554, which was an increase of $839,192 from the previous week. With a top ticket price of $300, this show has not resorted to price gauging for premium tickets as much as, say, The Book of Mormon, which charges as much as $477 for premium seats, granted in a smaller theatre.
"Lion King" Sees A Big Increase In Sales
Filling its 17,352 seats to 100% capacity, Wicked earned 146.44% of its gross potential due to premium ticket pricing. The Lion King, on the other hand, also made it into the two million dollar club, grossing $2,543,377 this past week over its nine performances, which was an increase of $628,440 from the previous week.
The Lion King had a top ticket price of only $197.50, which demonstrates restraint of the part of the show's producers, and with an average ticket price of $166.19, the show grossed $102.54% of its gross potential.
Overall An Excellent Week On Broadway
With few exceptions, every show experienced an increase in gross ticket sales in the week ending April 20, 2014. The four shows that went down did so only slightly, all losing under $100,000 from the previous week.
Hedwig and the Angry Inch grossed $68,797 less than last week, presumably due to complimentary press tickets given out in anticipation of its wildly successful opening. Mothers and Sons, Of Mice and Men, and The Velocity of Autumn all went down a relatively small amount as well. Overall, however, this was a hugely successful week on Broadway.
The following are the Broadway ticket sales numbers for the week ending April 20, 2014: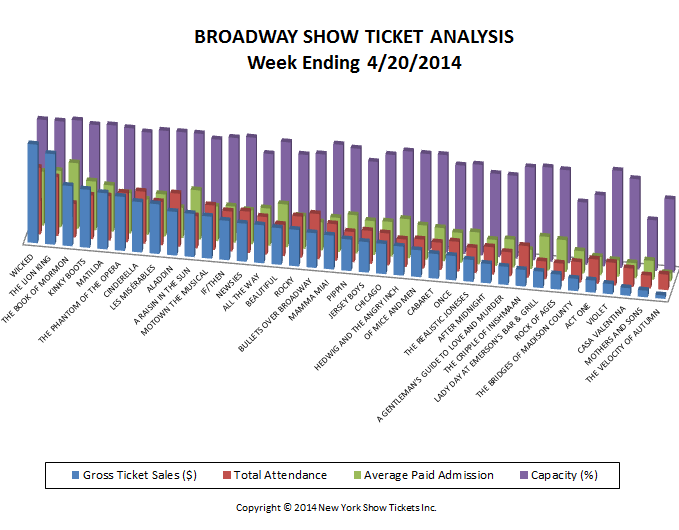 | | | | | |
| --- | --- | --- | --- | --- |
| Show | GrossGross | Total Attn | %Cap | AvgPdAdm |
| A GENTLEMAN'S GUIDE TO LOVE AND MURDER | $507,224 | 6,201 | 85.46% | $81.80 |
| A RAISIN IN THE SUN | $1,212,665 | 8,368 | 100.00% | $144.92 |
| ACT ONE | $340,604 | 6,344 | 73.15% | $53.69 |
| AFTER MIDNIGHT | $542,801 | 7,112 | 85.81% | $76.32 |
| ALADDIN | $1,225,128 | 13,797 | 100.09% | $88.80 |
| ALL THE WAY | $1,067,173 | 9,729 | 85.52% | $109.69 |
| BEAUTIFUL | $1,027,244 | 8,147 | 99.26% | $126.09 |
| BULLETS OVER BROADWAY | $974,076 | 11,730 | 89.95% | $83.04 |
| CABARET | $692,319 | 7,094 | 100.42% | $97.59 |
| CASA VALENTINA | $212,097 | 4,796 | 93.09% | $44.22 |
| CHICAGO | $845,382 | 8,275 | 95.78% | $102.16 |
| CINDERELLA | $1,412,944 | 13,529 | 96.58% | $104.44 |
| HEDWIG AND THE ANGRY INCH | $815,295 | 7,116 | 100.95% | $114.57 |
| IF/THEN | $1,104,188 | 10,372 | 98.89% | $106.46 |
| JERSEY BOYS | $854,430 | 8,556 | 87.09% | $99.86 |
| KINKY BOOTS | $1,629,283 | 11,341 | 99.55% | $143.66 |
| LADY DAY AT EMERSON'S BAR & GRILL | $459,071 | 4,640 | 97.19% | $98.94 |
| LES MISÉRABLES | $1,396,410 | 11,258 | 99.88% | $124.04 |
| MAMMA MIA! | $950,480 | 9,472 | 101.54% | $100.35 |
| MATILDA | $1,577,093 | 11,542 | 100.75% | $136.64 |
| MOTHERS AND SONS | $187,192 | 3,355 | 52.29% | $55.79 |
| MOTOWN THE MUSICAL | $1,179,643 | 11,533 | 95.66% | $102.28 |
| NEWSIES | $1,069,367 | 10,756 | 100.85% | $99.42 |
| OF MICE AND MEN | $755,158 | 7,508 | 99.96% | $100.58 |
| ONCE | $681,763 | 7,732 | 91.27% | $88.17 |
| PIPPIN | $882,705 | 7,843 | 99.03% | $112.55 |
| ROCK OF AGES | $421,341 | 4,477 | 95.99% | $94.11 |
| ROCKY | $1,022,747 | 10,654 | 87.85% | $96.00 |
| THE BOOK OF MORMON | $1,689,905 | 8,752 | 102.63% | $193.09 |
| THE BRIDGES OF MADISON COUNTY | $345,270 | 5,243 | 64.32% | $65.85 |
| THE CRIPPLE OF INISHMAAN | $463,064 | 8,212 | 95.67% | $56.39 |
| THE LION KING | $2,543,377 | 15,304 | 100.03% | $166.19 |
| THE PHANTOM OF THE OPERA | $1,517,305 | 12,759 | 99.37% | $118.92 |
| THE REALISTIC JONESES | $613,441 | 6,532 | 93.64% | $93.91 |
| THE VELOCITY OF AUTUMN | $94,400 | 4,011 | 75.49% | $23.54 |
| VIOLET | $283,182 | 5,879 | 100.12% | $48.17 |
| WICKED | $2,769,554 | 17,352 | 100.00% | $159.61 |
| Totals: | $35,365,319 | 327,321 | 93.11% | $100.32 |
Broadway ticket sales raw data are provided courtesy of The Broadway League All other data, text, opinion, charts and commentary are copyright © 2014 nytix.com