Broadway Show Ticket Sales Analysis w/e 4/06/2014
Broadway Show Ticket Sales Analysis For Week Ending 04/06/2014 Overall Slow Week With Two New Shows Performing Poorly In The Box Office.
---
New Shows This Week Struggle At The Box Office

There were two plays that started previews this past week, both of which did relatively poorly at the box office. Casa Valentina, Harvey Fierstein's world premiere play directed by Joe Mantello, only grossed $155,775 over the course of 7 performances.
Though the show filled up to the moderate average capacity of 75.74%, these performances were highly discounted, as the average paid admission was only $45.20. Even with many Broadway stalwarts leading the cast such as Patrick Page, Reed Birney, John Cullum, and Patrick Page, there were no A-list Hollywood names to attract pre-sales, and only miraculous post-opening reviews will make this a hit.
"The Velocity Of Autumn" Earned Only 20% Of Its Gross Potential
Furthermore, The Velocity of Autumn did even less well, grossing $135,307 also over 7 performances. With an average paid of admission of only $39.96 and an average capacity of 62.2%, this play earned only 20.2% of its gross potential, as the Booth Theatre is larger than the Samuel J. Friedman Theatre, where Casa Valentina plays.
Fortunately for the latter, Casa Valentina is a Manhattan Theater Club production, which takes off some financial pressure for its producers due to being underwritten by a non-profit organization.
Long-Running Musicals On Their Last Legs

Several musicals that have done very well over the course of their run are looking to be in their final months. Jersey Boys, which has been running since 2005 with frequent ventures into the millionaires club, only grossed $647,306 this past week, down $90,078 from the previous week.
Furthermore, Rock of Ages, which has succeeded in wooing the traditionally elusive heterosexual male market since its Broadway premiere in 2009, only grossed $340,194 this past week, down $36,100 from the previous week.
"Mamma Mia!" Hoping For A Strong Summer
In addition, Mamma Mia!, which recently transferred to the Imperial Theatre from its home since 2001, the prominently placed Winter Garden Theatre, only took in $551,065 this week, down $122,902 from the week before.
Of course, many factors go into a show's decision to close after a lengthy run, and it is possible that the producers of these shows will decide to float through weeks of losses in hopes that their shows will resuscitate in the warmer summer season. Interestingly, all of these musicals have been adapted to film versions, including Jersey Boys which will be released in June 2014.
.
The following are the Broadway ticket sales numbers for the week ending April 6, 2014: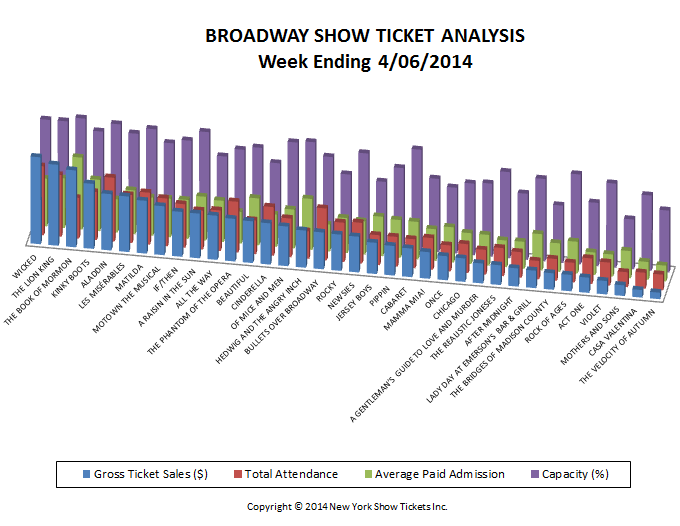 | | | | | |
| --- | --- | --- | --- | --- |
| Show | GrossGross | Total Attn | %Cap | AvgPdAdm |
| A GENTLEMAN'S GUIDE TO LOVE AND MURDER | $415,509 | 5,332 | 73.48% | $77.93 |
| A RAISIN IN THE SUN | $929,151 | 8,368 | 100.00% | $111.04 |
| ACT ONE | $316,124 | 5,513 | 63.57% | $57.34 |
| AFTER MIDNIGHT | $377,050 | 5,511 | 66.49% | $68.42 |
| ALADDIN | $1,170,038 | 13,779 | 99.96% | $84.91 |
| ALL THE WAY | $917,842 | 8,761 | 77.01% | $104.76 |
| BEAUTIFUL | $868,034 | 7,298 | 88.91% | $118.94 |
| BULLETS OVER BROADWAY | $765,755 | 11,210 | 85.97% | $68.31 |
| CABARET | $594,765 | 6,257 | 101.23% | $95.06 |
| CASA VALENTINA | $155,775 | 3,446 | 75.74% | $45.20 |
| CHICAGO | $486,529 | 6,213 | 71.91% | $78.31 |
| CINDERELLA | $857,341 | 10,502 | 74.97% | $81.64 |
| HEDWIG AND THE ANGRY INCH | $772,606 | 5,968 | 99.27% | $129.46 |
| IF/THEN | $931,268 | 9,419 | 89.81% | $98.87 |
| JERSEY BOYS | $647,306 | 6,458 | 65.74% | $100.23 |
| KINKY BOOTS | $1,351,725 | 10,380 | 91.12% | $130.22 |
| LADY DAY AT EMERSON'S BAR & GRILL | $363,460 | 3,958 | 82.91% | $91.83 |
| LES MISÉRABLES | $1,153,829 | 10,377 | 92.06% | $111.19 |
| MAMMA MIA! | $551,065 | 6,856 | 73.50% | $80.38 |
| MATILDA | $1,096,734 | 11,243 | 98.14% | $97.55 |
| MOTHERS AND SONS | $221,430 | 3,214 | 50.09% | $68.90 |
| MOTOWN THE MUSICAL | $1,016,236 | 10,318 | 85.58% | $98.49 |
| NEWSIES | $743,632 | 8,795 | 92.77% | $84.55 |
| OF MICE AND MEN | $823,309 | 8,366 | 97.46% | $98.41 |
| ONCE | $500,434 | 5,607 | 66.18% | $89.25 |
| PIPPIN | $615,583 | 6,429 | 81.17% | $95.75 |
| ROCK OF AGES | $340,194 | 4,223 | 90.54% | $80.56 |
| ROCKY | $753,365 | 8,485 | 69.96% | $88.79 |
| THE BOOK OF MORMON | $1,598,000 | 8,750 | 102.60% | $182.63 |
| THE BRIDGES OF MADISON COUNTY | $341,175 | 4,707 | 57.74% | $72.48 |
| THE LION KING | $1,683,062 | 13,362 | 98.25% | $125.96 |
| THE PHANTOM OF THE OPERA | $884,496 | 10,966 | 85.40% | $80.66 |
| THE REALISTIC JONESES | $410,334 | 6,045 | 86.65% | $67.88 |
| THE VELOCITY OF AUTUMN | $135,307 | 3,386 | 62.17% | $39.96 |
| VIOLET | $278,904 | 4,963 | 84.52% | $56.20 |
| WICKED | $1,806,067 | 14,901 | 98.14% | $121.20 |
| Totals: | $26,873,431 | 279,366 | 82.81% | $91.20 |
Broadway ticket sales raw data are provided courtesy of The Broadway League All other data, text, opinion, charts and commentary are copyright © 2014 nytix.com
Discount Broadway Tickets
---
---