Broadway Show Ticket Sales Analysis w/e 2/23/2014
---
ALL THE WAY BEGINS STRONG BUT NOT ALL THE WAY YET
All The Way
began previews just two weeks ago and already made the top half spectrum of the Broadway Show Ticket Analysis Chart (see below) with the Broadway ticket gross of $726,190. Not too shabby for a Broadway show that has not even opened yet but Broadway ticket sales may be affected by the star playing Lyndon B. Johnson,
Breaking Bad's
Brian Cranston allowing the show to hold an average Broadway ticket price of $95.79. Gross ticket sales may be high in relation to the other Broadway shows but average capacity of the
Neil Simon Theatre
was at a mere 66.64%. Achieving the gross potential for ticket sales will require the show to go
All The Way!
MOTHERS AND SONS FEATURING TYNE DALY PREVIEWS
Mothers and Sons
, featuring American stage/screen actress, Tyne Daly, began previews on February 23, 2014. Though it seems to be the lowest grossing show according to the Broadway Show Ticket Analysis chart below, it is only considering one performance. Next week's sales should better indicate where the Broadway show stands in relation to the other Broadway shows.
The following are the Broadway ticket sales numbers for the week ending February 23, 2014: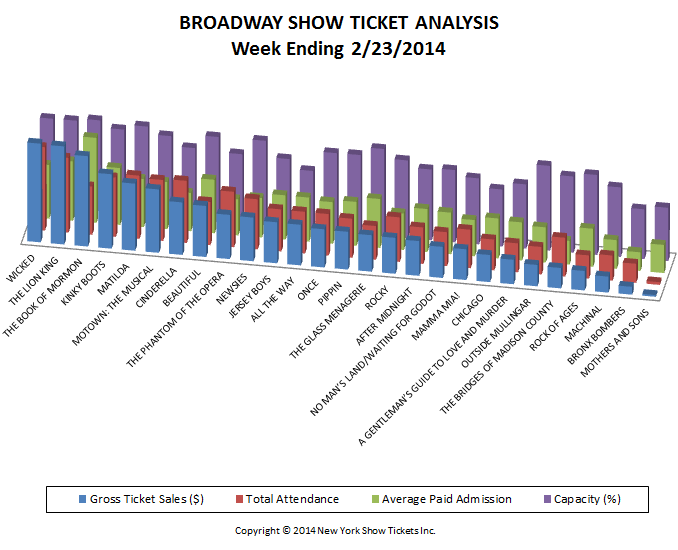 | | | | | |
| --- | --- | --- | --- | --- |
| Show | GrossGross | Total Attn | %Cap | AvgPdAdm |
| A GENTLEMAN'S GUIDE TO LOVE AND MURDER | $436,762 | 5,275 | 72.70% | $82.80 |
| AFTER MIDNIGHT | $621,483 | 6,636 | 80.07% | $93.65 |
| ALL THE WAY | $726,190 | 7,581 | 66.64% | $95.79 |
| BEAUTIFUL | $913,047 | 7,849 | 95.63% | $116.33 |
| BRONX BOMBERS | $140,446 | 3,462 | 56.35% | $40.57 |
| CHICAGO | $484,604 | 5,585 | 64.64% | $86.77 |
| CINDERELLA | $939,356 | 11,300 | 80.67% | $83.13 |
| JERSEY BOYS | $734,020 | 7,635 | 77.72% | $96.14 |
| KINKY BOOTS | $1,331,106 | 10,769 | 94.53% | $123.61 |
| MACHINAL | $285,728 | 4,583 | 78.80% | $62.35 |
| MAMMA MIA! | $549,515 | 6,982 | 74.85% | $78.70 |
| MATILDA | $1,200,517 | 11,492 | 100.31% | $104.47 |
| MOTHERS AND SONS | $29,638 | 485 | 60.47% | $61.11 |
| MOTOWN: THE MUSICAL | $1,134,039 | 11,075 | 91.86% | $102.40 |
| NEWSIES | $780,736 | 9,101 | 96.00% | $85.79 |
| NO MAN'S LAND/WAITING FOR GODOT | $555,256 | 6,147 | 81.84% | $90.33 |
| ONCE | $683,111 | 7,551 | 89.13% | $90.47 |
| OUTSIDE MULLINGAR | $382,274 | 4,995 | 96.06% | $76.53 |
| PIPPIN | $675,859 | 7,080 | 89.39% | $95.46 |
| ROCK OF AGES | $348,778 | 4,221 | 90.50% | $82.63 |
| ROCKY | $642,830 | 8,091 | 88.02% | $79.45 |
| THE BOOK OF MORMON | $1,616,666 | 8,752 | 102.63% | $184.72 |
| THE BRIDGES OF MADISON COUNTY | $364,888 | 7,047 | 86.45% | $51.78 |
| THE GLASS MENAGERIE | $652,206 | 6,137 | 98.60% | $106.27 |
| THE LION KING | $1,754,208 | 13,585 | 99.89% | $129.13 |
| THE PHANTOM OF THE OPERA | $791,098 | 10,080 | 78.50% | $78.48 |
| WICKED | $1,765,925 | 15,141 | 99.72% | $116.63 |
| Totals: | $20,540,284 | 208,637 | 84.89% | $92.42 |