Broadway Show Ticket Sales Analysis w/e 12/9/2012
Broadway Show Ticket Sales Analysis For Week Ending 12/09/2012 Reflects An Increase In Ticket Sales As Holiday Tourists Flock To Holiday-Themed Shows
---
Broadway Ticket Sales On The Rise

The total Broadway ticket sales for this past week rose from $22,154,853 to $23,837,823. As an infusion of holiday tourists are enjoying the delights of Christmas in New York City, many of them are including a trip to at least one Broadway show on their itinerary, making the producers to many Broadway musicals and plays quite happy.
"Scandalous" Goes Out With A Whimper
Even in its final week on Broadway, Kathie Lee Gifford's musical Scandalous ended its run with the worst gross on Broadway, only earning $177,438. Reviews were largely negative, but the show's quick demise is a misfortune for the musical's star, the very talented Broadway stalwart Carolee Carmello, and for the audiences who are missing the chance to see her in a starring role.
Holiday Audiences Put "Annie" And "A Christmas Story" Over One Million
With the exception of the highly lucrative Thanksgiving week, Annie and A Christmas Story had not been topping the million dollar mark, but that changed this week. Both musicals enjoyed entry into the millionaires' club, no doubt to do their family-friendly holiday appeal, making them ideal choices for vacationing families looking for a Broadway show to see.
The following are the Broadway ticket sales numbers from the week ending December 9, 2012: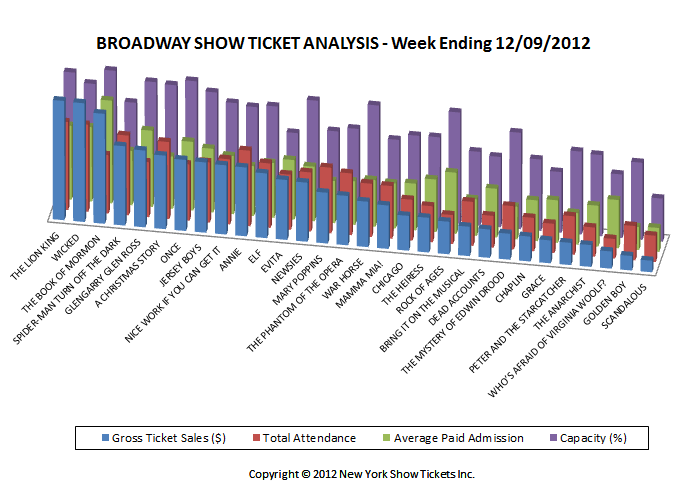 | | | | | |
| --- | --- | --- | --- | --- |
| Show Name | Gross | Attendance | Capacity | Avg Paid Adm |
| A CHRISTMAS STORY | $1,130,429 | 11,517 | 95.02% | $98.15 |
| ANNIE | $1,058,727 | 11,300 | 82.70% | $93.69 |
| BRING IT ON THE MUSICAL | $451,614 | 6,593 | 61.78% | $68.50 |
| CHAPLIN | $382,852 | 5,007 | 59.89% | $76.46 |
| CHICAGO | $535,666 | 6,109 | 70.71% | $87.68 |
| DEAD ACCOUNTS | $436,664 | 4,767 | 59.06% | $91.60 |
| ELF | $994,479 | 9,653 | 84.73% | $103.02 |
| EVITA | $920,994 | 8,243 | 63.92% | $111.73 |
| GLENGARRY GLEN ROSS | $1,181,244 | 8,239 | 96.16% | $143.37 |
| GOLDEN BOY | $222,902 | 5,126 | 64.72% | $43.48 |
| GRACE | $351,456 | 4,391 | 50.87% | $80.04 |
| JERSEY BOYS | $1,080,834 | 9,040 | 92.02% | $119.56 |
| MAMMA MIA! | $668,042 | 7,883 | 65.78% | $84.74 |
| MARY POPPINS | $780,056 | 9,831 | 68.38% | $79.35 |
| NEWSIES | $908,298 | 8,852 | 92.59% | $102.61 |
| NICE WORK IF YOU CAN GET IT | $1,064,228 | 9,735 | 84.56% | $109.32 |
| ONCE | $1,092,379 | 8,456 | 99.91% | $129.18 |
| PETER AND THE STARCATCHER | $341,942 | 5,773 | 69.52% | $59.23 |
| ROCK OF AGES | $500,557 | 4,351 | 93.29% | $115.04 |
| SCANDALOUS | $177,438 | 3,946 | 36.16% | $44.97 |
| SPIDER-MAN TURN OFF THE DARK | $1,219,093 | 11,947 | 77.38% | $102.04 |
| THE ANARCHIST | $335,045 | 4,369 | 68.10% | $76.69 |
| THE BOOK OF MORMON | $1,689,972 | 8,752 | 102.63% | $193.10 |
| THE HEIRESS | $533,874 | 5,399 | 70.96% | $98.88 |
| THE LION KING | $1,833,258 | 13,164 | 98.12% | $139.26 |
| THE MYSTERY OF EDWIN DROOD | $398,767 | 6,491 | 80.81% | $61.43 |
| THE PHANTOM OF THE OPERA | $758,912 | 9,239 | 71.95% | $82.14 |
| WAR HORSE | $698,128 | 7,964 | 93.12% | $87.66 |
| WHO'S AFRAID OF VIRGINIA WOOLF? | $264,854 | 2,921 | 53.36% | $90.67 |
| WICKED | $1,825,121 | 13,043 | 90.13% | $139.93 |
| Total: | $23,837,823 | 232,101 | 76.61% | $97.12 |
Broadway ticket sales raw data are provided courtesy of The Broadway League All other data, text, opinion, charts and commentary are copyright © 2012 nytix.com