Broadway Show Ticket Sales Analysis w/e 12/8/2013
Broadway Show Ticket Sales Analysis For Week Ending 12/08/2013 Show Strong Sales For The Week With Wicked Joining The Two-Millionaires Club
---
Good Ticket Sales This Week

Although Broadway couldn't hope to enjoy the hot box office of the recent Thanksgiving Week (which saw an impressive $31,531,067 in sales), this week's overall ticket revenue was nonetheless very strong at $27,935,664 in total sales.

Wicked Is The Sole Member Of The Two-Millionaires Club

It wasn't altogether surprising that Broadway's mighty trio -- Wicked, The Lion King, and The Book of Mormon -- each earned over $2 million in ticket sales over Thanksgiving, but even post-Thanksgiving week is bringing big audiences to these musicals. One of them, Wicked, even succeeded in making over two million this week, taking in a total of $2,036,322.
Romeo And Juliet Comes To A Tragic End
William Shakespeare's sad love story for the ages, Romeo and Juliet, ended its run at the Richard Rodgers Theatre on Broadway this past Sunday, and things weren't looking good for the star-crossed lovers in their final week on Broadway.
At 55% capacity, the theater was barely half full, and the average admission price was only $66.04, which is somewhat surprising given that the famed tragedy featured film star Orlando Bloom as Romeo himself.
The following are the Broadway ticket sales numbers from the week ending December 8, 2013: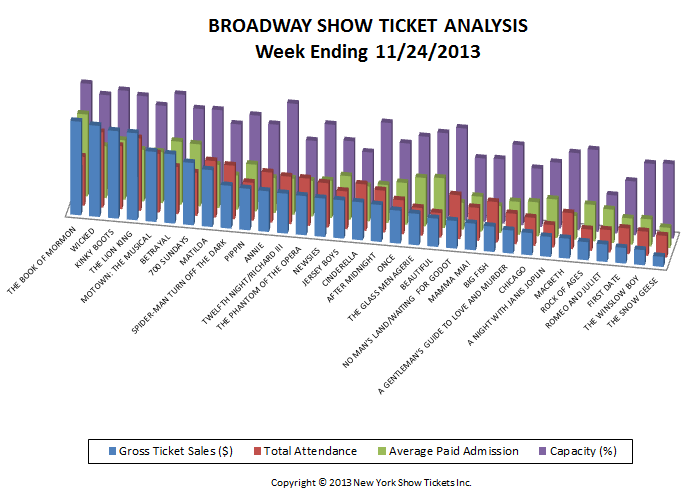 | | | | | |
| --- | --- | --- | --- | --- |
| Show | GrossGross | Total Attn | %Cap | AvgPdAdm |
| 700 SUNDAYS | $1,197,109 | 8,031 | 91.12% | $149.06 |
| A GENTLEMAN'S GUIDE TO LOVE AND MURDER | $531,198 | 5,807 | 80.03% | $91.48 |
| A NIGHT WITH JANIS JOPLIN | $393,840 | 4,438 | 72.90% | $88.74 |
| AFTER MIDNIGHT | $658,456 | 6,747 | 81.41% | $97.59 |
| ANNIE | $928,775 | 10,535 | 92.67% | $88.16 |
| BEAUTIFUL | $814,141 | 7,470 | 91.01% | $108.99 |
| BETRAYAL | $1,267,872 | 8,424 | 100.00% | $150.51 |
| BIG FISH | $571,516 | 8,082 | 71.60% | $70.71 |
| CHICAGO | $561,309 | 6,676 | 77.27% | $84.08 |
| CINDERELLA | $952,103 | 10,380 | 74.10% | $91.72 |
| FIRST DATE | $378,214 | 5,407 | 63.22% | $69.95 |
| JERSEY BOYS | $1,030,341 | 8,618 | 87.72% | $119.56 |
| KINKY BOOTS | $1,741,845 | 11,364 | 99.75% | $153.28 |
| MACBETH | $364,191 | 5,589 | 66.73% | $65.16 |
| MAMMA MIA! | $651,660 | 7,529 | 80.71% | $86.55 |
| MATILDA | $1,190,187 | 11,122 | 97.08% | $107.01 |
| MOTOWN: THE MUSICAL | $1,563,294 | 11,593 | 96.16% | $134.85 |
| NEWSIES | $796,482 | 8,408 | 88.69% | $94.73 |
| NO MAN'S LAND/WAITING FOR GODOT | $645,781 | 7,579 | 88.29% | $85.21 |
| ONCE | $772,700 | 6,811 | 80.39% | $113.45 |
| PIPPIN | $876,605 | 7,290 | 92.05% | $120.25 |
| ROCK OF AGES | $437,535 | 4,438 | 95.15% | $98.59 |
| ROMEO AND JULIET | $387,100 | 5,862 | 55.55% | $66.04 |
| SPIDER-MAN TURN OFF THE DARK | $987,825 | 12,374 | 97.71% | $79.83 |
| THE BOOK OF MORMON | $1,877,347 | 8,752 | 102.63% | $214.50 |
| THE GLASS MENAGERIE | $521,121 | 4,517 | 72.57% | $115.37 |
| THE LION KING | $1,955,923 | 12,625 | 92.83% | $154.92 |
| THE PHANTOM OF THE OPERA | $863,893 | 9,781 | 76.18% | $88.32 |
| THE SNOW GEESE | $186,087 | 3,799 | 73.06% | $48.98 |
| TWELFTH NIGHT/RICHARD III | $794,894 | 8,120 | 96.57% | $97.89 |
| WICKED | $2,036,322 | 15,261 | 99.72% | $133.43 |
| Totals: | $27,935,664 | 253,429 | 85.00% | $105.45 |
Broadway ticket sales raw data are provided courtesy of The Broadway League All other data, text, opinion, charts and commentary are copyright © 2013 nytix.com
Discount Broadway Tickets
---
---