Broadway Show Ticket Sales Analysis w/e 12/23/2012
Broadway Show Ticket Sales Analysis For Week Ending 12/23/2012 Reflects Strong Pre-Christmas Ticket Sales And Two Shows Exceeding $2 Million
---
Strong Pre-Christmas Ticket Sales

This past week's ticket sales reflected a kind of "pre-Christmas" period, as many people had already begun gathering for the holiday at the end of the week ending 12/23. Accordingly, Broadway saw a boost in total ticket revenue, bringing in $25,850,274 (up well over $2 million from the previous week's $23,488,097).
"The Lion King" And "Wicked" Exceed 2 Million
Disney's The Lion King won the week, earning a total of $2,129,609, and Wicked was close at its heels at $2,100,170. The third Broadway show in the mighty trio of top earners, The Book of Mormon, was uncharacteristically quite a bit further behind at $1,684,372. However, that difference of roughly $500,000 in sales is not due to any lag on Mormon's part, which sells out at top ticket prices week after week, but is rather due to the fact that Wicked and Lion King have much larger theaters and therefore much larger earning potential.
Another Bad Week For "Picnic And The Other Place"
The revival Picnic and the new play The Other Place, both of which just recently began performances on Broadway, had another difficult week. With reviews not yet out, and any little potential word of mouth drowned out by the distraction of the more tourist-friendly shows that are popular at Christmas, these two plays each brought in approximately $149,000, making them by far the lowest earners of the week.
The following are the Broadway ticket sales numbers from the week ending December 23, 2012: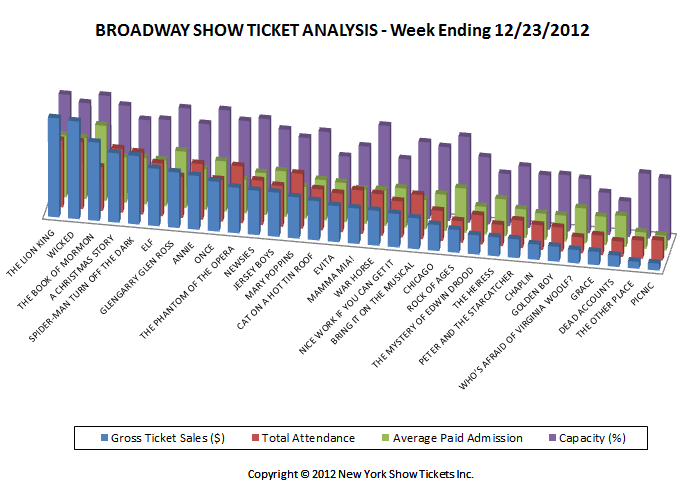 | | | | | |
| --- | --- | --- | --- | --- |
| Show Name | Gross | Attendance | Capacity | AvgPaidAdm |
| A CHRISTMAS STORY | $1,491,488 | 12,784 | 93.76% | $116.67 |
| ANNIE | $1,156,962 | 11,156 | 81.65% | $103.71 |
| BRING IT ON THE MUSICAL | $664,725 | 8,848 | 82.91% | $75.13 |
| CAT ON A HOT TIN ROOF | $843,215 | 8,194 | 84.58% | $102.91 |
| CHAPLIN | $327,970 | 4,912 | 58.76% | $66.77 |
| CHICAGO | $558,489 | 6,018 | 79.60% | $92.80 |
| DEAD ACCOUNTS | $243,154 | 3,076 | 38.11% | $79.05 |
| ELF | $1,233,926 | 10,547 | 82.30% | $116.99 |
| EVITA | $774,870 | 7,718 | 59.85% | $100.40 |
| GLENGARRY GLEN ROSS | $1,194,666 | 8,284 | 96.69% | $144.21 |
| GOLDEN BOY | $319,723 | 4,815 | 60.80% | $66.40 |
| GRACE | $284,889 | 3,927 | 45.49% | $72.55 |
| JERSEY BOYS | $950,424 | 8,166 | 83.12% | $116.39 |
| MAMMA MIA! | $761,891 | 8,701 | 72.61% | $87.56 |
| MARY POPPINS | $888,346 | 10,968 | 76.29% | $80.99 |
| NEWSIES | $952,451 | 8,871 | 92.79% | $107.37 |
| NICE WORK IF YOU CAN GET IT | $720,127 | 7,216 | 62.68% | $99.80 |
| ONCE | $1,070,355 | 8,335 | 98.48% | $128.42 |
| PETER AND THE STARCATCHER | $402,773 | 5,493 | 66.15% | $73.32 |
| PICNIC | $149,300 | 3,949 | 66.71% | $37.81 |
| ROCK OF AGES | $490,315 | 4,323 | 92.69% | $113.42 |
| SPIDER-MAN TURN OFF THE DARK | $1,471,237 | 12,386 | 80.22% | $118.78 |
| THE BOOK OF MORMON | $1,684,372 | 8,752 | 102.63% | $192.46 |
| THE HEIRESS | $406,273 | 4,292 | 56.41% | $94.66 |
| THE LION KING | $2,129,609 | 13,421 | 100.04% | $158.68 |
| THE MYSTERY OF EDWIN DROOD | $413,229 | 5,832 | 72.61% | $70.86 |
| THE OTHER PLACE | $149,652 | 3,610 | 70.07% | $41.45 |
| THE PHANTOM OF THE OPERA | $978,948 | 11,394 | 88.74% | $85.92 |
| WAR HORSE | $749,792 | 8,294 | 96.98% | $90.40 |
| WHO'S AFRAID OF VIRGINIA WOOLF? | $286,937 | 3,205 | 58.55% | $89.53 |
| WICKED | $2,100,170 | 13,426 | 92.77% | $156.43 |
| Total: | $25,850,274 | 240,913 | 77.26% | $99.41 |
Broadway ticket sales raw data are provided courtesy of The Broadway League All other data, text, opinion, charts and commentary are copyright © 2012 nytix.com