Broadway Show Ticket Sales Analysis w/e 12/15/2013
Broadway Show Ticket Sales Analysis For Week Ending 12/15/2013 Show Lower Week In Ticket Sales Despite The Busy Holiday Season
---
Broadway Sales Fall

Though Broadway ticket sales continue to ride a holiday high, bringing in more money than usual due to the city's high tourist presence, this week's total was lower than the previous week's by well over a million, falling from $27,935,664 down to $26,577,878.
The Snow Geese Ends With Poor Sales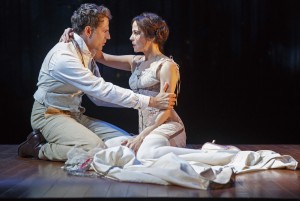 The limited-run Manhattan Theatre Club play The Snow Geese, starring Mary-Louise Parker, enjoyed some acclaim for the play's writing and performances.
But the production's sales were unimpressive, and in its final week it was actually the lowest earner on the Broadway chart, taking in only $130,484. Attendance was decent at 75.38%, but the average paid admission was a mere $38.04.

Nine Broadway Shows Make Over A Million
This week, a total of nine Broadway shows earned over a million dollars. Only two -- 700 Sundays and Betrayal -- are plays, with musicals as usual being the larger draw for the audience.
Newer musicals Kinky Boots, Matilda, and Motown made the Millionaires Club, as well as soon-to-be-closing Spider-man. And Broadway's three top earners, The Book of Mormon, The Lion King, and Wicked, all came fairly close to earning two million.
The following are the Broadway ticket sales numbers from the week ending December 15, 2013: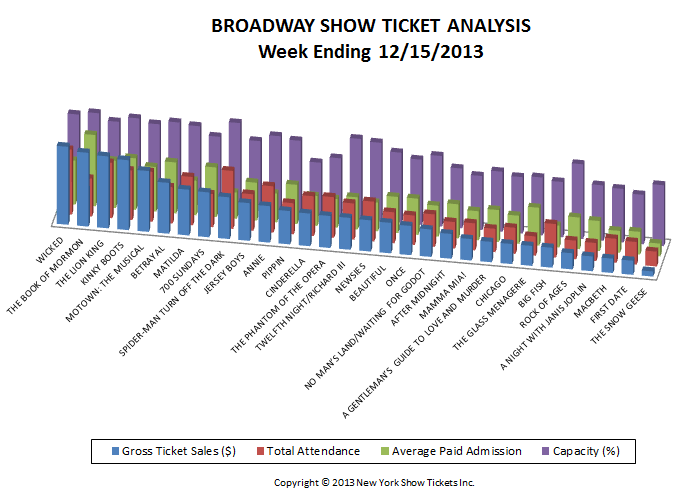 | | | | | |
| --- | --- | --- | --- | --- |
| Show | GrossGross | Total Attn | %Cap | AvgPdAdm |
| 700 SUNDAYS | $1,134,137 | 7,649 | 86.78% | $148.27 |
| A GENTLEMAN'S GUIDE TO LOVE AND MURDER | $516,342 | 5,405 | 74.49% | $95.53 |
| A NIGHT WITH JANIS JOPLIN | $373,869 | 4,176 | 68.59% | $89.53 |
| AFTER MIDNIGHT | $626,198 | 6,131 | 73.97% | $102.14 |
| ANNIE | $921,884 | 10,685 | 93.99% | $86.28 |
| BEAUTIFUL | $771,883 | 7,137 | 86.95% | $108.15 |
| BETRAYAL | $1,284,344 | 8,424 | 100.00% | $152.46 |
| BIG FISH | $503,315 | 7,721 | 68.40% | $65.19 |
| CHICAGO | $507,963 | 6,042 | 69.93% | $84.07 |
| CINDERELLA | $824,748 | 9,201 | 65.68% | $89.64 |
| FIRST DATE | $355,595 | 5,241 | 61.28% | $67.85 |
| JERSEY BOYS | $953,819 | 8,423 | 85.74% | $113.24 |
| KINKY BOOTS | $1,768,672 | 11,464 | 100.63% | $154.28 |
| MACBETH | $363,665 | 5,566 | 66.45% | $65.34 |
| MAMMA MIA! | $541,254 | 6,243 | 66.93% | $86.70 |
| MATILDA | $1,157,142 | 11,178 | 97.57% | $103.52 |
| MOTOWN: THE MUSICAL | $1,538,154 | 11,527 | 95.61% | $133.44 |
| NEWSIES | $789,589 | 9,192 | 96.96% | $85.90 |
| NO MAN'S LAND/WAITING FOR GODOT | $694,111 | 7,489 | 87.24% | $92.68 |
| ONCE | $737,982 | 6,818 | 80.48% | $108.24 |
| PIPPIN | $844,011 | 7,179 | 90.64% | $117.57 |
| ROCK OF AGES | $408,587 | 4,312 | 92.45% | $94.76 |
| SPIDER-MAN TURN OFF THE DARK | $1,054,823 | 13,405 | 105.85% | $78.69 |
| THE BOOK OF MORMON | $1,865,333 | 8,752 | 102.63% | $213.13 |
| THE GLASS MENAGERIE | $504,266 | 4,460 | 71.66% | $113.06 |
| THE LION KING | $1,818,825 | 12,809 | 94.18% | $142.00 |
| THE PHANTOM OF THE OPERA | $809,501 | 9,414 | 73.32% | $85.99 |
| THE SNOW GEESE | $130,484 | 3,430 | 75.38% | $38.04 |
| TWELFTH NIGHT/RICHARD III | $805,442 | 8,368 | 99.52% | $96.25 |
| WICKED | $1,971,945 | 15,008 | 98.84% | $131.39 |
| Totals: | $26,577,878 | 242,849 | 84.41% | $104.78 |
Broadway ticket sales raw data are provided courtesy of The Broadway League All other data, text, opinion, charts and commentary are copyright © 2013 nytix.com