Broadway Show Ticket Sales Analysis w/e 11/17/2013
Broadway Show Ticket Sales Analysis For Week Ending 11/17/2013 After A Huge Jump Last Week, Ticket Sales Are Down By Nearly One Million Dollars
---
Broadway Ticket Sales Down By A Million

While Broadway experienced a significant jump in overall revenue the previous week, the most recent numbers show that weekly ticket sales have dropped by nearly a million, falling from $25,659,018 to $24,670,329.
IL Divo Serandes Broadway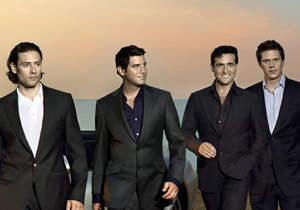 The Italian classical/pop quartet Il Divo, accompanied by Broadway and R&B artist Heather Headley, began a Broadway concert engagement this past week with Il Divo: A Musical Affair.
If the grosses are any indication, Broadway audiences have been thoroughly charmed by the group, filling the theater to 95.54% capacity and paying the hefty average admission price of $141.57 per ticket.
A Time To Kill Ends Broadway Run

It was a time to close for A Time to Kill this past Sunday, as the dramatic play (based on the John Grisham novel of the same name) ended its open run after a short and unprofitable time on Broadway. Though the theater was more than 3/4 full during the show's final week, the average paid admission was rather low at just $46.48.
The following are the Broadway ticket sales numbers from the week ending November 17, 2013: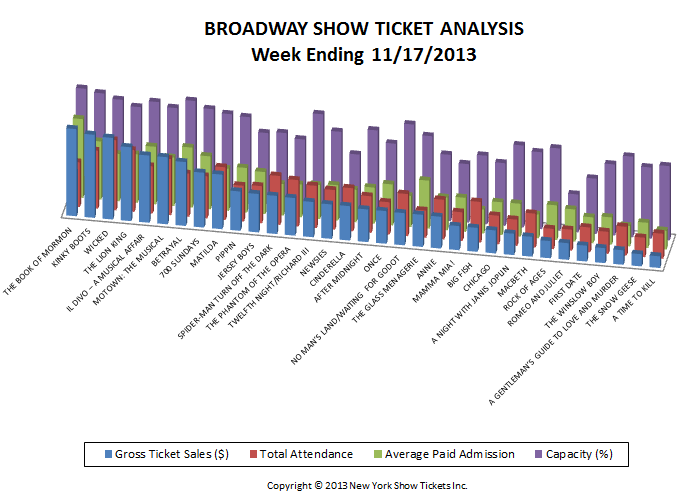 | | | | | |
| --- | --- | --- | --- | --- |
| Show | GrossGross | Total Attn | %Cap | AvgPdAdm |
| 700 SUNDAYS | $1,067,922 | 8,214 | 93.19% | $130.01 |
| A GENTLEMAN'S GUIDE TO LOVE AND MURDER | $281,423 | 5,614 | 82.66% | $50.13 |
| A NIGHT WITH JANIS JOPLIN | $415,279 | 5,125 | 84.18% | $81.03 |
| A TIME TO KILL | $227,390 | 4,892 | 76.25% | $46.48 |
| AFTER MIDNIGHT | $635,690 | 7,156 | 86.34% | $88.83 |
| ANNIE | $619,968 | 7,723 | 67.94% | $80.28 |
| BETRAYAL | $1,243,485 | 8,424 | 100.00% | $147.61 |
| BIG FISH | $465,471 | 7,942 | 70.36% | $58.61 |
| CHICAGO | $447,810 | 5,561 | 64.36% | $80.53 |
| CINDERELLA | $669,091 | 8,397 | 59.94% | $79.68 |
| FIRST DATE | $307,911 | 4,854 | 56.76% | $63.43 |
| IL DIVO – A MUSICAL AFFAIR | $1,308,223 | 9,241 | 95.54% | $141.57 |
| JERSEY BOYS | $747,961 | 7,239 | 73.69% | $103.32 |
| KINKY BOOTS | $1,617,270 | 11,329 | 99.45% | $142.75 |
| MACBETH | $386,505 | 6,607 | 78.88% | $58.50 |
| MAMMA MIA! | $468,848 | 5,604 | 60.08% | $83.66 |
| MATILDA | $1,062,604 | 10,279 | 89.73% | $103.38 |
| MOTOWN: THE MUSICAL | $1,306,070 | 10,978 | 91.06% | $118.97 |
| NEWSIES | $670,758 | 7,741 | 81.66% | $86.65 |
| NO MAN'S LAND/WAITING FOR GODOT | $627,102 | 8,215 | 95.70% | $76.34 |
| ONCE | $634,402 | 6,302 | 74.39% | $100.67 |
| PIPPIN | $764,960 | 6,997 | 88.35% | $109.33 |
| ROCK OF AGES | $334,693 | 3,938 | 84.43% | $84.99 |
| ROMEO AND JULIET | $323,734 | 4,102 | 38.87% | $78.92 |
| SPIDER-MAN TURN OFF THE DARK | $742,595 | 9,540 | 75.33% | $77.84 |
| THE BOOK OF MORMON | $1,695,855 | 8,752 | 102.63% | $193.77 |
| THE GLASS MENAGERIE | $626,521 | 5,313 | 85.36% | $117.92 |
| THE LION KING | $1,437,598 | 12,064 | 88.71% | $119.16 |
| THE PHANTOM OF THE OPERA | $731,704 | 9,048 | 70.47% | $80.87 |
| THE SNOW GEESE | $235,648 | 3,807 | 73.21% | $61.90 |
| THE WINSLOW BOY | $291,311 | 4,323 | 73.02% | $67.39 |
| TWELFTH NIGHT/RICHARD III | $686,649 | 8,238 | 97.98% | $83.35 |
| WICKED | $1,587,882 | 13,681 | 94.53% | $116.06 |
| Totals: | $24,670,329 | 247,240 | 80.46% | $94.36 |
Broadway ticket sales raw data are provided courtesy of The Broadway League All other data, text, opinion, charts and commentary are copyright © 2013 nytix.com