Broadway Show Ticket Sales Analysis w/e 11/10/2013
Broadway Show Ticket Sales Analysis For Week Ending 11/10/2014 Shows A Big Jump In Ticket Sales As We Approach The Lucrative Holiday Season
---
Big Jump In Broadway Ticket Sales

After a few weeks of falling sales, Broadway ticket sales made a big leap this week. Overall revenue swelled by more than $3 million, increasing from last week's $22,476,709 to $25,659,018. This change is a strong sign that Broadway is officially entering its lucrative holiday season.
Billy Crystal Plays "700 Sundays"
Actor Billy Crystal has arrived on Broadway with a bang, starting preview performance of 700 Sundays at the Imperial Theatre this week. This return engagement of Crystal's one-man Broadway show filled its theater to 87.20% capacity, selling tickets at an impressive average ticket price of $149.29, which already earned 700 Sundays entry into the Millionaire's Club (at a weekly total of $1,147,436).
"The Book Of Mormon" Beats "Lion King"
Like last week, Wicked made the top of the Broadway grosses chart, taking in $1,864,819. However, perhaps the more notable fact was that The Book of Mormon came in second (at $1,767,155) ahead of third place finisher The Lion King ($1,705,540), which is an uncommon occurrence given the much smaller size of The Book of Mormon's theater and the enduring popularity of The Lion King.
The following are the Broadway ticket sales numbers from the week ending November 10, 2013: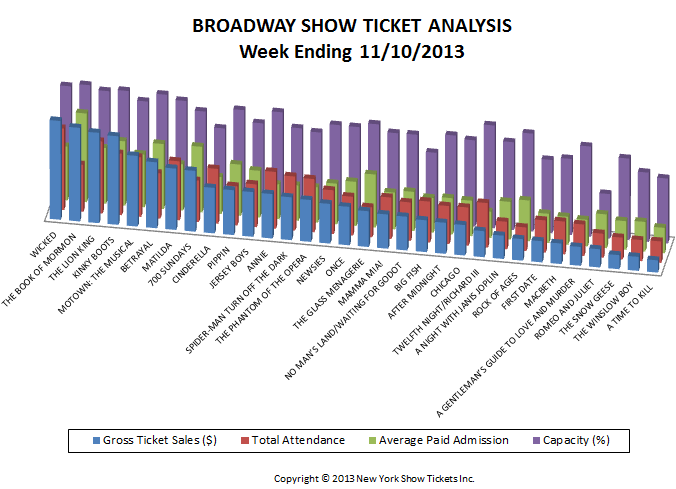 | | | | | |
| --- | --- | --- | --- | --- |
| Show | GrossGross | Total Attn | %Cap | AvgPdAdm |
| 700 SUNDAYS | $1,147,436 | 7,686 | 87.20% | $149.29 |
| A GENTLEMAN'S GUIDE TO LOVE AND MURDER | $354,837 | 5,865 | 86.35% | $60.50 |
| A NIGHT WITH JANIS JOPLIN | $438,961 | 5,107 | 83.89% | $85.95 |
| A TIME TO KILL | $230,794 | 3,991 | 62.20% | $57.83 |
| AFTER MIDNIGHT | $585,515 | 7,076 | 85.38% | $82.75 |
| ANNIE | $838,833 | 10,569 | 92.97% | $79.37 |
| BETRAYAL | $1,245,258 | 8,424 | 100.00% | $147.82 |
| BIG FISH | $600,339 | 7,595 | 67.28% | $79.04 |
| CHICAGO | $575,717 | 7,122 | 82.43% | $80.84 |
| CINDERELLA | $858,663 | 10,177 | 72.65% | $84.37 |
| FIRST DATE | $399,240 | 6,002 | 70.18% | $66.52 |
| JERSEY BOYS | $843,189 | 7,933 | 80.75% | $106.29 |
| KINKY BOOTS | $1,671,806 | 11,433 | 100.36% | $146.23 |
| MACBETH | $387,834 | 6,099 | 72.82% | $63.59 |
| MAMMA MIA! | $645,791 | 7,715 | 82.71% | $83.71 |
| MATILDA | $1,157,911 | 10,956 | 95.64% | $105.69 |
| MOTOWN: THE MUSICAL | $1,333,883 | 11,085 | 91.95% | $120.33 |
| NEWSIES | $749,821 | 8,110 | 85.55% | $92.46 |
| NO MAN'S LAND/WAITING FOR GODOT | $635,850 | 7,118 | 82.92% | $89.33 |
| ONCE | $725,833 | 7,225 | 85.28% | $100.46 |
| PIPPIN | $846,955 | 7,270 | 91.79% | $116.50 |
| ROCK OF AGES | $406,067 | 4,372 | 93.74% | $92.88 |
| ROMEO AND JULIET | $343,802 | 4,480 | 42.46% | $76.74 |
| SPIDER-MAN TURN OFF THE DARK | $810,162 | 10,036 | 79.25% | $80.73 |
| THE BOOK OF MORMON | $1,767,155 | 8,752 | 102.63% | $201.91 |
| THE GLASS MENAGERIE | $674,956 | 5,575 | 89.57% | $121.07 |
| THE LION KING | $1,705,540 | 13,398 | 98.51% | $127.30 |
| THE PHANTOM OF THE OPERA | $790,698 | 9,869 | 76.86% | $80.12 |
| THE SNOW GEESE | $264,903 | 4,058 | 78.04% | $65.28 |
| THE WINSLOW BOY | $264,605 | 3,922 | 66.25% | $67.47 |
| TWELFTH NIGHT/RICHARD III | $491,847 | 8,263 | 98.28% | $59.52 |
| WICKED | $1,864,819 | 15,175 | 99.94% | $122.89 |
| Totals: | $25,659,018 | 252,458 | 83.93% | $96.71 |
Broadway ticket sales raw data are provided courtesy of The Broadway League All other data, text, opinion, charts and commentary are copyright © 2013 nytix.com