Broadway Show Ticket Sales Analysis w/e 1/5/2013
Broadway Show Ticket Sales Analysis For Week Ending 01/05/2014 Reflects A Post-Christmas Drop In Ticket Sales And Impacts Of The First Major Snowstorm Of The Season
---
Post-Christmas Broadway Sales Drop

It's not surprising at all that, following the Broadway box office bonanza of Christmas week (which brought in a total of $38,783,854 in sales), Broadway saw sales fall this week.
However, this week's $31,143,670 in total revenue is still a very high weekly take, and it's clearly due to the continued burst of business brought in by tourists visiting NYC for New Year's. This was also the week that New York City got hit with its first major snow storm of the season, but fortunately the storm didn't come until New Year's Eve and New Year's Day had passed.
Final Week For Five Shows
This was the last week for five different Broadway shows, which concluded their runs this weekend. 700 Sundays, Annie, Betrayal, and Spider-Man: Turn Off the Dark all enjoyed big sales in their final week, each making over a million (at $1,782,904, Spider-man led the pack and was the 4th highest grossing show of the week).
First Date lagged behind, bringing in a total of $563,371. But the romantic musical comedy still did decent business, filling to 87.01% capacity and earning $75.71 per ticket.
The following are the Broadway ticket sales numbers for the week ending January 5, 2014: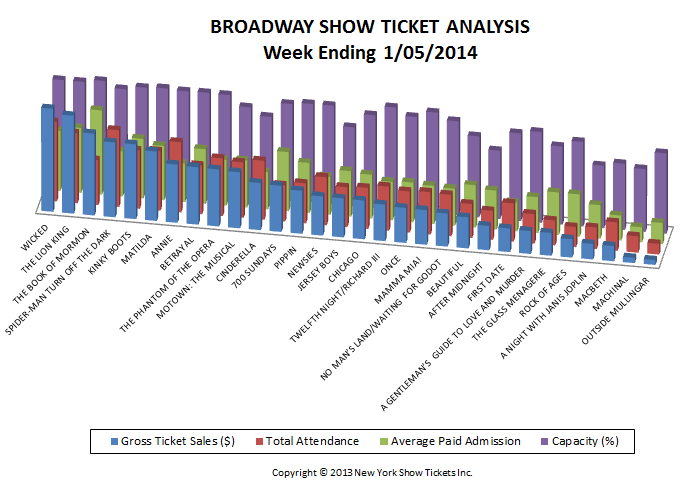 | | | | | |
| --- | --- | --- | --- | --- |
| Show | GrossGross | Total Attn | %Cap | AvgPdAdm |
| 700 SUNDAYS | $1,101,241 | 7,060 | 96.12% | $155.98 |
| A GENTLEMAN'S GUIDE TO LOVE AND MURDER | $544,066 | 5,724 | 90.16% | $95.05 |
| A NIGHT WITH JANIS JOPLIN | $369,944 | 4,177 | 62.16% | $88.57 |
| AFTER MIDNIGHT | $579,804 | 5,637 | 68.01% | $102.86 |
| ANNIE | $1,387,296 | 13,619 | 99.67% | $101.86 |
| BEAUTIFUL | $740,451 | 6,602 | 80.43% | $112.16 |
| BETRAYAL | $1,367,059 | 9,477 | 100.00% | $144.25 |
| CHICAGO | $923,074 | 7,973 | 92.28% | $115.78 |
| CINDERELLA | $1,123,628 | 11,431 | 81.60% | $98.30 |
| FIRST DATE | $563,371 | 7,441 | 87.01% | $75.71 |
| JERSEY BOYS | $928,795 | 7,707 | 78.45% | $120.51 |
| KINKY BOOTS | $1,781,938 | 11,348 | 99.61% | $157.03 |
| MACBETH | $362,880 | 5,518 | 65.88% | $65.76 |
| MACHINAL | $126,078 | 3,176 | 62.41% | $39.70 |
| MAMMA MIA! | $825,532 | 8,190 | 100.34% | $100.80 |
| MATILDA | $1,654,803 | 11,544 | 100.77% | $143.35 |
| MOTOWN: THE MUSICAL | $1,334,907 | 10,758 | 89.23% | $124.09 |
| NEWSIES | $934,998 | 9,304 | 98.14% | $100.49 |
| NO MAN'S LAND/WAITING FOR GODOT | $786,972 | 8,035 | 93.60% | $97.94 |
| ONCE | $834,442 | 7,979 | 94.18% | $104.58 |
| OUTSIDE MULLINGAR | $116,334 | 2,078 | 79.92% | $55.98 |
| PIPPIN | $1,026,769 | 7,766 | 98.06% | $132.21 |
| ROCK OF AGES | $439,311 | 3,921 | 84.07% | $112.04 |
| SPIDER-MAN TURN OFF THE DARK | $1,782,904 | 14,895 | 96.37% | $119.70 |
| THE BOOK OF MORMON | $1,948,385 | 8,752 | 102.63% | $222.62 |
| THE GLASS MENAGERIE | $542,803 | 4,835 | 77.68% | $112.27 |
| THE LION KING | $2,332,390 | 13,603 | 100.02% | $171.46 |
| THE PHANTOM OF THE OPERA | $1,357,647 | 11,195 | 99.64% | $121.27 |
| TWELFTH NIGHT/RICHARD III | $871,219 | 8,561 | 101.82% | $101.77 |
| WICKED | $2,454,630 | 15,424 | 100.00% | $159.14 |
| Totals: | $31,143,670 | 253,730 | 89.34% | $115.11 |
Broadway ticket sales raw data are provided courtesy of The Broadway League All other data, text, opinion, charts and commentary are copyright © 2013 nytix.com