Broadway Show Ticket Sales Analysis w/e 1/27/2013
Broadway Show Ticket Sales Analysis For Week Ending 01/27/2013 Reflects Another Drop In Ticket Sales, And Evita Starring Ricky Martin Concludes
---
Broadway Ticket Sales Down Again

Total Broadway ticket sales appear to be in a bit of a yo-yo pattern this month, having been at nearly $18 million a couple weeks ago, jumping up to more than $19 million last week, and now back down to $17,182,845.
"Evita" Ends Its Run Still Topping One Million

The Broadway revival of Evita starring Ricky Martin concluded its Broadway run this past Saturday. Due largely to Martin's presence, the Andrew Lloyd Webber / Tim Rice musical has enjoyed big numbers throughout its run, frequently topping the million mark in weekly ticket sales.
This week was no exception, with Evita bringing in $1,018,693 for its final week. However, the show by no means sold out its large theater, not quite reaching 80% capacity, and selling tickets at an average admission price of $99.01.
"Cinderella" Starts Strong

Cinderella made a big impression during her first week at the Broadway ball. The Rodgers & Hammerstein musical filled its theater to 98.82% capacity, selling tickets at an average paid admission of $103.63.
These numbers, along with continued strong sales from Annie, indicate that Broadway audiences are hungry for family-friendly shows beyond the Disney brand, which has tended to monopolize that market with The Lion King and the soon-to-be-closing Mary Poppins.
The following are the Broadway ticket sales numbers from the week ending January 27, 2013: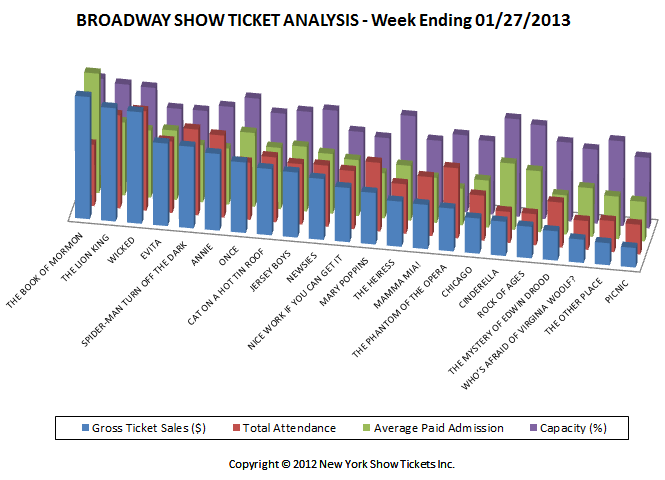 | | | | | |
| --- | --- | --- | --- | --- |
| Show Name | GrossGross | TotalAttn | %Cap | AvgPaidAdm |
| ANNIE | $1,026,892 | 11,696 | 85.60% | $87.80 |
| CAT ON A HOT TIN ROOF | $886,531 | 9,245 | 83.50% | $95.89 |
| CHICAGO | $471,437 | 6,408 | 74.17% | $73.57 |
| CINDERELLA | $458,652 | 4,426 | 98.82% | $103.63 |
| EVITA | $1,104,835 | 10,188 | 79.00% | $108.44 |
| JERSEY BOYS | $871,297 | 8,606 | 87.60% | $101.24 |
| MAMMA MIA! | $592,095 | 8,385 | 69.97% | $70.61 |
| MARY POPPINS | $690,408 | 9,782 | 68.04% | $70.58 |
| NEWSIES | $815,997 | 8,721 | 91.22% | $93.57 |
| NICE WORK IF YOU CAN GET IT | $725,287 | 8,280 | 71.92% | $87.60 |
| ONCE | $943,703 | 8,160 | 96.41% | $115.65 |
| PICNIC | $261,561 | 4,230 | 71.45% | $61.83 |
| ROCK OF AGES | $421,952 | 4,421 | 94.79% | $95.44 |
| SPIDER-MAN TURN OFF THE DARK | $1,091,830 | 12,228 | 79.20% | $89.29 |
| THE BOOK OF MORMON | $1,635,919 | 8,752 | 102.63% | $186.92 |
| THE HEIRESS | $604,765 | 7,048 | 92.64% | $85.81 |
| THE LION KING | $1,515,827 | 13,271 | 98.92% | $114.22 |
| THE MYSTERY OF EDWIN DROOD | $392,302 | 6,407 | 79.77% | $61.23 |
| THE OTHER PLACE | $293,794 | 4,421 | 85.81% | $66.45 |
| THE PHANTOM OF THE OPERA | $572,561 | 9,993 | 77.83% | $57.30 |
| WHO'S AFRAID OF VIRGINIA WOOLF? | $311,397 | 4,100 | 75.09% | $75.95 |
| WICKED | $1,493,804 | 14,184 | 98.01% | $105.32 |
| Total | $17,182,845 | 182,952 | 84.65% | $91.29 |
Broadway ticket sales raw data are provided courtesy of The Broadway League. All other data, text, opinion, charts and commentary are copyright © 2012 nytix.com