Broadway Show Ticket Sales Analysis w/e 1/26/2014
Broadway Show Ticket Analysis For Week Ending 01/26/2014 Shows An Overall Dip In The Market, High Hopes For Superbowl Festivities To Bring In Revenue
---
High Hopes For Superbowl Festivities
Apparently New York City's deep freeze temperatures have been keeping Broadway theater fans indoors. Overall Broadway ticket sales decreased by nearly a million this week, as revenue went from $20,091,732 down to $19,122,428. With any luck, the NY/NJ Superbowl festivities this coming week will give Broadway box offices a needed boost.
Best-Selling Book Now A Broadway Musical
The Bridges of Madison County, a huge-selling hit novel that later became a film starring Clint Eastwood and Meryl Streep, has been transformed into a romantic musical, which is now in previews on Broadway.
Whether or not the title will be enough to draw in fans of the book remains to be seen, but so far the show is only doing modest business, filling the theater to 81.96% capacity with an average paid admission of $64.40.
The following are the Broadway ticket sales numbers for the week ending January 26, 2014: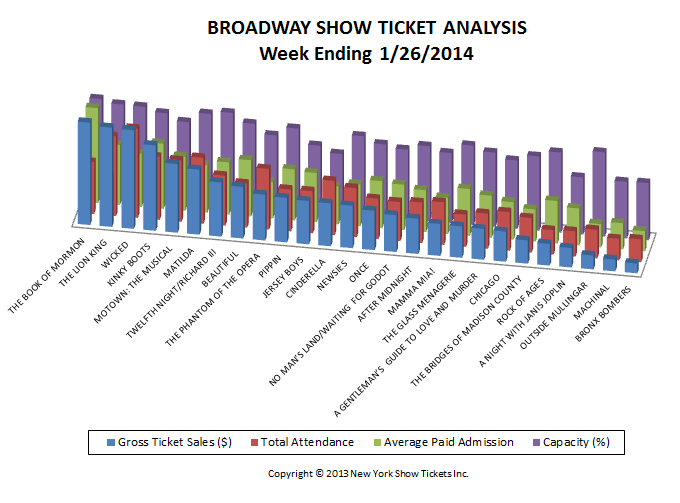 | | | | | |
| --- | --- | --- | --- | --- |
| Show | GrossGross | Total Attn | %Cap | AvgPdAdm |
| A GENTLEMAN'S GUIDE TO LOVE AND MURDER | $499,786 | 5,935 | 81.79% | $84.21 |
| A NIGHT WITH JANIS JOPLIN | $314,542 | 4,242 | 63.13% | $74.15 |
| AFTER MIDNIGHT | $572,163 | 6,841 | 82.54% | $83.64 |
| BEAUTIFUL | $835,905 | 7,415 | 90.34% | $112.73 |
| BRONX BOMBERS | $157,099 | 3,886 | 63.25% | $40.43 |
| CHICAGO | $488,313 | 6,506 | 75.30% | $75.06 |
| CINDERELLA | $695,161 | 9,169 | 65.46% | $75.82 |
| JERSEY BOYS | $702,496 | 7,118 | 72.46% | $98.69 |
| KINKY BOOTS | $1,385,078 | 10,633 | 93.34% | $130.26 |
| MACHINAL | $189,739 | 3,631 | 62.43% | $52.26 |
| MAMMA MIA! | $518,241 | 7,182 | 76.99% | $72.16 |
| MATILDA | $1,053,614 | 11,106 | 96.94% | $94.87 |
| MOTOWN: THE MUSICAL | $1,115,402 | 10,338 | 85.75% | $107.89 |
| NEWSIES | $687,813 | 8,259 | 87.12% | $83.28 |
| NO MAN'S LAND/WAITING FOR GODOT | $596,123 | 6,579 | 76.64% | $90.61 |
| ONCE | $639,104 | 6,797 | 80.23% | $94.03 |
| OUTSIDE MULLINGAR | $225,870 | 4,825 | 92.79% | $46.81 |
| PIPPIN | $720,127 | 7,067 | 89.23% | $101.90 |
| ROCK OF AGES | $350,837 | 4,120 | 88.34% | $85.15 |
| THE BOOK OF MORMON | $1,660,267 | 8,752 | 102.63% | $189.70 |
| THE BRIDGES OF MADISON COUNTY | $376,494 | 5,846 | 81.96% | $64.40 |
| THE GLASS MENAGERIE | $509,628 | 5,442 | 87.44% | $93.65 |
| THE LION KING | $1,608,611 | 13,424 | 98.71% | $119.83 |
| THE PHANTOM OF THE OPERA | $742,269 | 10,206 | 79.49% | $72.73 |
| TWELFTH NIGHT/RICHARD III | $878,829 | 8,410 | 100.02% | $104.50 |
| WICKED | $1,598,920 | 15,044 | 98.30% | $106.28 |
| Totals: | $19,122,428 | 198,773 | 83.56% | $90.58 |
Broadway ticket sales raw data are provided courtesy of The Broadway
League All other data, text, opinion, charts and commentary are
copyright © 2013 nytix.com