Broadway Show Ticket Sales Analysis Chart w/e 09/29/2019
Broadway Show Ticket Analysis Chart w/e 09/29/19 Plus Freestyle Love Officially Hits Broadway And American Buffalo Starring Laurence Fishburne Sets Opening Night
---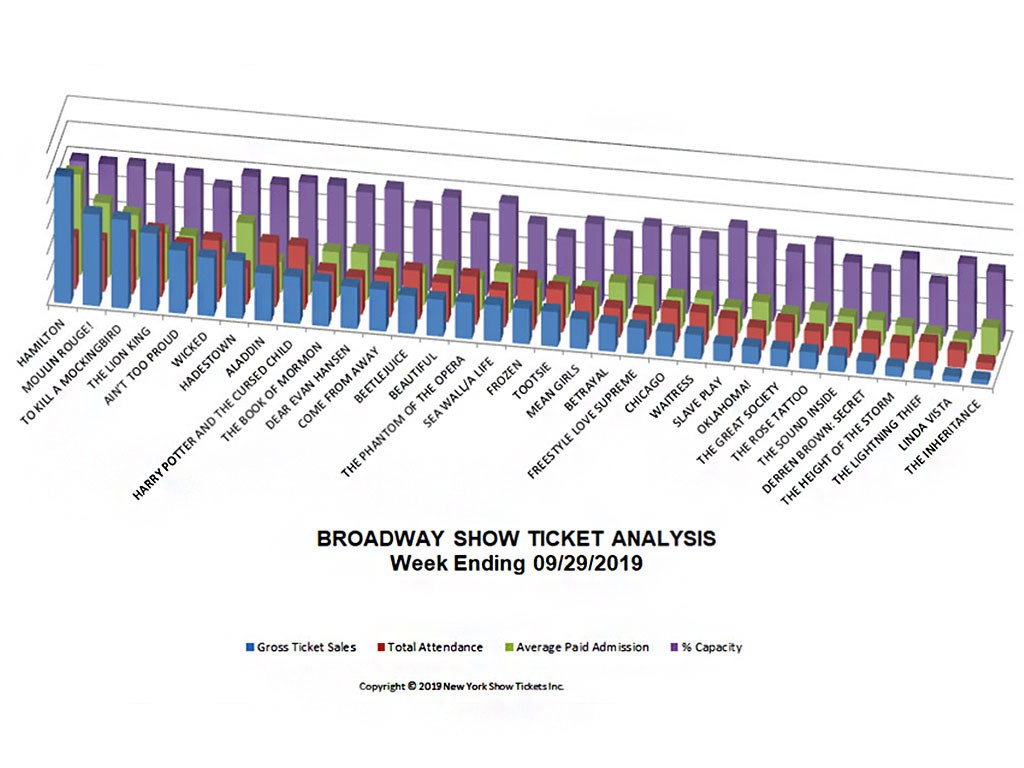 | | | | | | |
| --- | --- | --- | --- | --- | --- |
| # | Show Name | Gross | TotalAttn | %Capacity | AvgPdAdm |
| 5 | AIN'T TOO PROUD | $1,486,705 | 11,005 | 96.60% | $135.09 |
| 8 | ALADDIN | $1,125,745 | 13,156 | 95.22% | $85.57 |
| 14 | BEAUTIFUL | $869,182 | 8,053 | 98.11% | $107.93 |
| 13 | BEETLEJUICE | $899,377 | 10,039 | 84.05% | $89.59 |
| 20 | BETRAYAL | $658,615 | 5,938 | 71.65% | $110.92 |
| 22 | CHICAGO | $588,046 | 6,936 | 80.28% | $84.78 |
| 12 | COME FROM AWAY | $982,669 | 8,475 | 101.28% | $115.95 |
| 11 | DEAR EVAN HANSEN | $989,409 | 7,532 | 95.68% | $131.36 |
| 29 | DERREN BROWN: SECRET | $306,989 | 4,321 | 60.28% | $71.05 |
| 21 | FREESTYLE LOVE SUPREME | $609,022 | 5,304 | 86.67% | $114.82 |
| 17 | FROZEN | $837,079 | 10,564 | 78.41% | $79.24 |
| 7 | HADESTOWN | $1,369,456 | 7,432 | 101.20% | $184.26 |
| 1 | HAMILTON | $2,991,505 | 10,758 | 101.57% | $278.07 |
| 9 | HARRY POTTER AND THE CURSED CHILD, PARTS ONE AND TWO | $1,107,618 | 12,976 | 100.00% | $85.36 |
| 32 | LINDA VISTA | $137,786 | 3,584 | 76.58% | $38.44 |
| 19 | MEAN GIRLS | $700,634 | 8,221 | 83.89% | $85.22 |
| 2 | MOULIN ROUGE! | $2,159,241 | 10,497 | 100.78% | $205.70 |
| 25 | OKLAHOMA! | $414,223 | 4,481 | 86.04% | $92.44 |
| 16 | SEA WALL/A LIFE | $854,678 | 7,560 | 97.12% | $113.05 |
| 24 | SLAVE PLAY | $415,776 | 5,891 | 92.86% | $70.58 |
| 10 | THE BOOK OF MORMON | $1,053,287 | 8,355 | 99.75% | $126.07 |
| 26 | THE GREAT SOCIETY | $411,488 | 6,212 | 73.25% | $66.24 |
| 30 | THE HEIGHT OF THE STORM | $240,861 | 3,935 | 76.50% | $61.21 |
| 33 | THE INHERITANCE | $116,397 | 1,494 | 70.60% | $77.91 |
| 31 | THE LIGHTNING THIEF | $216,709 | 4,626 | 53.89% | $46.85 |
| 4 | THE LION KING | $1,833,703 | 13,471 | 99.29% | $136.12 |
| 15 | THE PHANTOM OF THE OPERA | $860,615 | 9,851 | 76.72% | $87.36 |
| 27 | THE ROSE TATTOO | $402,652 | 4,825 | 83.65% | $83.45 |
| 28 | THE SOUND INSIDE | $395,520 | 5,427 | 67.97% | $72.88 |
| 3 | TO KILL A MOCKINGBIRD | $2,091,419 | 11,662 | 101.59% | $179.34 |
| 18 | TOOTSIE | $816,875 | 8,728 | 68.10% | $93.59 |
| 23 | WAITRESS | $575,305 | 6,585 | 78.77% | $87.37 |
| 6 | WICKED | $1,376,195 | 12,604 | 87.19% | $109.19 |
| | TOTALS | $29,894,777 Dollars | 260,498 People | | |
This Week on Broadway: Lucy Barton Goes On Sale And Freestyle Love Officially Opens
My Name is Lucy Barton started selling tickets. Freestyle Love Supreme has its official opening night on October 2nd, 2019 and American Utopia will open in previews on October 4th, 2019. Freestyle Love Supreme hit a ticket revenue at $609,022 this week and dropped into 21st place on the Broadway spectrum, which was a little disappointing for a Lin Manuel Miranda show.

Sea Wall Closes Strong
Sea Wall/A Life had its final performance on September 29, 2019 with a sold out show and a final weekly gross at $854,678.00
Broadway Grosses Take A Dip

Some of the more popular shows on Broadway like Harry Potter and the Cursed Child, Frozen, and Mean Girls are seeing drops in their sales grossing down between $440k to $824k. No Broadway shows closed this week and no new show have been announced, although there are a few rumblings about Almost Famous,1776 and Working Girl.
American Buffalo is now scheduled for opening on March 6, 2020 at the Stephen Sondheim Theatre, but has not started selling tickets yet. This show features Laurence Fishburne and Sam Rockwell in the first revival of the show on Broadway.

The Broadway show ticket analysis raw data has been provided courtesy of The Broadway League and has been collated and analyzed by the New York Show Tickets data team. All data, text, opinion, charts and commentary are copyright © 2019 nytix.com