Broadway Show Ticket Sales Analysis Chart w/e 01/19/2020
Broadway Show Ticket Sales Analysis Chart w/e 01/19/2020
---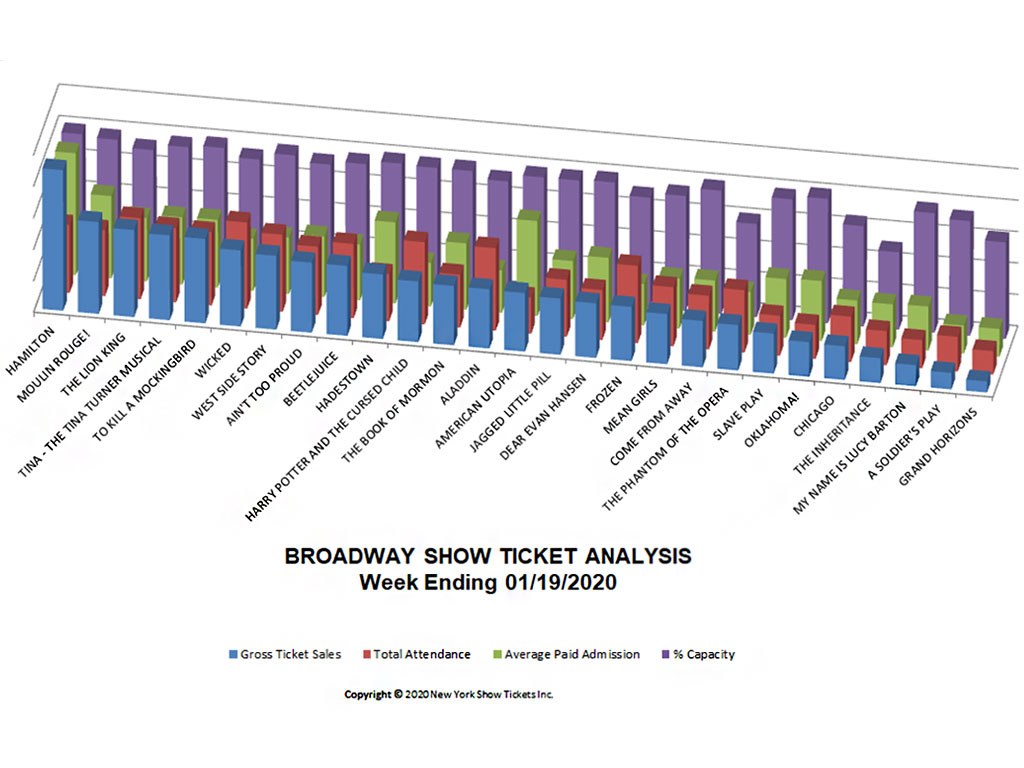 | | | | | | |
| --- | --- | --- | --- | --- | --- |
| # | Show Name | Gross | TotalAttn | %Capacity | AvgPdAdm |
| 26 | A SOLDIER'S PLAY | $320,553 | 5,472 | 95.00% | $58.58 |
| 8 | AIN'T TOO PROUD | $1,359,169 | 10,780 | 95.00% | $126.08 |
| 13 | ALADDIN | $1,147,278 | 13,022 | 94.00% | $88.10 |
| 14 | AMERICAN UTOPIA | $1,137,504 | 5,766 | 100.00% | $197.28 |
| 9 | BEETLEJUICE | $1,357,341 | 11,711 | 98.00% | $115.90 |
| 23 | CHICAGO | $653,891 | 7,186 | 83.00% | $91.00 |
| 19 | COME FROM AWAY | $901,337 | 8,494 | 102.00% | $106.11 |
| 16 | DEAR EVAN HANSEN | $1,059,025 | 7,918 | 101.00% | $133.75 |
| 17 | FROZEN | $1,050,845 | 12,219 | 91.00% | $86.00 |
| 27 | GRAND HORIZONS | $215,801 | 3,722 | 80.00% | $57.98 |
| 10 | HADESTOWN | $1,254,172 | 7,445 | 101.00% | $168.46 |
| 1 | HAMILTON | $2,724,599 | 10,758 | 102.00% | $253.26 |
| 11 | HARRY POTTER AND THE CURSED CHILD | $1,177,060 | 12,976 | 100.00% | $90.71 |
| 15 | JAGGED LITTLE PILL | $1,089,725 | 9,032 | 100.00% | $120.65 |
| 18 | MEAN GIRLS | $971,685 | 9,349 | 95.00% | $103.93 |
| 2 | MOULIN ROUGE! | $1,780,176 | 10,419 | 100.00% | $170.86 |
| 25 | MY NAME IS LUCY BARTON | $408,245 | 4,462 | 99.00% | $91.49 |
| 22 | OKLAHOMA! | $672,071 | 5,389 | 103.00% | $124.71 |
| 21 | SLAVE PLAY | $775,716 | 6,332 | 100.00% | $122.51 |
| 12 | THE BOOK OF MORMON | $1,151,435 | 8,358 | 100.00% | $137.76 |
| 24 | THE INHERITANCE | $482,254 | 5,386 | 64.00% | $89.54 |
| 3 | THE LION KING | $1,687,677 | 12,804 | 94.00% | $131.81 |
| 20 | THE PHANTOM OF THE OPERA | $881,005 | 9,872 | 77.00% | $89.24 |
| 4 | TINA - THE TINA TURNER MUSICAL | $1,643,762 | 11,752 | 99.00% | $139.87 |
| 5 | TO KILL A MOCKINGBIRD | $1,637,162 | 11,596 | 101.00% | $141.18 |
| 7 | WEST SIDE STORY | $1,430,906 | 12,180 | 100.00% | $117.48 |
| 6 | WICKED | $1,472,994 | 13,605 | 94.00% | $108.27 |
| | TOTALS | $30,443,388 Dollars | 248,005 People | | |
This Week on Broadway:
Gross ticket sales on Broadway continued to drop, totaling $30,443,388, a 2.2% drop from last week. This total is also a 4% drop from this week last year. This decrease could be explained by the fact that there are only 27 shows currently playing, while there were 31 shows playing at this time last year. Usually the remaining shows increase their ticket prices as the number of visitors in NYC at this time is the same as last year. This means that ticket brokers can make a killing with Broadway show ticket face value prices mismatched for the market.
Freestyle Love Supreme closed on January 12, 2020 roughly three months after its opening on October 2, 2019. Freestyle Love Supreme was a hip-hop improv show based on a group formed seventeen years ago in 2003 by Lin-Manuel Miranda, Thomas Kail, and Anthony Veneziale. Lin-Manuel Miranda is best known for writing and starring in his Broadway hits Hamilton and In the Heights. Thomas Kail is a director best known for directing Hamilton. Anthony Veneziale is an expert on teaching and performing musical improv. Freestyle Love Supreme received positive reviews from critics and recouped its initial investment.
The Sound Inside also closed on January 12, 2020, ending its 16-week limited run at Studio 54. The show starred the Emmy and Tony winning actress Mary-Louise Parker as an Ivy League professor who forms a relationship with one of her students. The Sound Inside received mixed reviews and performed modestly at the box office, grossing between $400,000 and $500,000 a week.
Tickets are now on sale for MJ: The Musical, a new musical about Michael Jackson's life. The performance will feature his music throughout the show and will use much of Jackson's iconic choreography. Jackson will be played by Ephraim Sykes, known for his roles in Hamilton and Ain't Too Proud: The Life and Times of the Temptations. The show is produced by Columbia Live Stage and The Michael Jackson Estate and totally avoids all mention of family violence and sexual impropriety and focuses solely on the music, thus making this a classic jukebox musical that is substantially light on plot.
Next week, the ticket sales data for the start of Broadway week (Jan 21, 2020) is expected to be soft as many Broadway shows are heavily discounted.
Discount Broadway Tickets
---
---