Broadway Loves the Spice Girls To Play at 54 Below
The Spice Girls Musical Viva Forever Didn't Make It To Broadway But In A Special Event At 54 Below Over A Dozen Actors Pay Tribute To The Popular Group
---
Broadway Performers Love The Spice Girls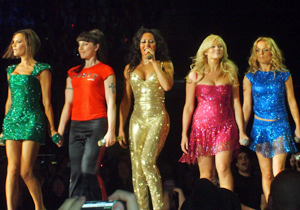 The Spice Girls musical Viva Forever! which has played London's West End may not have yet made it to Broadway, but that doesn't mean there aren't plenty of Broadway performers who love the famed British pop group.
In fact, many of them will be gathering at 54 Below on January 13 at 11:30pm for a special concert dubbed "Broadway Loves the Spice Girls". Well over a dozen New York City actors will perform new vocal arrangements (written by Benjamin Rauhala) of the Spice Girls' many hits, including "Wannabe" and "2 Become 1".
Ticket Information
The list of performers slated for the concert include Ashley Kate Adams, Stephanie Umoh, Kate Loprest, Jason Gotay, Gabrielle McClinton, Emily McNamara, and Darren Bluestone. The cover charge for the concert is $10, and there is also a $20 food/drink minimum. To purchase tickets or learn more, go to www.54Below.com.
Discount Broadway Tickets
---
---