Broadway Fills In The Summer Scheduling Gap With Dave Chappelle + Other Acts
Broadways' Lunt Fontanne Theatre in NYC fills in the scheduling gap during Summer 2019 with Dave Chappelle Performances & Others

---
During the balmy days of Summer of 2019, a slew of entertaining shows are being hosted at the Lunt Fontanne Theatre on Broadway in NYC. This choice to put in a a number of smaller shows with a limited windows is due to the year long scheduling gap between the two big Broadway shows. Summer: The Donna Summer Musical, which closed in December of 2018 and Tina: The Tina Turner Musical, which opens in November of 2019. This scheduling gap creates an opportunity for the Lunt Fontanne Theatre group to try new show ideas that do not require much in the way of set design or lighting changes and may only be there for a few days.
Each of the shows slotted into the scheduling gap are very different from the standard Broadway show fare. For instance there is a concert with a live Q and A at the end by Yanni and an off-the-cuff comedy routine by Mel Brooks, which is something that Broadway has never seen before. Each of the shows will only be performing at the theatre for a short period of time. With the most performances coming from the comedy icon Dave Chappelle who is performing a stand-up show lasting 10 nights. All of the shows are being headlined by top U.S. celebrities or ones that feature great American musical legends.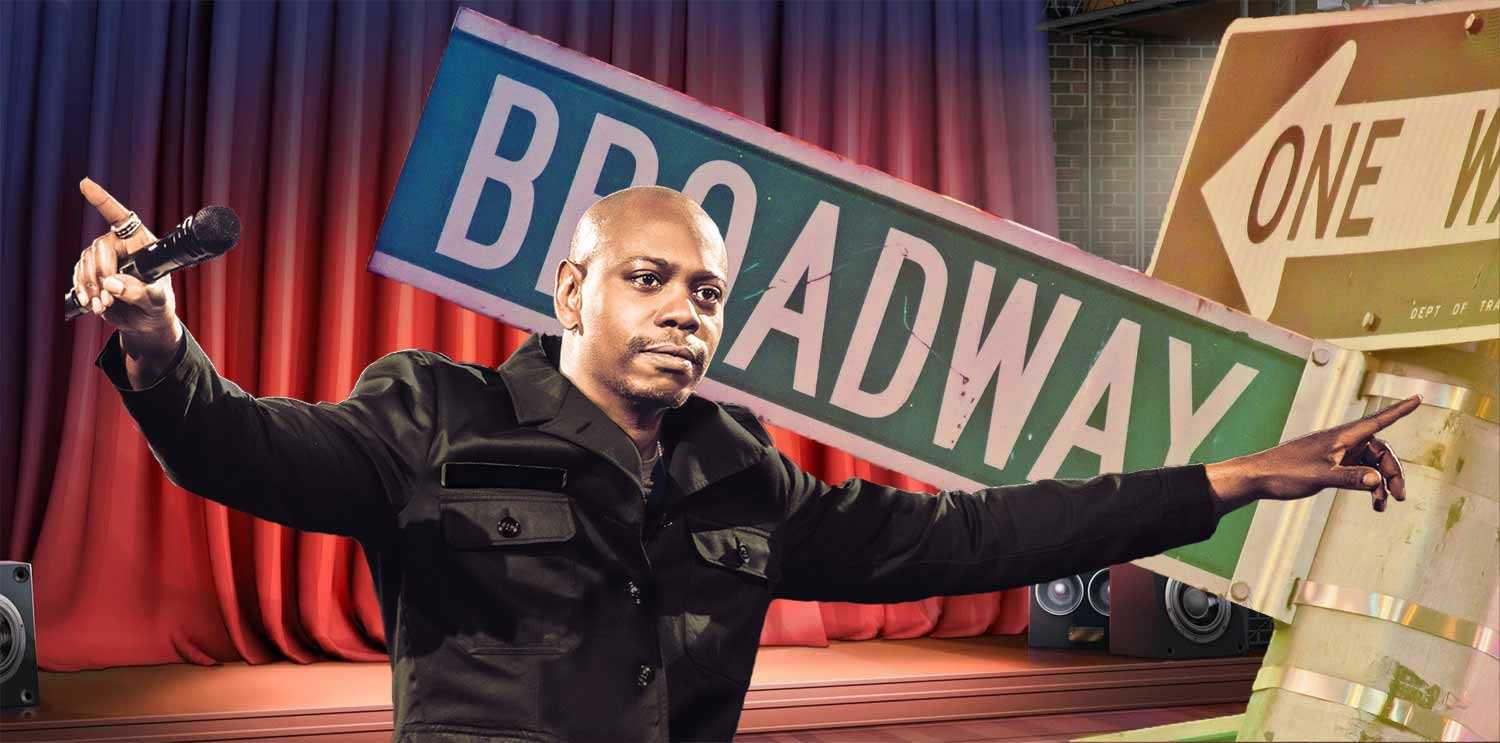 List of shows:
Pure Yanni from May 28th to June 2nd, 2019 for a total of 5 performances.
Pure Yanni, is a musical act that takes the audience on an intimate deep dive through some of Yanni's greatest hits. Yanni himself shares stories, discloses his creative writing processes and sings his songs with the backing of a full orchestra and live band. This show is a rare and intimate event that also incorporates a live Q and A, after each performance, about Yanni's life and musical career.
Mel Brooks on Broadway June 17th and June 18th, 2019 for a total of 2 shows.
Mel Brooks on Broadway, is an exclusive two night comedy event that was created by, and stars, the legendary showman and filmmaker himself. This unscripted show combines Mel's off-the-cuff comedy as well as his hilarious stories from his own movie making career. Brooks is known for his comedy movie creations which include "Spaceballs" a Star Wars parody, "Blazing Saddles" and "The Producers" which was later turned into a Broadway musical in 2001. Mel Brooks' The Producers, the Broadway show, went on to win a whopping 12 Tony Awards including "Best Musical". Brooks is also one of the 15 rare members of the "EGOT Club", a designation for people who have won at least one award from each of the major American entertainment award shows (Emmy, Grammy, Oscar and Tony). The two shows have a total attendance of 2,967 people with an average ticket price of $197.00.

Regina Spektor on Broadway June 20th-22nd and June 25th-26th, 2019 for a total of 5 performances.
Regina Spektor on Broadway, is a performance that features the Russian born musical artist's most cherished original pieces. This is not the typical Broadway musical show, this performance has more of a concert feel as Spektor sings and plays the piano throughout the entirety of the show. Each of her five shows may differ from one another because Spektor chooses to perform different songs for each night, as she is a diva.
Criss Angel Raw - The Mindfreak Unplugged, is illusionist Criss Angel's first Broadway show. This limited-time, exclusive performance wows New York audiences with brand new illusions and mystifying special effects that even Harry Potter would be proud of. Criss has won countless "Magician of the Year" awards from the "International Magicians Society" as well as being named "Magician of the Century". This spectacle is completely different from Criss's Las Vegas show, Mindfreak. Angel says with a wry smile "Raw is a more intimate show and will reveal a different side of me, while of course still blowing your mind". There are no performances on July 4th, 2019 and the matinee performances will take place on Wednesday July 3rd and Saturday July 6th, 2019 at 3:00 PM.

Dave Chappelle July 9th-13th, 2019 as well as July 16th- 20th, 2019 for a total of 10 performances.
Dave Chappelle, is an Emmy and Grammy Award winning American actor/ comedian who is known for his outstanding voices and funny, yet factual, social commentaries. In 2017, Chappelle released four all new original comedy specials on the popular streaming site Netflix. This time around, Chappelle is performing another all-new original comedy set for this Broadway production that centers around Police brutality and the ongoing U.S. presidency of Donald Trump. Some old favorites are back with a lot of new material that Chappelle fans love.
Manilow Broadway July 26th-August 17th for a total of 20 performances.
Manilow Broadway, is a musical performance by the Emmy, Tony and Grammy Award winning American singer/ songwriter Barry Manilow. In this limited engagement show, Manilow performs with more of an exciting concert energy where the audience is encouraged to sing and clap along. Unlike the typical Broadway musical, where the audience is supposed to keep the noise level to a minimum, this show is very lively. Manilow sings many of his top 40 hit songs from many genres including some of his Pop hits, Jazz songs and even some surprise melodies as well. Manilow has been on Broadway once before, way back in 1977 for another show entitled Manilow on Broadway. Manilow is excited to return as he is quoted saying "I am thrilled to be returning back to my hometown of New York City, It holds a very special place in my heart.". Manilow fans are thrilled as well, as it is a wonderful opportunity to see him at this stage of his career.
Click Here for more information about the Lunt Fontanne Theatre.