Broadway Bound Musical Matilda Still Looking For Its Stars
---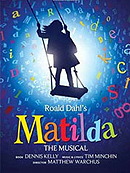 The London hit
Matilda the Musical
is arriving on Broadway this spring, but it has yet to cast the young ladies who will be playing the title part. Like
Billy Elliot
, Matilda will cast multiple young actors in its main role, so more than one pint-sized talent has a chance of landing the Broadway gig. To find their stars,
Matilda
is holding an open casting call at Pearl Studios (519 Eighth Avenue, 12th floor, Studio C) on September 30 starting at 10 am. Girls aged 8 to 10 years old, with a height of 4 foot 4 inches or under, are invited to audition (no experience necessary).
The character is described as "bright, fearless, and focused". Girls auditioning should bring a recent picture with a resume that includes birth date, height, parent/guardian contact information, and an explanation of any performing experience. They should be prepared to recite a poem or very short story (preferably in the style of author Roald Dahl, who wrote Matilda), and also have a short song to sing (bring sheet music). For more information on the Matilda the Musical open casting call, phone 212-719-9393, ext. 360.