Broadway Bound "Mean Girls" Musical Has Cast
The Cast For The Broadway Bound Musical Of Mean Girls Has Been Announced For Their Tryout Run At The National Theatre In Washington, D.C.
---
Book By Tina Fey, Music By Jeff Richmond, Lyrics By Nell Benjamin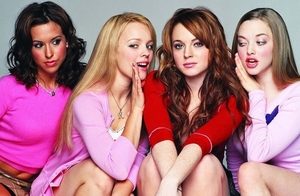 The teen comedy film Mean Girls was released in 2004 to great success, grossing over $129 million worldwide, and was included in Rotten Tomatoes 2012 list of 'Top 50 Teen Comedies.'
That film had a screenplay by Tina Fey, and it was produced by Lorne Michaels and directed by Mark Waters. Tina Fey also appeared in the cast, which also starred Lindsay Lohan, Rachel McAdams, and Amy Poehler.
Successful Collaborations At It Again
For years now, buzz has circled this project of the musical adaptation, the details of which have been kept fairly under wraps for some time. The book for the musical is written by nine-time Emmy Award winner Tina Fey, along with a score by her husband, Jeff Richmond. Richmond is a three-time Emmy Award winner for his composition of the scores for 30 Rock and Unbreakable Kimmy Schmidt, two shows that were also in collaboration with Tina Fey.
For the stage musical, Fey and Richmond have been collaborating with lyricist Nell Benjamin, whose also wrote the music and lyrics for the musical of Legally Blonde. To top it all off, the musical is directed and choreographed by Casey Nicholaw, the wildly successful director and choreographer of such shows as The Book of Mormon, Aladdin, Something Rotten!, Elf, and The Drowsy Chaperone.
Cast Announced For Broadway-Bound, Washington, D.C. Production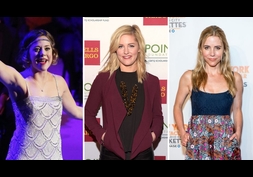 Prior to the Broadway production of Mean Girls, which is slated to take place in 2018, there will be a tryout production at the National Theatre in Washington, D.C. The D.C. production will run from October 31, 2017 to December 3, 2017.
The role of Cady Heron, which was originated in the film by Lindsay Lohan, will be played by Erika Henningsen. Henningsen has been on Broadway once before, for sixth months in 2015 as Fantine in the 2014-6 revival of Les Misérables.
Taylor Louderman To Play Regina George
The part of Regina George, originated by Rachel McAdams in the film, will be played by Taylor Louderman. Louderman has appeared on Broadway twice before; she was Campbell in the 2012 production of Bring It On the Musical, and she is presently playing Lauren in Kinky Boots, a role since she has held since January 2017, and will continue to play until August 20, 2017.
The role of Gretchen Weiners, originated by Lacey Chabert in the film, will be played by Ashley Park, whose previous Broadway credits include Mamma Mia!, The King and I, and Sunday in the Park with George.
Kate Rockwell To Play Karen Smith
As for the role of Mrs. George, originated by Amy Poehler in the film, this part, in addition to those of Mrs. Heron and Ms. Norbury, will be played by Kerry Butler, whose many credits include Disaster!, Gore Vidal's The Best Man, Catch Me If You Can, and Rock of Ages.
In addition, the part of Karen Smith is played by Kate Rockwell, who has been in Bring It On the Musical, Rock of Ages, Hair, and Legally Blonde, and the part of Janis Sarkisian is played by Barrett Wilbert Weed, who has previously appeared in Lysistrata Jones. Additional roles are to be played by Grey Henson (The Book of Mormon), Rick Younger, Kyle Selig (The Book of Mormon), and Cheech Manohar.
Power Couple Tina Fey And Jeff Richmond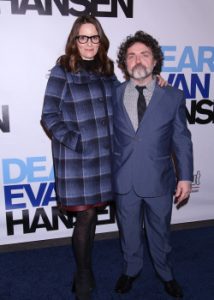 Tina Fey is one of the most widely recognizable celebrities working today. She first rose to fame through her work on the NBC show Saturday Night Live, and especially gained renown for her impression of 2008 Vice Presidential candidate Sarah Palin during the election season.
She then solidified her mark on popular culture through creating the celebrated NBC comedy series 30 Rock, in which she starred along with Alec Baldwin, Jane Krakowski, and Tracy Morgan. She also created the Netflix original series Unbreakable Kimmy Schmidt, which stars Ellie Kemper, Carol Kane, Jane Krakowski, and Tituss Burgess.
A Relationship Out Of The Spotlight
All along, since 2001, Fey has been married to Jeff Richmond. By no means a couple that broadcasts their relationship in the spotlight, Fey and Richmond have nevertheless collaborated on a number of projects.
Richmond is a three-time Emmy Award winning composer, who worked on both 30 Rock and Unbreakable Kimmy Schmidt. The couple have two kids: Alice, born in 2005, and Penelope, born in 2011. Mean Girls is their first collaboration in the medium of musical theatre.
Discount Broadway Tickets
---
---