"Bright Star" Opens to Mixed Reviews
Bright Star By Steve Martin And Edie Brickell Opened At The Cort Theatre To Mixed Reviews And Mediocre Box Office.
---
Steve Martin And Edie Brickell's New Bluegrass Broadway Musical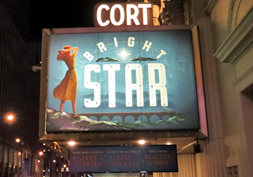 This past week, the new musical Bright Star officially opened at the Cort Theatre. It had been running in previews since February 25, 2016. The show is presently scheduled for an open-ended run.
The story was conceived by Steve Martin and Edie Brickell, both of whom are established artists in other art forms who are trying their hand on Broadway for the first time. Steve Martin is best known as a film actor, with such credits as Father of the Bride, Little Shop of Horrors, and The Pink Panther, as well as his extensive career in comedy.
Collaborating Together Again To Create "Bright Star"
Edie Brickell is a well-known bluegrass musician, who debut album "Shooting Rubberbands at the Stars" reached number 4 on the Billboard 200 chart when it came out in 1988. She is also married to Paul Simon. Brickell and Martin first collaborated on a bluegrass album entitled "Love Has Come For You," which was released in 2013 and won a Grammy Award.
Following the success of this album, they decided to collaborate on Bright Star, the stage musical. Bright Star had its world premiere in 2014 at San Diego's Old Globe Theatre, and then played the Kennedy Center in Washington, D.C. in 2015. The Broadway production is directed by Walter Bobbie, choreographed by Josh Rhodes, and stars Carmen Cusack and A.J. Shively.
New York Times Loves It, Others Less Convinced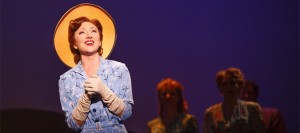 The most influential theatre review publication, The New York Times, was a big fan of Bright Star. Charles Isherwood felt that the bluegrass on Broadway was like a fresh breeze, praising its easygoing grace and humble love story.
David Rooney from The Hollywood Reporter was also a fan of the show, finding it disarmingly sweet and sincere, and praising Martin as a man of many accomplishments. Jesse Green of Vulture was less sure, remarking that the musical is banal and self-cancelling, if upbeat.
Carmen Cusack Shines As Alice Ripley
On the other hand, Adam Feldman of Time Out New York did not like the show at all, deeming it a gawky and predictable tall tale that falls short of its ambitions. In the same vein, Jeremy Gerard from Deadline was disappointed in the production, calling it "unfortunate" and "earnest but soggy." Still, most critics praised the performance of Carmen Cusack as Alice Ripley, making her Broadway debut.
Mediocre Box Office Performance Not Helped By Mixed Reviews
In the last reported week of box office figures, the week ending March 27, 2016, Bright Star brought in $384,716, which represents 41.98% of its gross potential. This was its highest weekly gross yet, and the highest percentage reached of its gross potential, excepting the first partial week of four preview performances.
That week took into account just a couple of performances following the opening night, and so the reviews did not have much time to sink in, for better or for worse. In any case, the positive New York Times review may guide some ticketbuyers to Bright Star, but the overall bulk of mixed reviews is not likely to propel this musical into a profitable hit.
Current Numbers May Not Reflect Future Interest
Still, this past week had an average audience capacity of 95.1%, even though the average paid admission was only $48.28. Those numbers may also be inflated by the press performances that took place in the week leading up to opening night, with more people in the theatre but some complimentary guests.
The following week's numbers will be more of a projection of the box office performance to come for this intriguing but not very well-received musical.