Bette Midler in "Hello, Dolly!" Opens with a Bang On Broadway
Hello, Dolly! Is A Smash Success In Terms Of The Broadway Box Office, And With The Exception Of The Wall Street Journal, All Major Critics Gave It A Rave Review.
---
Smash Hit Revival is Bringing in the Big Bucks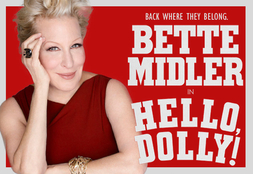 This year's revival of Hello, Dolly! is up and running at the Shubert Theatre, where it has been playing since the first preview on March 15, 2017. Starring Bette Midler (I'll Eat You Last: A Chat with Sue Mengers) in the title role of Dolly Gallagher Levi, this timeless musical classic is bringing in audience members in droves. The show also stars David Hyde Pierce (Vanya and Sonia and Masha and Spike, La Bête, "Frasier") as Horace Vandergelder.
The production is directed by Jerry Zaks (A Bronx Tale the Musical, Sister Act), and choreographed by Warren Carlyle (She Loves Me, On the Twentieth Century, After Midnight). The musical, which has a book by Michael Stewart, with music and lyrics by Jerry Herman, has been produced on Broadway a total of five times, originating with the premiere in 1964. That debut production won 10 Tony Awards, which was a record at the time, including Best Musical.
Broadway Show Continues to Shine
Hello, Dolly! continued to hold the record for the greatest number of Tony Awards for 37 years, until 2001 when The Producers won 12 awards. This year, the revival has been nominated for 10 Tony Awards, including Best Revival of a Musical, Best Performance by a Lead Actor in a Musical for David Hyde Pierce, Best Performance by a Lead Actress in a Musical for Bette Midler, Best Performance by a Featured Actor in a Musical for Gavin Creel, Best Performance by a Featured Actress in a Musical for Kate Baldwin, Best Scenic Design of a Musical, Best Costume Design of a Musical, Best Lighting Design of a Musical, Best Direction of a Musical, and Best Orchestrations.
Generally Positive Reviews, but Incredible Box Office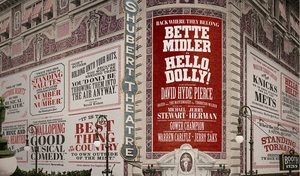 Upon the show's opening night, it brought in positive reviews from most of the major critics. For instance, Ben Brantley of The New York Times called it a savory spectacle, Marilyn Stasio from Variety remarks that Bette Midler's entrance makes everyone fall into a swoon. Maya Stanton from Entertainment Weekly calls the revival a force of nature with top-notch cast and award-laden production team, and Charles McNulty from the Los Angeles Times remarks that Hello, Dolly! is the rare production that earns the exclamation mark in its title.
One major press outlet disagreed; Terry Teachout from the Wall Street Journal gave the show a negative review, resentful of Bette Midler's star power being the only thing that ticket-buyers seem to care about in forking over top dollar. Nevertheless, the numbers cannot hide the fact that this show is a box office smash success. In the eight weeks of performances so far, the average percentage reached of gross potential has been 119.49%. The show manages to be so lucrative, even while playing just seven, or sometimes six, performances a week, which most productions would be unable to afford.
"Hello, Dolly!" Reaches Capacity on Broadway
The average paid ticket price in the run thus far has been $193.13, which is higher than the top ticket price for some shows. The audience has been filled to an average capacity of 101.17%, and tickets are incredibly difficult to come by. In the last reported week of box office figures, the week ending May 7, 2017, Hello, Dolly! brought in a weekly gross of $1,963,963, and the previously weekly gross was $2,105,474. Breaking the two million dollar mark with only seven performances is no small achievement, and Hello, Dolly! looks likely to be entering profits very soon.