Bette Midler Gears Up for End of "Hello, Dolly!"
Bette Midler Will Conclude Her Run In Hello, Dolly! On January 14, 2018 In A Special Added Benefit Performance For The Actors Fund, Playing All Eight Shows.
---
"Hello, Dolly!" Celebrates Bette Midler's 72nd Birthday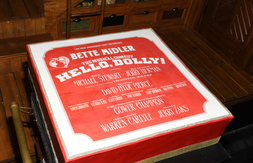 On December 1, 2017, Bette Midler celebrated her 72nd birthday. It may be hard to believe that this vibrant beloved star is progressing on in her septuagenarian years, but a celebration was nonetheless to be had.
In what was apparently a complete surprise for Midler, David Hyde Pierce stepped forward after the curtain call. He said to the exuberant audience, holding up a handkerchief with Midler's lipstick mark on them, "These are the lips that sang Boogie Woogie Bugle Boy," and following the audience's applause, he continued, "One more thing about these lips. Today is their birthday!"
A Celebration 50 Years In The Making

Then the entire company and audience sang together the Happy Birthday song, as members of the ensemble wheeled out a giant red birthday cake, custom decorated with the artwork for this Broadway production of Hello, Dolly! Bette then said she would be remiss if she didn't say anything, and after waiting out the endless applause from the audience, she complimenting this particular audience, announced that she is 72, and said "I've been carrying on like this for way over 50 years. 50 years of laughs and tears," and then she herself broke out in tears as she said, "I say thank you from the bottom of my heart."
Bette Midler Adds One Final Performance To Benefit The Actors Fund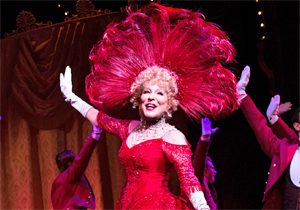 On January 14, 2018, Bette Midler will play her final performance in this record-shattering revival of Hello, Dolly! Given that the show has been bringing in astonishing box office figures when Midler is in the lead part, she has decided to play one last show for charity.
Specifically, all proceeds from this final January 14th performance will go to the Actors Fund, a national nonprofit that provides a wide range of services to performers in theatre, film, television, radio, opera, music, and dance.
Pre-Show Reception
It is a longstanding tradition for Broadway and Off-Broadway shows to dedicate performances to this institution. For this special benefit performance, tickets will range from $250 to $10,000, and packages including a special pre-show reception will start at $5,000. The box office for Hello, Dolly! has recently been at an all-time high, with ticketbuyers realizing that opportunities to see Midler in this production are quickly slipping away.
The last week of reported box office figures, the week ending December 3, 2017, was actually the highest box office week for the production to date, with a weekly box office gross of $2,478,968, or 135.46% of its gross potential. In a week where the majority of shows decreased from the previous week due to the post-Thanksgiving plunge, Hello, Dolly! continued to increase in ticket sales, led by Midler's popularity.
Midler To Play All 8 Performances In Final Week; Pushes Up Donna Murphy's Last Bow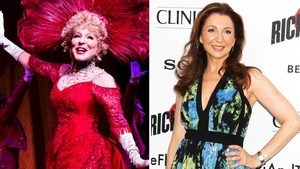 Throughout the run, Donna Murphy has been Bette Midler's replacement, playing all Tuesday evening performances since June 13, 2017, allowing Midler to play just 7 performances in a regular week, in addition to filling in for crucial weeks when Midler had to take a prolonged vacation.
While the box office certainly took a hit in the Murphy weeks, most notable in the two-week stint from June 27, 2017 to July 9, 2017, Midler's extravagant popularity more than made up for these lulls, and Murphy's readiness to play glorified understudy was worth the necessity of enduring these volatile box office figures.
Bernadette Peters Takes The Stage As Dolly Gallagher Levi
Originally, it was announced that Murphy would play her final performance on January 9, 2018. However, to accommodate Midler's whims and convictions, this has been changed. Murphy will now play her final performance on January 7, 2018, on which date there has been added a previously unscheduled evening performance at 7:30pm. In addition, the January 9, 2018 performance will be cancelled in light of the added January 14, 2018 Actors Fund benefit performance. As such, Midler will now play all eight performances in the final week of her run in Hello, Dolly!
The show will then go dark for a week, and on January 20, 2018, Bernadette Peters will begin her run as Dolly Gallagher Levi as previously announced. Furthermore, on that date, Victor Garber will step in for David Hyde Pierce, who has been Midler's loyal co-star since the beginning of the run.