Bette Midler Bids Adieu to "Hello, Dolly!"
Bette Midler Plays Her Final Performance In Hello, Dolly!, Donating The Proceeds To The Actors Fund, While Bernadette Peters Steps Up To The Plate, Along With Victor Garber.
---
Bette Midler, David Hyde Pierce, Beanie Feldstein, Taylor Trensch Complete Runs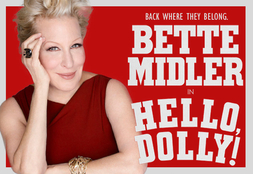 On January 14, 2018, the currently running revival of Hello, Dolly! played its 300th performance (following 34 previews), and it was a momentous performance indeed.
This final performance of Bette Midler's wildly successful star turn as Dolly Gallagher Levi, in Jerry Herman and Michael Stewart's 1964 musical, was in fact a benefit performance, with proceeds from the inflated ticket prices going to the Actors Fund.
"Hello, Dolly" Broke Box Office Records
With Midler on the marquis, this production of Hello, Dolly! broke box office records even before it began performances, starting with the record for the highest pre-show advance in Broadway history. The show then went on to break more records, shattering the top weekly gross record for the Shubert Theatre over 10 times.
Upon Midler's departure, the lead role will be assumed by another massive star: Bernadette Peters. It will remain to be seen whether Peters resonates with fans and ticketbuyers as immensely as Midler proved to do. In addition, as Bette Midler leaves, so does David Hyde Pierce in the role of Horace Vandergelder, Taylor Trensch in the role of Barnaby Tucker, and Beanie Feldstein in the role of Minnie Fay.
Bernadette Peters, Victor Garber, Molly Griggs, And Charlie Stemp Succeed Them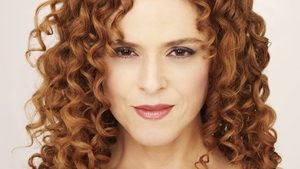 After a brief hiatus, the show will resume on January 20, 2018, with Bernadette Peters' debut performance in the production. Peters' many Broadway credits include Follies, A Little Night Music, Gypsy, Annie Get Your Gun, and Sunday in the Park with George.
Replacing the role once held by David Hyde Pierce will be Victor Garber, whose Broadway credits include Present Laughter, Art, Arcadia, and Damn Yankees. These performers certainly have as much experience and credibility as those they are replacing.
Charlie Stemp An Olivier Award Nominee
As for the younger leads, Molly Griggs assumes the role of Minnie Fay, after appearing Off-Broadway in Penelope Skinner's Linda. She is replacing Beanie Feldstein, who recently earned raves in Greta Gerwig's directorial debut, Lady Bird. Meanwhile, as Taylor Trensch leaves Hello, Dolly! to replace Noah Galvin in Dear Evan Hansen, the role of Barnaby Tucker will be assumed by Charlie Stemp, an Olivier Award nominee for Half a Sixpence.
Furthermore, many of the additional cast continue in their roles, including Gavin Creel as Cornelius Hackl, Kate Baldwin as Irene Molloy, Melanie Moore as Ermengarde, Will Burton as Ambrose Kemper, and Tony nominee Jennifer Simard as Ernestina.
Excellent Box Office Should Sustain A While Longer
While it may be impossible for Hello, Dolly! to sustain such exorbitantly enormous grosses in the absence of Bette Midler, there is still a certain degree of excitement in all these new cast changeovers, and box office should remain somewhat vibrant for at least a while longer. Bernadette Peters is a gigantic star in her own right, ever since her first Tony Award nomination in 1971 for On the Town.
With awards recognition for Gypsy, Follies, Annie Get Your Gun, The Goodbye Girl, Sunday in the Park with George, and many more, Peters has certainly racked up a significant Broadway audience following of her own. While David Hyde Pierce has a large built-in fanbase from Frasier, Victor Garber is also a highly recognizable face, with awards recognition for such works as Argo, Milk, Titanic, and The First Wives Club, not to mention his Broadway roles.
The Right Blend Of Casting And Creativity
While the winter months are only just beginning, Hello, Dolly! has a lot of life in it yet, and chances are it will play throughout the duration of the summer, if not longer. With Scott Rudin as lead producer, it has been proven that even musicals thought to be from a former generation can be resuscitated with the right blend of casting and creative oversight, in this case by Jerry Zaks, who continues his string of hits as director of this record-smashing revival.