Bette Midler and Donna Murphy Back in "Hello, Dolly!"
Donna Murphy and Bette Midler will return to Hello, Dolly! for the final six weeks of the run after Bernadette Peters concludes, with Murphy playing six performances.
---
Unstoppable Bette Midler Closes Out the Revival Run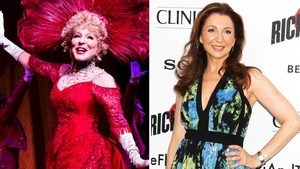 On March 15, 2017, the current revival of
Hello, Dolly!
began performances at the Shubert Theatre, ahead of its opening night on April 20, 2017. The show garnered excellent reviews, in particular for the originating star of the production, Bette Midler. The production went on to be nominated for 10 Tony Awards last year, winning four: those for Best Revival of a Musical, Best Actress in a Leading Role in a Musical for Bette Midler, Best Actor in a Featured Role in a Musical for Gavin Creel, and Best Costume Design of a Musical for Santo Loquasto. The box office also broke numerous records, starting with the record for the highest pre-show advance in Broadway history, and then the show then went on to break more records, shattering the top weekly gross record for the Shubert Theatre over 10 times. Every single week of the run featuring Midler, the revival brought in a weekly box office of over 115% of its gross potential, breaking the $2 million mark on numerous vacations. During this period in which Midler reigned on the stage, she generally only played 7 shows a week, with Tuesday evenings played by Donna Murphy. On a few occasions, Midler stepped away for an extended hiatus of two weeks, in which Murphy took the stage for the duration. The effect on the box office was undeniable; for instance, in the week ending July 2, 2017, when Murphy first took over for a whole week from Midler, the box office gross dropped by $1,368,878, from the previous week's gross of $2,305,481, to the Murphy-led week's gross of $936,603. The following week, when Murphy continued, the gross dropped even lower to $722,574. Despite this huge appreciation for Bette Midler, the time arose when she needed to conclude her run, and she played her supposedly final performance on January 14, 2018, a wildly successful benefit performance with proceeds going to the Actors Fund.
Bernadette Peters Plays Final Show on July 15, 2018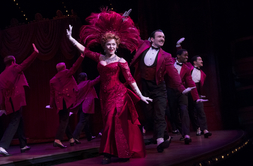 Once Midler departed, Bernadette Peters took over as the lead part of Dolly Gallagher Levi, beginning on January 20, 2018. Unlike Midler, Peters opted to play the full week of eight performances, meaning that Donna Murphy no longer was needed for Tuesday evenings. Peters received laudatory reviews, but as expected, the box office was not comparable to Midler's extraordinary numbers. Since Peters has been in the show, the box office has averaged around $1 million per week, fluctuating between 60% to 80% of the show's gross potential. On July 15, 2018, Peters will play her final performance in
Hello, Dolly!
Not to be forgotten, Midler will then return to the production to close out the run for the final six weeks. From July 17, 2018, Midler will only again be Dolly, which means that Donna Murphy will once again appear as well. Specifically, two-time Tony winner Donna Murphy will take the stage on July 22, July 29, August 5, August 12, August 19, and August 20. When Midler returns, so will David Hyde Pierce, taking over from Victor Garber, who plays opposite Bernadette Peters. The additional cast is presently led by Tony winner Gavin Creel as Cornelius Hackl, Kate Baldwin as Irene Molloy, Charlie Stemp as Barnaby Tucker, Molly Griggs as Minnie Fay, Will Burton as Ambrose Kemper, Melanie Moore as Ermengarde, and Alli Mauzey as Ernestina. The revival will then finally conclude on August 25, 2018, with Bette Midler once again bidding adieu. This is a true encore scenario, when the audience just won't stop clapping, and even though seven months have passed since Midler supposedly took her final bow, she will be back for another six weeks to soak in that applause.