Annette Bening joins John Lithgow in "King Lear"
Annette Bening, The Beloved Academy Award Winning Movie Star, Has Joined The Cast Of The Shakespeare In The Park Production Of King Lear.
---
The Storied Past of Broadway's Shakespeare in the Park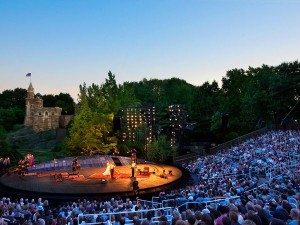 Ever since 1961, when theatrical impresario Joseph Papp famously convinced New York City parks commissioner Robert Moses to build an outdoor amphitheater in Central Park, the Public Theater has produced the annual New York Shakespeare Festival, also known as Shakespeare in the Park, at the Delacorte Theatre.
Renowned for its unusual combination of free tickets for all, as well as highly acclaimed productions often starring household names, this outdoor festival is a rare treat for New York theatregoers.
"Much Ado About Nothing" And "King Lear"
This year, the Festival has two productions: Much Ado about Nothing and King Lear. Though the Festival does not always feature exclusively Shakespeare, it generally has two productions in the series, and this year they are both by the Bard.
The last time that King Lear was a production of this Festival was in 1973. Much Ado about Nothing, on the other hand, has been staged at the Delacorte three times before, most recently in 2004.
John Lithgow Headlines King Lear
It was announced several weeks ago that King Lear, which begins performances on July 22, 2014 and runs until August 17, 2014, will star John Lithgow in the title role. Lithgow was last seen in Shakespeare in the Park in 1975, when he played Laertes in Hamlet.
He is also well known for his work on television shows such as 3rd Rock from the Sun and Dexter, andhisfilm performances in such movies as Shrek, The World According to Garp, and Terms of Endearment. Furthermore, he has been seen on Broadway in plays including The Columnist, M. Butterfly, Requiem for a Heavyweight, and the 2008 revival of All My Sons.
Directed By Daniel Sullivan
At the same time as this lead casting announcement, it was publicized that King Lear will be directed by Daniel Sullivan, who has overseen several productions at Shakespeare in the Park including The Comedy of Errors, Twelfth Night, and The Merchant of Venice, as well as Broadway shows such as Glengarry Glen Ross and The Snow Geese.
Annette Bening Joins The Cast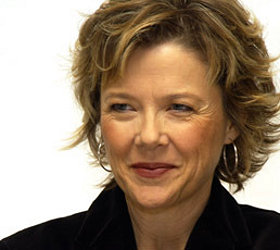 Recently, an exciting piece of casting news was announced for King Lear. Annette Bening, who was last seen on Broadway in 1987 in Coastal Disturbances, will play Lear's eldest daughter Goneril. Bening has been nominated for four Academy Awards: for her roles in The Grifters, Being Julia, American Beauty, and The Kids Are All Right.
She has also won Golden Globe Awards for her performances in Being Julia and The Kids Are All Right. Though she has not been since on the New York stage in over 20 years, her career originated in the theatre.
Bening's History On Broadway
She studied at the American Conservatory Theater in San Francisco, where she played roles including Lady Macbeth. She also has been seen onstage at the Denver Center Theatre Company, and she has recently performed at Los Angeles' Geffen Playhouse.
She also received a Tony Award nomination for her role in the Broadway production of Coastal Disturbances. The other two sisters in King Lear will be played by Jessica Hecht (Regan) and Jessica Collins (Cordelia).
King Lear Follows Much Ado About Nothing in Park Season
As for the first of the two productions in Shakespeare in the Park – Much Ado about Nothing – it will star Lily Rabe as Beatrice and Hamish Linklater as Benedick, and it will be directed by Jack O'Brien (The Nance, The Coast of Utopia, Macbeth). Much Ado about Nothing will begin performances at the Delacorte on June 3, 2014 and will run for five weeks.