"Anastasia" Begins Previews with Strong Broadway Ticket Sales
Anastasia Began Previews At The Broadhurst Theatre On Broadway In A New Production With A Book By Terrence Mcnally, Music By Stephen Flaherty, And Lyrics By Lynn Ahrens
---
Based off the 1997 Film of the Same Name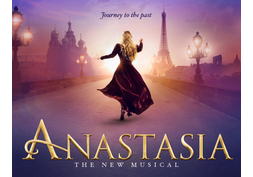 On March 23, 2017, Anastasia began previews at the Broadhurst Theatre, ahead of its opening night scheduled for April 24, 2017. This musical had its world premiere at Hartford Stage in Connecticut in May 2016, in a try-out production en route to Broadway. This musical has a book by Terrence McNally (The Visit, It's Only a Play, Master Class), along with music by Stephen Flaherty and lyrics by Lynn Ahrens (the duo behind Rocky, Ragtime, Once on this Island, and Seussical). The show is directed by Darko Tresnjak, the artistic director of Hartford Stage who made his Broadway directorial debut with A Gentleman's Guide to Love and Murder.
Anastasia is the story of the Grand Duchess Anastasia Nikolaevna Romanov who is growing up in St. Petersburg, Russia from 1907 to 1917, dreaming of a life in Paris, when the Bolsheviks invade her family's palace. In 1927, she is found to have a strong resemblance to the child duchess, but does not remember any of her past. Now going by the name of Anya, she finds herself in Paris as she attempts to reconstruct her past. The musical stars Christy Altomare as Anya, as well as Derek Klena, John Bolton, Ramin Karimloo, Caroline O'Connor, Mary Beth Peil, Sissy Bell, Lauren Blackman, and an excellent ensemble.
A Healthy Broadway Run in the Cards for "Anastasia"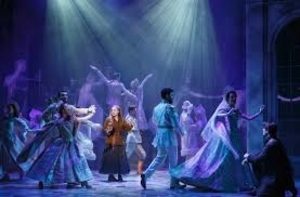 In the musical's first partial week of four preview performances, it brought in a weekly gross of $629,307, which represents 107.7% of its gross potential. With a top ticket price of $350.00, the average paid admission was $137.64, and the audience was filled up to an average capacity of 100.0%. In addition to the recorded ticket sales from this phenomenal first week, there has been significant buzz that this box office success will not be short-lived. The show reportedly has an extraordinary advance in ticket sales for future performances.
After just one Broadway performance, the producers announced that even more tickets would go on sale, and as of now tickets are available for performances up until January 7, 2018. This is likely to extend even longer if the show catches hold and becomes a long-running musical of the likes of The Lion King, Wicked, The Book of Mormon, or more recently, Aladdin. The show is lead produced by Stage Entertainment, Bill Taylor, Tim Kirdahy, and Hunter Arnold, who together have been behind some big shows recently including Sister Act, Rocky, It's Only a Play, and The Visit. Anastasia looks poised to be even more successful than the previous musicals brought to Broadway by Stage Entertainment.
Cast Album To Be Released in June
The cast album for Anastasia will be recorded by Broadway Records, for a release date to be announced sometime in June. The show is based on the Fox Animated Studios film from 1997, but includes over a dozen new songs, including "Still," "In My Dreams," "My Petersburg," "Dance of the Romanovs," "The Rumors Never End," and "We'll Go From There." Still, it's not all rosy for the Anastasia team as of now. The production is being sued for plagiarism by the estate of a playwright named Marcelle Maurette, who wrote a play called Anastasia that appeared on Broadway in 1954, and which includes many of the same themes and is based on the same true story.
The heirs of the playwright are hoping to get an injunction for the musical to officially open until they can reach an agreement to license the play. The producers oppose the plaintiff's claim, as the state their musical is based on the true life of Anastasia Romanov, and therefore there is no truth to the accusation of plagiarism. In any case, the show is scheduled to open on April 24, 2017, and hopefully this lawsuit will not cause any delays.