"American Psycho" Earns Mixed Broadway Reviews but Sweeps Drama Desk Nominations
American Psycho Opened On Broadway With Mixed Reviews After Playing At London's Almeida Theatre.
---
Benjamin Walker Stars And Rupert Goold Directs A Duncan Sheik Score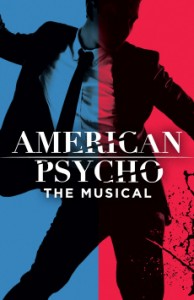 This past week, American Psycho opened at the Gerald Schoenfeld Theatre. It had been running in previews since March 24, 2016. Based off the Bret Easton Ellis novel, and subsequent film starring Christian Bale, of the same name, American Psycho tells the story of sociopath Patrick Bateman, who cannot help but murder women in sexual delusion, all while living the life of a successful Wall Street investment banker.
Set in the 1980s, the show lends itself to a catchy score, in this case with music and lyrics by Duncan Sheik, who also composed the music for Spring Awakening.
"American Psycho" Garners Strong Reviews In London
The book is written by Roberto Aguirre-Sacase, who also wrote the book for Spiderman: Turn Off the Dark. This production originated in London at an Off-West End venue, the prestigious Almeida Theatre. Directing with Rupert Goold and choreographed by Lynne Page, the show received excellent reviews in London, and the decision was made to bring it to New York.
Taking on the lead role of Patrick Bateman is Benjamin Walker, who has played big Broadway lead parts before, such as in Bloody Bloody Andrew Jackson and Cat on a Hot Tin Roof. He is joined by Jennifer Damiano as Jean, Drew Moerlein as Paul Owen, Alice Ripley as Svetlana and other parts, Helène York as Evelyn Williams, and Krystina Alabado as Vanden.
Mixed Reviews From Major Theatre Critics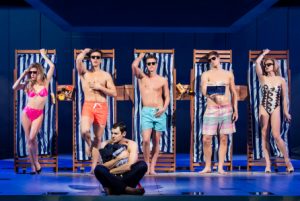 Ben Brantley of The New York Times was on the fence regarding the success of American Psycho, remarking that it satisfies as a satirical bloodbath but fails at being deemed a first-rate musical.
Adam Feldman from Time Out New York declared that for all its splatter, the show feels bloodless, as even the sharp performances couldn't make the ironic removal of the subject matter as cutting on the stage as in print or on the screen.
Theatrical Content Not Right For Mainstream Audiences
On the other hand, David Rooney from The Hollywood Reporter was a fan of the musical, enjoying its distinctly theatrical treatment of the material. Also, Joe Dziemianowicz from the New York Daily News said the show will give you a "killer buzz," pleased by the heightened ironic humor and minimized violence.
Jeremy Gerard from Deadline was less generous, calling Aguirre-Sacasa's book awkward and Sheik's score only "well-crafted," but not "beautiful" like Spring Awakening. Postulating that there may be a hipster audience from this show, Gerard did not buy the appeal. Unfortunately, hipsters are also not buying Broadway tickets.
Middling Box Office Sales
In the last reported week of box office figures, the week ending April 24, 2016, American Psycho brought in $534,224, which represents 50.75% of its gross potential. With a top ticket price of $248.00, the average paid admission was $69.18. On average, the audience that week was filled up to 93.6% of its gross potential.
Therefore, while these numbers do indicate interest in the show, it appears the price point may be beyond the wherewithal of the target audience. The average Broadway ticketbuyer, who is considered to be a woman aged 40-60, may not be the ideal target for this bloody, cult classic in musical form. However, the awards season is off to a strong start for American Psycho.
"American Psycho" Has Success With Drama Desk Nominations
While the most prestigious Tony Award nominations have not yet been announced, the Drama Desk nominations just were – and American Psycho brought in the second most of any musical: eight (She Loves Me earned nine).
While this did not include a nomination for Outstanding Musical nor recognition for the book or the score, it did include a nod to Benjamin Walker for his acting performance, Rupert Goold for his direction, Lynne Page for her choreography, Es Devlin for his set design, Katrina Lindsay for her costume design, Justin Townsend for his lighting design, Finn Ross for his projection design, and Dan Moses Schreier for his sound design. The 2016 Drama Desk Awards will take place on June 5, 2016 in Manhattan's Town Hall, hosted by Michael Urie.