"American Psycho" Closes at $8.8 Million Loss
American Psycho, Starring Benjamin Walker, Closed After 81 Performances, At A Loss Of Its $8.8 Million Capitalization.
---
Poor Reviews And Low Broadway Ticket Sales Result In Untimely Demise
Today marks the final performance for the Broadway run of American Psycho, which began previews at the Gerald Schoenfeld Theatre on March 24, 2016, and had its official opening night on April 21, 2016.
Based off the novel of the same name by Bret Easton Ellis, American Psycho tells the story of Patrick Bateman, a Wall Street banker who is also a murderous sociopath. The novel was also famously adapted to a film in 2000 starring Christian Bale.
"American Psycho" Receives Mixed Reviews
The Broadway musical has a book by Roberto Aguirre-Sacasa (Spiderman: Turn Off the Dark) and a score by Duncan Sheik (Spring Awakening), and premiered at London's Almeida Theatre in 2013, directed by Rupert Goold (King Charles III, Enron) and choreographed by Lynne Page (La Cage aux Folles, A Little Night Music). In London, the show received positive reviews, extending its run by a week and selling out the box office of the small-scale but prestigious Off West End theatre. The New York run has not been so successful.
The reviews were mixed, with Ben Brantley from The New York Times calling it the type of show that makes your mind wander distractedly, and Jeremy Gerard from Deadline calling it a celebration of vapidity and inhumanity that is itself vapid and inhuman. He also speculated that perhaps there is a hipster audience for this musical, but that he himself isn't buying it. Unfortunately, hipsters are not a significant portion of the Broadway ticket-buying demographic.
Closing After 81 Performances, Including Previews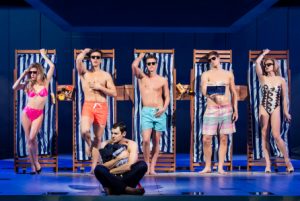 With this tepid critical response and lackluster box office performance, American Psycho has now closed after just 81 performances, including its 27 preview performances. It has certainly closed at a financial loss, failing to recoup anywhere near its $8.8 million capitalization.
Over the course of the run for reported box office figures thus far, the average percentage reached of gross potential was 53.01%, the average paid admission was $77.79, and the average audience capacity was filled up to 87.14%.
Brand Name Recognition Isn't Enough
These numbers may not be horrendous, but in the math of Broadway profitability, they just don't add up. While Broadway is certainly not a science, in this case, the relatively inexperienced producing team hedged their bets on a show based primarily on its brand name recognition, and encouraged by its surprising success in London.
However, a show that feels satisfying cultish in a small, classy London venue can have a very different impact on a large, unforgiving Broadway stage.
Perhaps Would Have Fared Better Off-Broadway
Originally, the New York premiere was slated for the Off-Broadway Second Stage Theatre, but the rights were pulled as the plans for the Broadway production were underway. While Benjamin Walker, in the role of Patrick Bateman, was praised for his disciplined performance, and equally disciplined physique, he is by no means a household name, and arguably not an entirely charismatic leading man, either.
It was therefore unlikely that American Psycho was ever going to set sail in this competitive Broadway season of shows like Hamilton, Waitress, and Shuffle Along… No plans for a national tour or further productions have been announced, but chances are that the producers will be scoping around for the next opportunity to capitalize on their investment in this property.