"Allegiance" Opens at the Longacre Theatre
George Takei made his Broadway debut in Allegiance, which opening last week starring alongside Lea Salonga, directed by Stafford Arima, and choreographed by Andrew Palermo.
---
George Takei Makes His Broadway Debut Alongside Lea Salonga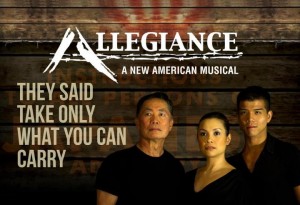 This past week,
Allegiance
played its opening night performance at the Longacre Theatre. The show had been running in previews since October 6, 2015, and is presently scheduled for an open ended run. With a book by Marc Acito, Jay Kuo, and Lorenzo Thione, and music and lyrics by Jay Kuo, the show is directed by Stafford Arima and choreographed by Andrew Palermo. This is a unique show on Broadway for several reasons. One of which is the subject matter, dealing with the Japanese internment camps in America during World War II; it's rare for a new musical to take on a stark historical subject and try to bridge the gap between entertainment and tragedy. Another reason is that this is a show conceived of and created by producers. Of course Jay Kuo is also a very talented musician, having written the music and lyrics, and co-written the book, for this gorgeous score. However, until now, Jay Kuo and Lorenzo Thione had the most experience on Broadway as producing partners, coming on board as producers for
Catch Me If You Can
and
Elling
, and associate producers for
American Idiot
and
Slava's Snowshow
. The duo was also responsible for bringing George Takei on board, after coincidentally sitting beside him and his husband two nights in a row at the theatre.
Mixed Reviews Don't Bode Well for the Show's Longevity
Charles Isherwood of The New York Times did not love the production, remarking that the show's creators had split affection between showing the tragic suffering of the population featured in the musical, and attempting to provide an entertaining evening of theatre for the audience. Jeremy Gerard of Deadline calls the show "somewhat ungainly," although impressed by the level of complexity unusual in many Broadway musicals. David Rooney of The Hollywood Reporter was equally torn, enjoying the authenticity in George Takei's eye as he sings about experiences he personally underwent as a child, but also believing that Jay Kuo's score is unmemorable and the lyrics unoriginal. Mark Kennedy from the Associated Press was even less generous in his response, finding the show heavy handed and cliché, while not being impressed by the challenge of taking on such heavy topics. On the other hand, Robert Kahn from NBC New York enjoyed the show quite a lot, calling it poignant, well-crafted, and often stirring. With such negative reviews overall, however, this show may find it difficult to bring in audiences in significant numbers.
Mediocre Box Office With a Post-Opening Increase
Although the reviews were overall less than positive,
Allegiance
saw an increase in box office in the week following its opening night. In the week ending November 15, 2015, the show earned a weekly box office gross of $571,750, which is the highest since its first week of previews, and which represents 61.64% of its gross potential. This is an increase of $150,772 from the week before. Perhaps just the mention of George Takei's name in the press incentivized ticket buyers who love him from his
Star Trek
fame, or who were enticed by the subject matter of Japanese internment camps. Over the six weeks of the run thus far, the average percentage reached of audience capacity was 54.55%. This past week, the average paid admission was $81.47, with shows some discounting but not a level of desperation. Still, the show may have a difficult time sustaining audiences for the long haul if audiences leave as dissatisfied as the reviewers.
Discount Broadway Tickets
---
---