"Airline Highway" to Close Early
Airline Highway, An MTC Production, Closes On June 7, 2015, Which Is One Week Earlier Than Planned After 4 Tony Nominations.
---
Manhattan Theatre Club Production Shutters On Broadway One Week Early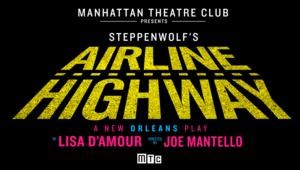 On April 1, 2015, Airline Highway began previews at the Manhattan Theatre Club's Broadway venue, the Samuel J. Friedman Theatre. It officially opened on April 23, 2015. At that time, it was scheduled to conclude performances on June 14, 2015.
However, it has been announced that the show will close one week early, playing its final performance on June 7, 2015. Though the play received mixed reviews, it has been performing dismally at the box office the entire run.
"Airline Highway" Receives Four Tony Nominations
Perhaps surprisingly, the show received four Tony Award nominations in a season when many productions received zero (those snubbed include Finding Neverland, The River, It Shoulda Been You, Living on Love, and several more). Airline Highway received nominations for Best Performance by an Actor in a Featured Role in a Play for K. Todd Freeman, Best Performance by an Actress in a Featured Role in a Play for Julie White, Best Costume Design of a Play for David Zinn, and Best Lighting Design of a Play for Japhy Weideman.
Nevertheless, the show will close the same day as the Tony Awards, the producers figuring that even four wins (however unlikely) would not save the flailing production.
Mixed Post-Opening Reviews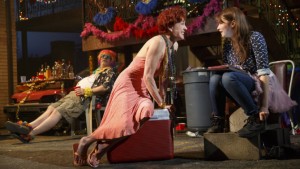 When the play opened on April 23, 2015, critics had a mixed set of opinions. Charles Isherwood of The New York Times was in favor of this production, the first by a woman to be produced on a Broadway by MTC for some time.
He found the play to be compassionate but unvarnished, with some excellent performances such as that by Julie White. Robert Kahn of NBC New York was also a fan of the show, finding the story of these misfits in New Orleans to be ultimately uplifting.
Excellent Performances But Rambling Story
However, other critics were more on the fence. For instance, Adam Feldman from Time Out New York found the show to have a jazzy vigor, but he finds that the plot doesn't ultimately go anywhere of interest. Similarly, Terry Teachout of The Wall Street Journal was in favor of Lisa D'Amour's play being chosen for production as she is such a young writer, but he finds the play to be wholly derivative.
On the far negative end of the spectrum, David Rooney from The Hollywood Reporter found the play to be rambling, uninteresting, and deficient of any action, despite the noble efforts of the cast and creative team.
Struggling Box Office From Day One
Despite some positive reviews, the show never made greater than 36.84% of its gross potential in any given week. In the last reported week of box office figures, the week ending May 31, 2015, the show brought in $160,888, which represents 32.84% of its gross potential.
The average paid admission was only $46.19, showing a significant amount of discounting as well as complimentary tickets being given out, but the audience capacity still only made it to an average of 69.4%. Even though the Manhattan Theatre Club has more of a luxury to sustain a suffering production than purely commercial productions, given their not-for-profit status as an institution, even they had to draw the line somewhere.
Closes One Week Ahead Of Schedule
The decision to close only one week early allowed them to save face and still go out with four Tony nominations, but they must have decided they would cut some minor losses to cancel the final eight performances.