Addams Family Proceeds To Go To Philippine Disaster Relief
After Typhoon Haiyan Devastated Parts Of The Philippines, Broadway Musical The Addams Family Premiered At The Meralco Theater In Manila
---
"The Addams Family" Opens In Manila Donating Production Royalties To Red Cross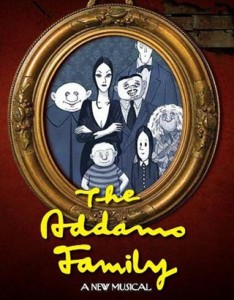 Just a few days after Typhoon Haiyan devastated parts of the Philippines, a production of the Broadway musical The Addams Family opened for a two-week run at the Meralco Theater in Manila.
To help in the relief efforts, Addams Family writers Rick Elice, Marshall Brickman, and Andrew Lippa, as well as the show's licensing agent Theatrical Rights Worldwide (TRW), are donating their production royalties to the Red Cross.
Disaster Relief
"Once in a while in this business we have an opportunity to reach out and help," stated Sean Cercone, the director of professional and international licensing at TRW, "and this is a time when we can see that borders and oceans may separate us, but this is one world. We're doing what we can." Philippine actor Arnell Ignacio, who plays Gomez in The Addams Family, stated, "We are truly touched by the generosity of the writers of The Addams Family and Theatrical Rights Worldwide.
It is heartwarming to see the world extend us a helping hand as we go through this gargantuan test to our nation. The Addams Family plays through December 1. More information is available at www.TheAddamsFamilyMusical.com.