A Time To Kill Closes on Broadway Today
A Time To Kill Could Not Survive Two Months On Broadway And Concludes Its Run Despite An Incredible Creative Team And Talented Ensemble Of Actors
---
"A Time To Kill" Concludes at The John Golden Theatre on Broadway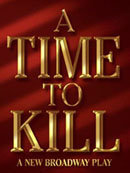 One of the early casualties of the 2013-14 Broadway season, A Time To Kill concludes its run at the John Golden Theatre today. Having begun preview performances on September 28, the production only survived about a month and a half on Broadway before succumbing to poor ticket sales.
A Time To Kill was the first of best-selling author John Grisham's novels to be adapted for the stage. The Broadway production starred Sebastian Arcelus, Patrick Page, Tom Skerritt, Tonya Pinkins, Ashley Williams, John Douglas Thompson, and Fred Dalton Thompson.
Incredible Creative Team And Ensemble Of Actors
"We are enormously proud to have brought John Grisham's A Time to Kill to Broadway with an incredible creative team and an extraordinary ensemble of actors," stated producers Eva Price and Daryl Roth. "We would like to thank Rupert Holmes, Ethan McSweeny, and the entire company of our production for—as we all witnessed night after night—thrilling our audiences with a compelling, essential story about justice and morality."
Discount Broadway Tickets
---
---