A Streetcar Named Desire Closes on Broadway
After A Successful Run On Broadway, A Streetcar Named Desire Concludes Its Limited-Run And Prepares To Transfer To London Productions Beginning This Autumn
---
"A Streetcar Named Desire" Transfers To London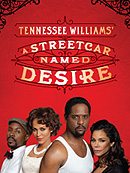 The most recent Broadway revival of Tennessee Williams' play A Streetcar Named Desire has its final performance at the Broadhurst Theatre today. Blair Underwood (L.A. Law) , Daphne Rubin-Vega (Rent), and Nicole Ari Parker (Boogie Nights) starred in this production of the American classic about an unstable Southern belle who goes to live with her sister and the sister's husband.
Some people had doubts when the production was first announced. Would Blair Underwood, with his matinee idol looks and suave demeanor, be convincing as the brutish Stanley Kowalski? And would having the character (a working class Polish man living in 1940s New Orleans) played by an African-American actor be confusing?
Mixed Reviews And Positive Word-Of-Mouth
The latter question was ultimately answered by the production simply leaving Stanley's last name and any references to his ancestry out of the script. Continuing a recent trend of artists from the jazz and R&B world contributing to Broadway plays, multiple Grammy winner Terence Blanchard provided underscoring for A Streetcar Named Desire.
Under the direction of Emily Mann, the production ended up getting mixed reviews overall, with largely positive word-of-mouth. From the beginning, this Streetcar was scheduled for a limited run to end on this date, but at one point the show did announce it was extending through August 19. In mid-June, the extension was canceled and it was determined that the production will transfer to London for a run this autumn.