A Night with Janis Joplin Closes on Broadway
---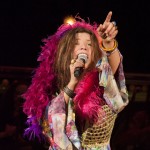 The bluesy, rockin' musical revue
A Night with Janis Joplin
, starring Mary Bridget Davies in the title role, concludes its run at the Lyceum Theatre on Broadway today. However, don't expect the bio-musical to be gone for long -- there are already plans to move it to another theater. "We are tremendously proud of this show, and excited about the many people who want to see
A Night with Janis Joplin
in New York. We are finalizing a wonderful option to move to another venue in New York City," stated producers Michael Cohl, Todd Gershwin, and Daniel Chilewich. "
A Night with Janis Joplin
receives four standing ovations nightly and continues to play to captivated crowds on Broadway. We know that the music and the story of Janis Joplin deserve to live on." Both directed and written by Randy Johnson,
A Night with Janis Joplin
opened on Broadway on October 10.