A Christmas Story, Bring It On, and Radio City Christmas Show Close Today
As The Busy Tourist Holiday Season Comes To A Close, Three Shows Conclude Their Broadway Runs, Including Two Holiday-Themed Productions
---
Holiday-Themed Productions Appeal To Broadway Audiences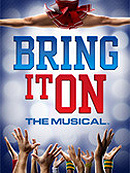 As 2012 comes to a close, so do a couple of Broadway shows (Bring It On and A Christmas Story, along with one very popular show that is not on Broadway but at the Radio City Music Hall). Two of these shows, A Christmas Story and the Radio City Christmas Spectacular, are holiday-themed productions that were designed to appeal to the Christmas tourist crowd visiting New York City.
The Radio City Christmas show has of course been a staple of the NYC holiday seasons for many decades, and year after year it plays for approximately six or seven weeks during the holiday season, delighting audiences with the Rockettes' precision dancing and the live Nativity scene.
"A Christmas Story" Is Likely To Return Next Year
A Christmas Story, on the other hand, was enjoying its first time in New York City. This musical adaptation of a beloved Christmas movie made a good impression on the critics and did excellent ticket sales (especially in December), so there is a good chance that this one could return to Broadway next holiday season and perhaps become a Christmas-time regular.
Bring It On's closing is not related to the conclusion of the Christmas holiday, but is simply the result of the show no longer selling enough tickets to make a continued run worthwhile. However, Bring It On, which opened in the summer, was originally scheduled for a very limited run that would have concluded in the autumn. But the competitive cheerleading themed musical received a positive response early in its run, prompting extensions that allowed the show to run much longer than initially planned.
Discount Broadway Tickets
---
---