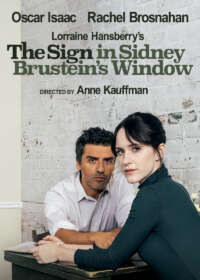 The Sign in Sidney Brustein's Window
Broadway Show Tickets: Show Closed No Longer Available
The Sign in Sidney Brustein's Window on Broadway: Show Is Now Closed
The Sign in Sidney Brustein's Window

Summary
Show Status: Closed

Genre: Play

The Sign in Sidney Brustein's Window is 2 hours 10 minutes long, including an intermission of 15 minutes

8 Shows per week

Previews Began: April 25, 2023

Show Opened: April 27, 2023

Show Closed: July 2, 2023
Political drama by the late "Raisin in the Sun" playwright Lorraine Hansberry where a diverse group of friends in 1960's Greenwich Village dream about what could be, but ultimately fail
The Sign in Sidney Brustein's Window

on Broadway Background
Show Was A Shoe-In Replacement For The 2023 Failed Room

The revival of The Sign in Sidney Brustein's Window takes the place of Room, which had been scheduled to open at the James Earl Jones Theatre this season, but failed to secure financing. Room was added to the rare list of cancelled Broadway shows. A cancelled show is a Broadway show that makes it all the way through rehearsals, setup and ticketing, but does not actually open.
The Shubert's Always Have Lists Of Broadway Shows That Serve As Backup
The Shubert Organization has a secret list of back-pocket shows that are always ready to go and are able to fit into a time window on the rare occasion when another show is cancelled or is closed without notice.
The potential Broadway shows on this backup list must require minimal scenery and must already be established off-Broadway and be ready to go on a moments notice. This is the case with Room, which abruptly cancelled its opening after financial problems. All the shows on this list must already be fully funded.
The Sign in Sidney Brustein's Window Original Broadway Debut in 1964

The Sign in Sidney Brustein's Window first debuted on Broadway in September of 1964 at the Longacre Theatre, four years after the original run of Hansberry's "A Raisin in the Sun" closed.
1974 Broadway Production Of Sign Was A Debacle
The play returned to the Longacre for a brief revival in 1972. It played nine previews and the closed after just three full performances, following poor reviews from critics and terrible box office receipts.
What's
The Sign in Sidney Brustein's Window

Like?
Set in the beatnik generation's Greenwich Village of the 1960s, The Sign in Sidney Brustein's Window follows a diverse group of friends whose progressive dreams can't quite match up to harsh reality. At the center are Sidney and Iris Brustein, fighting to see if their marriage will be the final sacrifice to Sidney's lofty ideals.
Is
The Sign in Sidney Brustein's Window

Good for Kids?
This political drama may not be appropriate for younger audiences.
James Earl Jones Theatre
138 West 48th Street
New York, NY 10019
Entrance:
48th Street between 6th and 7th Avenues
Theatre Information
The Sign in Sidney Brustein's Window Marquee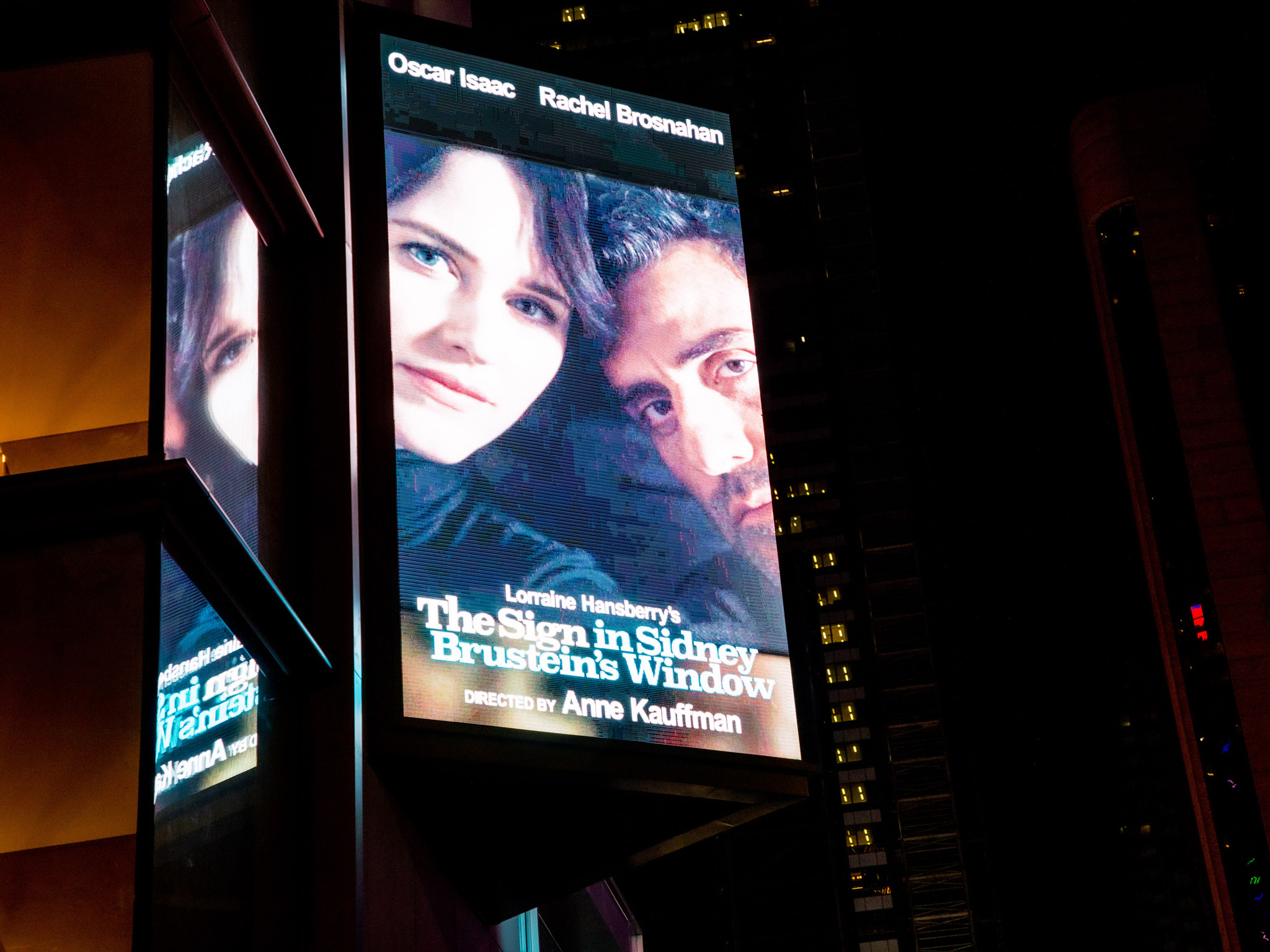 Sidney Brustein

Oscar Isaac
Iris Brustein

Rachel Brosnahan
Gloria Parodus,

Gus Birney
Alton Scales

Julian De Niro
David Ragin

Glenn Fitzgerald
Wally O'Hara

Andy Grotelueschen
Mavis Parodus

Miriam Silverman
Max

Raphael Nash Thompson
Seaview: Sue Wagner and John Johnson
Brooklyn Academy of Music
Playwright

Lorraine Hansberry