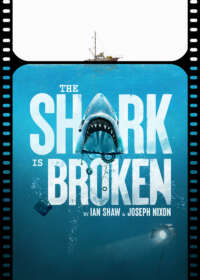 The Shark Is Broken
Broadway Tickets: Show Recently Closed on Broadway
The Shark Is Broken on Broadway Show Recently Closed
The Shark Is Broken

Summary
Show Status: Recently Closed

Genre: Comedy Play

The Shark Is Broken is 1 hour 50 minutes long, including an intermission of 15 minutes

8 Shows per week

Previews Began: July 25, 2023

Show Opened: August 10, 2023

Show Closed: November 19, 2023
Inspired by the Steven Spielberg's movie Jaws, The Shark Is Broken is a "making of" story that imagines what happened between the film's stars Robert Shaw, Richard Dreyfuss and Roy Scheider on board the set's famous boat when the mechanical shark caused a delay and the cameras were off.
The Shark Is Broken

on Broadway Background
Show Debut At Edinburgh Fringe Festival in 2019

Following a run at the 2019 Edinburgh Fringe Festival, the comedy Shark Is Broken landed on the West End (after a pandemic-related postponement) for a limited run that began in October of 2021 and that was extended through January of 2022.
Co-writer Ian Shaw made his Broadway debut in the role of Robert Shaw, his father, who played "the shark hunter Quint" in the original Spielberg film, Jaws. Ian Shaw originated the stage role in both the Edinburgh and West End productions and reprises the role on Broadway.
Two Of The Original Stars From The Movie Jaws Have Died
Robert Shaw
Ian Shaws father, Robert Shaw, died in 1978 at the age of 51. This was just three years after starring in Jaws.
Shaw starred as the frosty captain Quint in the 1975 movie where he had many of his scenes cut from the original movie. Shaw died in Ireland at the age of 51 from a heart attack on 28 August 1978, while driving from Castlebar, County Mayo, to his home in Tourmakeady.
Roy Scheider
Roy Scheider starred as Chief Martin Brody in Jaws. Scheider was diagnosed with multiple myeloma. He died on February 10, 2008, in Little Rock, Arkansas, at the University of Arkansas Medical Sciences Hospital.
Richard Dreyfuss
Dreyfuss starred as Matt Hooper in Jaws. He is still alive and still appears in movies and TV shows.

What's
The Shark Is Broken

Like?
The Shark Is Broken is a comedic play about the making of Jaws that stars the son of one of the film's main actors, who died in 1978, three years after the movie had wrapped.
Show Is The Brainchild of Ian Shaw
The play is the brainchild of Ian Shaw, whose father, Robert Shaw, played Quint, the psychotic shark hunter, in the film. Its film set was plagued by problems, some exacerbated by Robert Shaw's drinking, and the play depicts the fraught relationship between him and his co-stars, Richard Dreyfuss and Roy Scheider.
In the play, set in 1974, the three men are trapped together on a boat, managing the bad weather, dealing with shark troubles and drinking a lot of alcohol.
Is
The Shark Is Broken

Good for Kids?
Despite the show being a comedy, the dialog is adult in nature and may be inappropriate for persons under the age of 18 years of age.
John Golden Theatre
252 West 45th Street
New York, NY 10019
Entrance:
45th Street between 7th and 8th Avenues
Theatre Information
The Shark Is Broken Marquee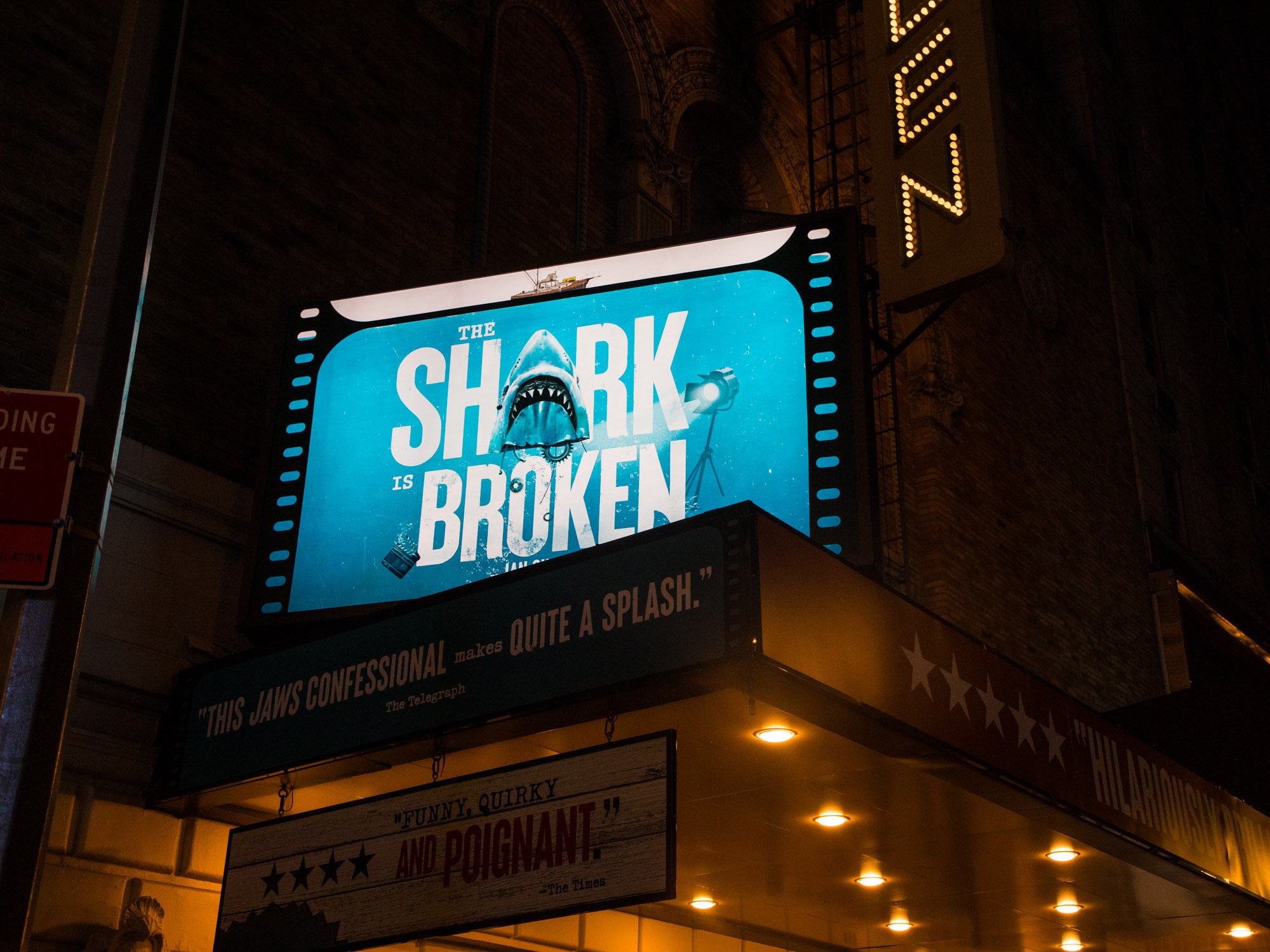 Richard Dreyfuss

Alex Brightman
Roy Scheider

Colin Donnell
Sonia Friedman Productions