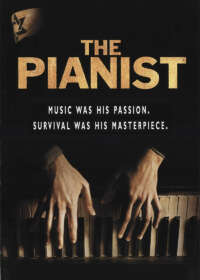 The Pianist
Broadway Show Tickets: Not Currently Available
Discount Broadway Tickets For The Pianist - This Show Is Now Shelved
Show Status: Shelved

Genre: Play with Music

The Pianist is 125 minutes long, including an intermission of 15 minutes

8 Shows per week

Show Closes: Open ended
Based on the memoir by the Polish-Jewish pianist and composer Wladyslaw Szpilman, the show tells how he survived the German occupation of Warsaw in September 1939.
The Pianist

on Broadway Background
Wladyslaw Szpilman was a Polish pianist and classical composer of Jewish descent who's story of survival was told in the 2002 Roman Polanski film The Pianist. The movie was adapted into a play with music for Broadway.
Developed from the 2002 Movie
Szpilman is widely known as the central figure in the lauded 2002 movie, which was directed by Roman Polanski. The movie was based on Szpilman's autobiographical account of how he survived the German occupation of Warsaw in September 1939, and then the ensuing Holocaust that took the lives of most of his family.
Original Book in 1945
Szpilman was already a Polish celebrity prior to the war and was a featured soloist at the Polskie Radio. The movie came from the original book The Death of a City (original "Śmierć miasta") that was written by Wladyslaw Szpilman himself in 1945 and was then further elaborated on by Jerzy Waldorff in the late 1940's

Santino Fontana is Attached to Show
The popular Santino Fontana stars as Wladyslaw Szpilman. The production team includes scenic design by Beowulf Boritt, sound design by Mark Bennett, and general management by Carl Pasbjerg at The Alchemy Production Group.
The Pianist features a score by Iris Hond and a soundscape enhanced by Atmos Dolby Surround Sound.
Show Dates and Theatre
The show preview, opening and closing dates for this show are not confirmed. The theatre has not yet been announced.
A famous Polish Jewish radio station pianist, Wladyslaw Szpilman, sees Warsaw change gradually as World War II begins with the invasion of the Germans in September 1939. Szpilman is forced into the Warsaw Ghetto and is later separated from his family during Operation Reinhard.
Operation Reinhard
Operation Reinhard was the codename of the secret German plan in World War II to exterminate Polish Jews in the General Government district of German-occupied Poland. This was the deadliest phase of the Holocaust and was marked by the introduction of extermination camps when burying the bodies of the innocent murdered citizens became "inefficient"
Szpilman Among the Ruins of Warsaw and His Family
From this time until the concentration camp prisoners are released at the end of the war in 1945, Szpilman hides in various locations among the ruins of Warsaw and we get to see his life, family and the destruction of the city of Warsaw through his eyes.
Is
The Pianist

Good for Kids?
The show contains many adult themes of murder and abuse and is only recommenced for children over the age of 16 years of age. The show contains many valuable historical facts.
Władysław Szpilman

Santino Fontana
Scenic Design

Beowulf Boritt,
Sound Design

Mark Bennett, and
General Management

Carl Pasbjerg at Alchemy Production Group.