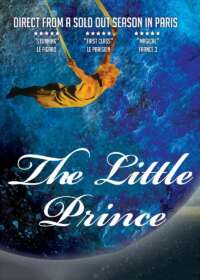 The Little Prince
Discount Tickets and Show Information
The Little Prince

Summary
Show Status: Opening Soon

Genre: Theatrical experience with musical elements

The Little Prince is 75 minutes long, including an intermission of 15 minutes

8 Shows per week

Previews Begin: March 4, 2022

Show Opens: March 17, 2022

Show Closes: August 14, 2022
Adaptation of the famous children's novella now a stage spectacle combining elements of acrobatics and dance with video and music to tell the story
The Little Prince

on Broadway Background
The Broadway theatre was looking for a replacement show after the 2021 debacle of West Side Story, that never reopened after the Pandemic Shutdown.
The Little Prince has previously played Paris, Sydney and Dubai between 2019 and 2020 and was a perfect fit for the Broadway theatre.
Produced by the Broadway Entertainment Group and directed and Anne Tournié, the show was scheduled at the Broadway Theatre for a limited run during the summer of 2022.
What's
The Little Prince

Like?
The prince travels around the universe, ending up on Earth. Frequently perplexed by the behavior of grown-ups, the prince symbolizes the hope, love, innocence, and insight of childhood.
The production uses dance and acrobatics to tell the story from the 1943 classic novel written by Antoine de Saint-Exupéry. The production uses blended media of dance, acrobatics and video to tell the story.
The show has a very Cirque du Soleil feel to it, but with a solid storyline that audience members can actually follow and remember.
Those already familiar with The Little Prince novella will garner most enjoyment from the show. Reading the novella prior to seeing the show is not required, but is encouraged, especially for children.
Is
The Little Prince

Good for Kids?
The show is specifically designed for children and will appeal to most children above the age of six years old.
Broadway Theatre
1681 Broadway
New York, NY 10019
Entrance:
53rd Street Between Broadway and 8th Avenue
Theatre Information
The Little Prince

Lionel Zalachas
The Pilot/Narrator

Aurélien Bednarek
The Rose/Flower

Adrien Picaut
The Lamplighter

Antony Cesar
The Geographer

Andre Kamienski
The Merchant

Marcin Janiak
The Conceited Man

Dylan Barone
The Businessman

Joän Bertrand
The Railway Switchman

George Sanders
The Train Driver

William John Banks
Broadway Entertainment Group
Libretto Adaptation

Chris Mouron