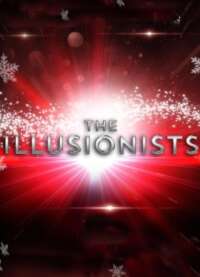 The Illusionists: Magic of the Holidays (2018)
Broadway Show Tickets: Show Closed No Longer Available
The Illusionists: Magic of the Holidays (2018) on Broadway: Show Is Now Closed
The Illusionists: Magic of the Holidays (2018)

Summary
Show Status: Closed

Genre: Magic Show

The Illusionists: Magic of the Holidays (2018) is 80 Minutes long, including an intermission of 15 minutes

8 Shows per week

Previews Began: November 23, 2018

Show Opened: November 23, 2018

Show Closed: December 30, 2018
A magic show like no other in a Broadway theatre. Back only for a limited time during the Holidays, the all-star magicians will amaze the whole family.

The Illusionists: Magic of the Holidays (2018)

on Broadway Background
The Illusionists: Magic of the Holidays production is scheduled to run only between November 23, 2018 and December 30, 2018 and is the fourth run of of this show on Broadway. During it's Broadway run, various versions of this show are also on tour around the world. The show is brought to Broadway by Magicspace Entertainment Inc and they are also known for working on Harry Potter.
What's
The Illusionists: Magic of the Holidays (2018)

Like?
The show is a mix of magic tricks, uptempo music and a lot of "wow, how did they do that?" moments. Often called Magic's Cirque du Soleil", the show borrows heavily from magic superstars like David Copperfield, David Blaine, Lance Burton, Shin Lim, David Devant, Apollo Robbins, Penn and Teller and even the legendary Harry Houdini. This Broadway version of the show is attempting to leverage some holiday spirit, but given that anything with the term "Holiday" in the title fails to perform well on Broadway may indicate that this version of the show may be less than compelling. The illusions and the magicians are subject to change without notice, so if there are any contract negotiations going on, be prepared to see a different set of magicians than you anticipated.
This is the second time that this show is headed into the Marquis theatre on Broadway, where they had a successful inaugural run back in 2014.
This show is a huge family attraction and people are bound to be in awe of all the amazing tricks and stunts these seven cast members perform.
Is
The Illusionists: Magic of the Holidays (2018)

Good for Kids?
This show is great for children and adults alike as they content is not blue. There are however loud bangs and sudden explosions that may occur on the stage. Many of the magicians disappear and reappear that may frighten younger children. No children under four years old are allowed into this theatre.
Marquis Theatre
1535 Broadway at 45th Street
New York, NY 10019
Entrance:
Broadway, between 45th Street and 46th Street.
Theatre Information
The Illusionists: Magic of the Holidays (2018) Marquee