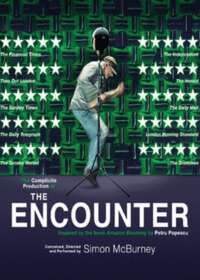 The Encounter
Broadway Show Tickets: Show Closed No Longer Available
The Encounter on Broadway: Show Is Now Closed
Show Status: Closed

Genre: Play

The Encounter is 2 Hours long, including an intermission of None

8 Shows per week

Previews Began: September 20, 2016

Show Opened: September 29, 2016

Show Closed: January 8, 2017
Inspired by the book Amazon Beaming by Petru Popescu, which details the experience of National Geographic writer and photographer Loren McIntyre, who immersed himself amongst tribal communities along the Amazon River.
The Encounter

on Broadway Background
McBurney has adapted this nonfictional survival tale, which offers a new perspective on the indigenous cultures it depicts, into a one-man show that has taken the international theatre community by storm.
As a theatre director, McBurney has had two outings on Broadway before: in 1998, his company's production of The Chairs transferred to Broadway under his direction, and in 2008 to 2009, he helmed a production of All My Sons, starring Katie Holmes, John Lithgow, and Dianne Wiest.
For this production of The Encounter, McBurney is billed as conceiver, co-director, star, and original producer with his company, Complicite. Meanwhile, the co-director is Kirsty Housley, making her Broadway debut. The Encounter will have gone on a national tour following the Broadway run, with stops in cities such as Los Angeles and Ann Arbor, Michigan.
Inspired by Amazon Beaming Book
Twenty years ago, Simon McBurney was gifted a book and it changed his life. Amazon Beaming is written by Petru Popescu, a Romanian man who escaped a repressive regime to reinvent himself as a screenwriter in Los Angeles.
It tells the true story from 1969 when Loren McIntyre, a National Geographic writer and photographer, found himself lost in the Amazon on the border between Peru and Brazil in the Javari Valley. The experience he had there forever changed his perception of the limits of human consciousness.
What's
The Encounter

Like?
Simon McBurney, the actor, director, and artistic director of cutting-edge British theatre company Complicite, is bringing his new show to Broadway. Having premiered at the 2015 Edinburgh International Festival, where it received a round of excellent reviews, the play then transferred to the Barbican Centre in London, a diverse arts and theatre venue.
Simon McBurney, the acclaimed theatrical visionary behind the British company Complicite, has transformed this multi-dimensional tale into a one-man theatre experience. On its merits alone, the play found its way from the Edinburgh Fringe Festival, through one of London's most interesting and prestigious arts venues, to the United States.
Is
The Encounter

Good for Kids?
The show is most appropriate for those over the age of 12. Children under the age of 4 are not permitted in the theatre.
John Golden Theatre
252 West 45th Street
New York, NY 10019
Entrance:
45th Street between 7th and 8th Avenues
Theatre Information
The Encounter Marquee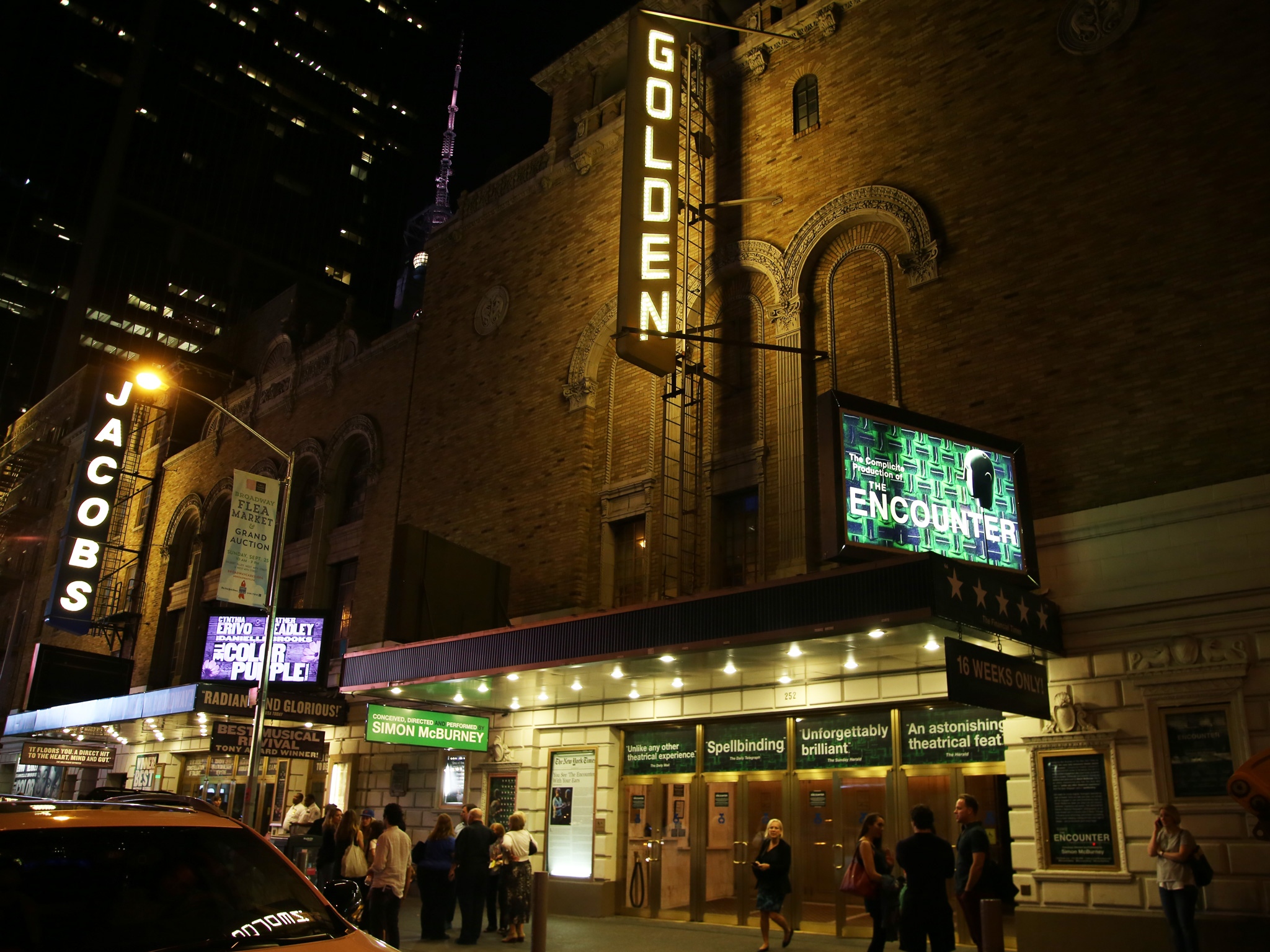 Loren McIntyre

Simon McBurney
Loren McIntyre (Alternate)

Richard Katz
Co-Direction

Kirsty Housley
Sound Design

Gareth Fry + Pete Malkin
Production Design

Michael Levine
Production Stage Manager

Adam Hunter
General Manager

Joe Watson at Frankel Green Theatrical Management
Technical Supervisor

Hudson Theatrical Associates
Advertising Representative

Serino Coyne
Press Agent

Boneau Bryan-Brown