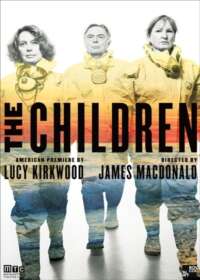 The Children
Broadway Show Tickets: Show Closed No Longer Available
The Children on Broadway: Show Is Now Closed
Show Status: Closed

Genre: Play

The Children is 2 Hours long, including an intermission of None

8 Shows per week

Previews Began: November 28, 2017

Show Opened: December 14, 2017

Show Closed: February 4, 2018
The Children is a new play by the British playwright Lucy Kirkwood, which premiered to success at the Royal Court Theatre in London. The story takes place in a remote cottage near a nuclear power plant beside the sea, shortly after a disastrous earthquake has destroyed the plant. While Rose has not seen Hazel and Robin for years, she arrives to insist that they take responsibility for cleaning up the plant to preserve the future for their children.
The Children

on Broadway Background
A memorable line from the play is: "Retired people are like nuclear power stations. We like the live by the sea." While Hazel and Robin prefer to remain in their seaside cottage while the world around them crumbles, Rose won't let them ignore the future that will go on with or without them.
The New York show is produced by the Manhattan Theatre Club, transferring intact from the Royal Court with the same director and cast. The production is directed by James Macdonald, who directed the 2008 Broadway production of Top Girls, also a transfer from the Royal Court to the Manhattan Theatre Club. The cast includes Francesca Annis as Rose, an old friend of a married couple Robin, played by Ron Cook, and Hazel, played by Deborah Findlay. All three are baby boomers and nuclear physicists. As it happens, Rose has no children, and Hazel and Robin have four, but nonetheless she is determined to galvanize her generation to heed the mess they are leaving behind. Deftly interweaving the personal and political, The Children is an eloquent and concisely expressed piece of theatre that reflects on our modern times. Rife with humor and expertly acted by three accomplished British actors, The Children is an exciting addition to the Manhattan Theatre Club season.
What's
The Children

Like?
Lucy Kirkwood is one of the most exciting playwrights to emerge in Britain in recent years. Her plays include Chimerica, which won the 2014 Olivier Award for Best Play, and she has another play called Mosquitoes set to open this year at the National Theatre in London. Her television credits also include the Sky 1 television series "The Smoke." In The Children, Kirkwood proves herself to be one of the most rewarding dramatists of her generation. She crafts a concise and powerful analogy between the nuclear power plant disaster and the baby boomer generation leaving behind an economic mess for the millennial generation.
Is
The Children

Good for Kids?
The show is recommended for those aged 14 and above. Children under the age of 4 will not be permitted in the theatre.
Samuel J Friedman Theatre
261 West 47th Street
New York, NY 10019
Entrance:
47th Street between 8th Avenue and Broadway
Theatre Information
Direction

James Macdonald
General Manager

Florie Seery at Manhattan Theatre
Advertising Representative

Serino Coyne
Press Agent

Boneau Bryan-Brown