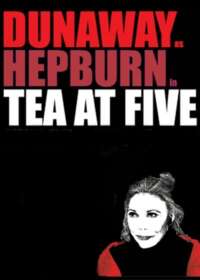 Tea at Five
Broadway Show Tickets: No Longer Available
Tea at Five on Broadway Show: Cancelled Show
Show Status: Cancelled

Genre: Play

Tea at Five is 70 minutes long, and does not have an intermission.

8 Shows per week

Previews Began: August 1, 2019

Show Opened: August 19, 2019

Show Closed: October 27, 2019
A straight play based on Katherine Hepburn's book Me: Stories of My Life which delivers Hepburn's life story in a one-woman monologue in two acts, set 50 years apart.
Tea at Five

on Broadway Background
Faye Dunaway plays Katherine Hepburn in Tea at Five in this one-woman monologue in two acts.
The first act of the show is set in 1938 and the second act is set in 1983. The play is set right after Hepburn has finished writing her book and suffers a debilitating car accident. The show attempts to reflect on the challenges and her life thus far.
Hepburn illuminates the great triumphs of her career and her deep (but also deeply flawed) love of Spencer Tracy, with its tragic ending.
Hepburn has been dubbed "box office poison" during her career and this show is conversely an affectionate portrayal of the side of the woman that we rarely see. Clearly the title of the show, Tea at Five, is a insider joke, because anyone in high society knows that you always serve tea at Four o'clock.
Tea at Five Show Cancelled
Only weeks before the show was set to make its Broadway premiere at the Neil Simon Theatre, Tea at Five was abruptly cancelled.
The Broadway production was set to open for previews on August 2nd, 2019, with its opening night occurring two weeks later on August 16, 2019.
Following its Broadway premiere, the show would experience a three month life span and close on November 6, 2019, however all this planning turned out to be futile. The Broadway-bound show met its unfortunate fate after show producers released a statement that they had suddenly ended their relationship with Faye Dunaway, the lead actress in the play.
Allegations Surface That Faye Dunaway Created Hostile Work Environment
While the exact reasons for firing Dunaway are unclear, the Chinatown actress is infamous for being difficult to work with. Sources have claimed that Dunaway fostered a hostile work environment, had altercations with a crew member during the production, and had a myriad of strange demands for the staff to follow.
This will likely be the last acting role we ever see Dunaway fill, as bad reputations tend to stick easily in the Broadway and movie industry and her acting is reportedly not as sharp as it once was. Dunaway is now well into her eighties and age may play a part of the breakdown.
The show is in two acts that are set in two different time periods, one is at the start of her career at the other at the tail end.
The show is set at Hepburn's sprawling mansion in old Saybrook, Connecticut and is a retelling of her turbulent childhood, her triumphs and failures during her acting years and reflections in her later years.
At times this polished bio-play comes over as just a little bit too much pre-manufactured, but it was written when Hepburn was still alive (and when Kate Mulgrew was still playing her in this play off-Broadway) so the writer had to tread a little bit softly, otherwise one of the biggest wheels could have come off the wagon.
Revelations are few and far between in this show and her life events have been pretty well documented before, but this is the first time that they have all been presented in this single-format style, which provides the audience with some clearer introspection of Hepburn's human frailties.
What begins as a story about love and loss, sadly dissolves into a stew of whiny arrogance, passive-aggressive bitterness and some Hepburn-esque acidic humor thrown in. The show seems to be missing more than one ingredient in the salt, fat, acid, heat formula and it is clearly no Philadelphia Story.
Is
Tea at Five

Good for Kids?
The play is suitable for children 13 and older, but teenagers may find little to interest them in this show.
Neil Simon Theatre
250 West 52nd Street
New York, NY 10019
Entrance:
52nd Street between Broadway and 8th Avenue.
Theatre Information
Faye Dunaway

Katharine Hepburn
Production Stage Manager

Bess Marie Glorioso
General Manager

Richards Climan Inc