closing soon!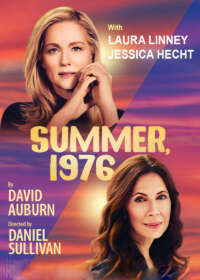 Summer, 1976
Discount Broadway Tickets: Show Closing Last Chance for Tickets
Show Status: Closing Soon

Genre: Play

Summer, 1976 is 125 minutes long, including an intermission of 15 Minutes

8 Shows per week

Previews Began: April 4, 2023

Show Opened: April 25, 2023

Show Closes: June 18, 2023
Set during the US Bicentennial celebrations in Ohio in 1976, the play examines the friendship between Diana, a talented artist and single mom, and Alice, a free-spirited yet naïve young housewife, where conversely both women have very little to celebrate.
Summer, 1976

on Broadway Background
This new play by Pulitzer Prize-winning author David Auburn is a moving, insightful piece is about connection, memories, and the small moments that can change the course of our lives.
Laura Linney In Lead Role
Tony Award nominee and four-time Emmy Award® winner Laura Linney appears in the lead role of this production which is the also play's world premiere. This original show appealed to Linney as she gets to define the role on a new work and does not inherit acting notes from previous performances.
MTC Scheduling Problems
The show was initially set to appear on Broadway in fall 2022, but was delayed to to MTC scheduling problems. Manhattan Theatre Club (MTC) commissioned the play and is also the lead producer on the show.

Bank of America New Play Program
The show was commissioned by MTC through the Bank of America New Play Program, "Summer, 1976" will be produced by MTC under the leadership of artistic director Lynne Meadow and executive producer Barry Grove.
What's
Summer, 1976

Like?
In the Summer of 1976, an unlikely friendship develops between Diana, a fiercely iconoclastic artist and single mom, and Alice, a free-spirited yet naïve young housewife.
As the Bicentennial is celebrated across the country, these two young women navigate motherhood, ambition, and intimacy, and help each other discover their own independence.

Is
Summer, 1976

Good for Kids?
This show has heavy adult themes and is only suitable for persons over the age of 16 years old
Summer, 1976

Ticket Lottery and Rush Schedule

Every day there are discounted Broadway show tickets sold as part of the Broadway ticket lotteries or as Rush Tickets Tonight. Tickets are only valid on-the-same-day of the drawing. The following is the daily schedule of the ticket lottery and RUSH ticket pricing.
Digital Rush
Tuesday, 9:00am
Wednesday, 9:00am
Thursday, 9:00am
Friday, 9:00am
Saturday, 9:00am
Sunday, 9:00am
Samuel J Friedman Theatre
261 West 47th Street
New York, NY 10019
Entrance:
47th Street between 8th Avenue and Broadway
Theatre Information
Summer, 1976 Marquee