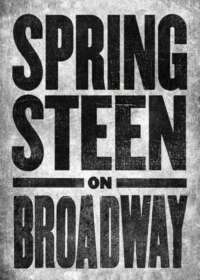 Springsteen on Broadway
Broadway Show Tickets: Show Closed No Longer Available
Springsteen on Broadway on Broadway: Show Is Now Closed
Springsteen on Broadway

Summary
Show Status: Closed

Genre: Special Event

Springsteen on Broadway is 2 Hours long, including an intermission of None

5 Shows per week

Previews Began: June 26, 2021

Show Opened: June 26, 2021

Show Closed: September 4, 2021
The Boss is appears live for charity on Broadway five times a week for eight weeks in his self-titled musical performance.
Springsteen on Broadway

on Broadway Background
One-of-a-kind opportunity to see Bruce Springsteen perform his most beloved songs, along with his more recent hits, in the unique environment of a Broadway theatre.
Springsteen fans undeniably refer to him as "The Boss," this concert show, is targeted towards his most dedicated devotees. Springsteen was awarded the Presidential Medal of Honor due to his contribution to American culture, one of many awards he has been given throughout his eminent career.
Some of his most beloved songs include "Dancing in the Dark," "Born in the U.S.A.," "Human Touch," "Streets of Philadelphia," "Dead Man Walkin'," "Thunder Road," and "We Take Care of Our Own." This is also the forerunner to an in development musical adaptation of Bruce Springsteen's best-selling memoir "Born to Run," which may be a larger scale, traditional jukebox musical coming to Broadway sometime in the next few years.
In its previous run at the Walter Kerr Theatre, the show originally started previews on 10/3/2017
The show officially opened 10/12/2017
The show officially closed on 12/15/2018

What's
Springsteen on Broadway

Like?
Bruce Springsteen has won 20 Grammy Awards, two Golden Globe Awards, an Academy Award, and countless other accolades and honors. His best-selling albums include "Born to Run" (1975) and "Born in the U.S.A." (1984), and his most recent album, "High Hopes," came out in 2014.
Springsteen is well known for his distinctive style of music, including poetic lyrics, Americana and working class themes centered around his native New Jersey, and his unique voice. He is also renowned for his energetic, long-lasting stage performances, which can often run 4 hours with his fans going wild all the time.
Springsteen on Broadway is an exciting opportunity for his most dedicated fans to see him up close and personal in a smaller venue than he usually performs. While the limited engagement will last just eight weeks, the memories will surely last a lifetime.
Is
Springsteen on Broadway

Good for Kids?
Children under the age of 4 will not be permitted in the theatre however the show is recommended for ages 16 and older.
St. James Theatre
246 West 44th Street
New York, NY 10019
Entrance:
44th Street, between 7th and 8th Ave
Theatre Information
Springsteen on Broadway Marquee
Barbara Carr (Associate Producer)
Scenic Design

Heather Wolensky
Lighting Design

Natasha Katz
Book + Lyrics + Music

Bruce Springsteen
Press Representative

DKC O&M