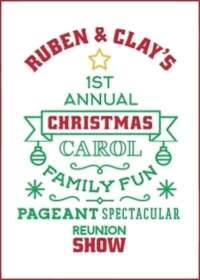 Ruben & Clay's Christmas Show
Broadway Show Tickets: Show Closed No Longer Available
Ruben & Clay's Christmas Show on Broadway: Show Is Now Closed
Ruben & Clay's Christmas Show

Summary
Show Status: Closed

Genre: Concert

Ruben & Clay's Christmas Show is 2 Hours long, including an intermission of 15 mins

7 Shows per week

Previews Began: December 7, 2018

Show Opened: December 11, 2018

Show Closed: December 30, 2018
Claymates and Ruben fans rejoice as American Idol Season 2 (2003) winners Ruben Studdard and Runner up Clay Aiken sing and dance on Broadway this Holiday.

Ruben & Clay's Christmas Show

on Broadway Background
Its formal name may be Ruben & Clay's First Annual Christmas Carol Family Fun Pageant Spectacular Reunion Show but there is nothing formal about this duo when they camp it up intheir new holiday show on Broadway, complete with songs, skits and everything in between.Fading American Idol stars (circa 2003), Ruben Studdard and Clay Aiken take to the stage at the Imperial Theatre on Broadway for this limited engagement holiday event that cannot seem to decide if its a family show, a pageant, a spectacular or just a reunion - so the show producers put all the terms in the show title hoping that one will stick.
This show is the first time Ruben and Clay have performed together on a national stage since their dramatic American Idol finale in 2003, where Ruben soundly beat Clay for the title. This years Broadway show will see Ruben and Clay in a far less competitive environment where they will present holiday music and songs, skits and even do some light comedy in a show designed for the family looking for some PG rated holiday fun. The only problem is that most children will probably have no idea who these people are and may just be there to appease their parents, who will likely be more familiar with the discography of these C-list singing stars. No word yet if the producers will be working on a Broadway version of From Justin to Kelly (starring Kelly Clarkson and Justin Guarini) for next year, but lets keep our fingers crossed, until then I will keep playing my copy of it on my prized Laserdisc player and I may even break out the BetaCam.
What's
Ruben & Clay's Christmas Show

Like?
This show is scheduled for performances for four weeks in December and has a haphazard performance schedule. If the show is a success, both performers have indicated their interest in making it an annual event.
It remains to be seen if Broadway audiences have forgiven last years big holiday show, Home For The Holidays, that tried the same kind of format and was poorly received. That show pitched itself as a seasonal revue featuring vibrantly talented performers singing an array of holiday classics. Among the performers there were three winners of major singing competitions: Candice Glover, who won the 12th season of American Idol, Josh Kaufman, who won the sixth season of NBC's The Voice, and Bianca Ryan, who won the first season of NBC's America's Got Talent at the age of 11. Since winning these widely distributed singing contests, each of these singers has gone on to have an impressive career, but none of those accolades mattered when the show became a holiday disaster with critical rebuke and a complete collapse in box office receipts, despite the show performances happening during NYC's busiest season. Even Danny Aiello could not turn around this stinker. It's not for me to say that Home For The Holidays was terrible, but it got so bad that the bouncers were throwing people in.

Is
Ruben & Clay's Christmas Show

Good for Kids?
The show is good for families but children under the age of 4 are not permitted in the theatre and some of the jokes will go over children's heads.
Imperial Theatre
249 West 45th Street
New York, NY 10019
Entrance:
45th Street, between 7th and 8th Ave
Theatre Information
Joash Pultz/Amplified Entertainment