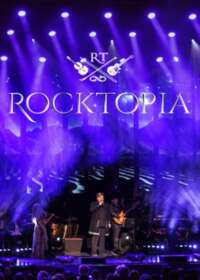 Rocktopia
Broadway Show Tickets: Show Closed No Longer Available
Rocktopia on Broadway: Show Is Now Closed
Show Status: Closed

Genre: Special Event

Rocktopia is 2.5 Hours long, including an intermission of 15 Minutes

8 Shows per week

Previews Began: March 20, 2018

Show Opened: March 27, 2018

Show Closed: April 29, 2018
This spring 2018, Rocktopia is set to dazzle audiences at the Broadway Theatre. The brainchild of veteran Broadway musical performer Rob Evan, Rocktopia is the fusion of classic rock and classical music, literally. While other Broadway shows, from The Phantom of the Opera to Rent, have found success in blending these two musical styles, Rocktopia does so in a more literal way.
Rocktopia

on Broadway Background
The score is made up of an amalgam of classic '80s rock songs and well-known classical arias, seeking to honor both art forms by highlighting the commonalities between them. The musical innovators behind the songs selections include "Mozart", "Heart", "Beethoven", "Journey", "Handel", "U2", "Rachmaninoff", "Foreigner", "Tchaikovsky", "Queen", "Copland", and "The Who", among others. Evan has appeared on Broadway previously in musicals including Les Misérables, where he played Jean Valjean in the 1990s, as well as the title roles in Jekyll & Hyde, multiple parts in the revival of Little Shop of Horrors in 2004, and the role of Kerchak in Tarzan in 2007.
While none of these were original cast member parts, Evan nevertheless has been able to build a breadth of experience on the Broadway stage. In addition, he is a longtime performer with the Trans-Siberian Orchestra, an American progressive rock band that also blends the genres of classic rock and classic music, participating in the albums "The Lost Christmas Eve" and "Night Castle."
Rocktopia has been cited as a musical revolution, fusing the timeless styles of classic rock and classical music, based on the premise that if Mozart and Beethoven were alive today, they would be considered rock stars. Pioneered by Rob Evan, along with his musical collaborator Randall Craig Fleischer, the show promises to offer one-of-a-kind, spine-tingling musical arrangements. The large group of performers includes a choir of 40, an orchestra of 20, a 5-piece rock band, and a group of talented lead vocalists. In addition to Rob Evan, they include singers Chloe Lowery, Tony Vincent, Kimberly Nichole and Alyson Cambridge. Along with violinist Máiréad Nesbitt, guitarist Tony Bruno, pianist Henry Aronson, bass player Mat Fieldes, and drummer Alex Alexander. Rocktopia seeks to break down the barriers between these two genres, which are normally considered entirely separate from one another, demonstrating their parallels while honoring both styles through original new pieces.
Is
Rocktopia

Good for Kids?
Yes, the show is appropriate for all ages. Children under the age of 4 will not be permitted in the theatre.
Broadway Theatre
1681 Broadway
New York, NY 10019
Entrance:
53rd Street Between Broadway and 8th Avenue
Theatre Information
William Franzblau (Executive Producer)
Randall Craig Fleischer + Robert Evan
Press Agent

Vivacity Media Group