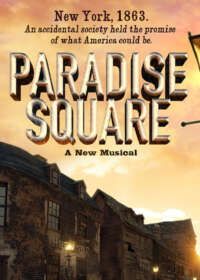 Paradise Square
Broadway Show Tickets: Show Closed No Longer Available
Paradise Square on Broadway: Show Is Now Closed
Show Status: Closed

Genre: Musical

Paradise Square is 130 minutes long, including an intermission of 15 minutes

8 Shows per week

Previews Began: March 15, 2022

Show Opened: April 3, 2022

Show Closed: July 17, 2022
During the American Civil War, four people from diverse backgrounds have conflicting ideas about what it is to be American. Their disparate opinions collide in NYC's Paradise Square.
Paradise Square

on Broadway Background
Show Has Been in Development For Over a Decade
Paradise Square has been in development for a decade and it finally made it on to the great white way in 2022 after a number of rewrites and reworks.

The show features Five Points, which was a slum area in the Lower Manhattan area, which was also heavily featured in the 2002 movie Gangs of New York. That movie saw box office and critical success and was directed by Martin Scorsese. The movie starred Leonardo DiCaprio, Daniel Day-Lewis, and Cameron Diaz.

The Broadway show features songs by Stephen Foster, who was a prominent 19th-century American songwriter who specialized in music for tap dance, which has some origins in Five Points.
Return To Broadway for Garth Drabinsky - Producer Convicted of Fraud in 2009
This show is produced by the Canadian Impresario, Garth Drabinsky. It is his first return to Broadway since a 2009 conviction of charges of fraud and forgery against him. Drabinsky was sentenced to seven years in prison for his actions at Livent, which was a publicly traded theatre production company, also known as "Live Entertainment Corporation of Canada, Inc".
Accounting Fraud
Drabinsky was found guilty of fraud and forgery in Ontario Superior Court, Canada for misstating his company's financial statements between 1993 and 1998. It is unclear if Drabinsky will operating the books at Paradise Square. Drabinsky's involvement with the show is seen as a major distraction and is often the biggest elephant in the room during press interviews.
What's
Paradise Square

Like?
Paradise Square is a new musical set in 1863 that explores what it means to be American in 19th-century New York City.
American Civil War Comes to NYC
The American Civil War ran from Apr 12, 1861 – Apr 9, 1865, but the residents of New York City had little interest in the war. They instead were focusing on their own survival and existence from day to day. The show is set during the deadly NY Draft Riots of July 1863, where President Lincoln instituted the first Federal Draft to support the Union Army where they tried to conscript in the poorest neighborhood in NYC and things did not go well.

Set in the Five Points Slum, NYC
This was the dangerous NYC slum neighborhood of Five Points, where Irish immigrants live alongside free-born Black Americans. These two bottom-rung communities co-existed and shared their culture of drinking, violence, womanizing and dancing in the worst of neighborhoods, but their best of times.
The American Civil War rears its ugly head and forced conscription drives this community in a new direction. That new direction is revolt!
Is
Paradise Square

Good for Kids?
Despite its adult themed content this show may be appropriate for children over 16
Ethel Barrymore Theatre
243 West 47th Street
New York, NY 10019
Entrance:
47th Street, between 8th and Broadway
Theatre Information
Paradise Square Marquee
Nelly Freeman

Joaquina Kalukango
Annie O'Brien

Chilina Kennedy
Frederic Tiggens

John Dossett
Washington Henry

Sidney DuPont
Owen Duignan)

A.J. Shively
Rev. Samuel Jacob Lewis

Nathaniel Stampley
Angelina Baker

Gabrielle McClinton
Milton Moore

Jacob Fishel
'Lucky' Mike Quinlan

Kevin Dennis
Choreographer

Bill T Jones
Musical Staging

Graciela Daniele
Music Supervisor, Orchestrator, Arranger

Jason Howland
Scenic Design

Allen Moyer
Costume Design

Toni-Leslie James
Lighting Design

Donald Holder
Projection Designer

Wendall K. Harrington
Special Effects

Gregory Meeh
Book Writer

Christina Anderson
Book Writer

Marcus Gardley
Book, Music, Conceiver, Arranger

Larry Kirwan