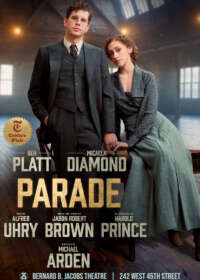 Parade
Discount Broadway Tickets
Discount Broadway Tickets For Parade
Show Status: Currently playing at the Bernard B Jacobs Theatre

Genre: Musical

Parade is 2 hours 20 minutes long, including an intermission of 15 minutes

8 Shows per week

Previews Began: February 21, 2023

Show Opened: March 16, 2023

Show Closes: August 6, 2023
Ben Platt plays Leo Frank, a factory boss convicted of killing a young girl in a case tainted by antisemitism and early 20th century injustice
Parade

on Broadway Background
The 2023 revival of Parade is directed by Michael Ardenhad, who headed the recent seven-performance tryout run of the show at the New York City Center that took place in the Fall of 2022.

The City Center production garnered strong reviews in its very short tenure, but this may have been the plan all along.
Previous Incarnations Of The Show
The show has been known to have many other brief runs
1998 Version of Parade on Broadway
In November 1998 Parade opened at the Vivian Beaumont Theatre in Lincoln Centre, but closed at a loss in February 1999. The show received poor reviews and it appeared little more than a minor footnote in Broadway history.
Even though the run was commercially and critically unsuccessful, it still managed to win TONY Awards for both book and score - which just goes to show that about anyone with some pull can win a TONY Award.
1935 Version of Parade on Broadway
The 1935 version of the show at the Guild Theatre (Now The August Wilson Theatre) did not fare any better, opening in May 1935 and closing a few weeks later in June. The show failed to find an audience and failed to impress critics.

Ben Platt plays Leo Frank, a factory boss convicted of killing a young girl in a case tainted by antisemitism. The trial comes at a time just prior to the World War I where Fascism began building its roots in society and the world was about to experience the most destructive war of all time, WWI.
Timely Exploration of Fascism In The US
The musical's exploration of antisemitism has made it timely, when there is rising concern about Fascism in the United States and beyond and attacks upon Jews are becoming prevalent in society.
The story that the show depicts about Leo Frank and his wife is real. Frank was convicted in 1913 and then lynched in 1915 at the age of 31 after two years on death row. In 1986 Frank was posthumously pardoned, but that was 70 years too late.
This show is not appropriate for anyone under the age of 16 years old.
This production contains theatrical haze, flashing lights, graphic violence, themes of racism, anti-Semitism, and white supremacy.
Parade

Ticket Lottery and Rush Schedule

Every day there are discounted Broadway show tickets sold as part of the Broadway ticket lotteries or as Rush Tickets Tonight. Tickets are only valid on-the-same-day of the drawing. The following is the daily schedule of the ticket lottery and RUSH ticket pricing.
Online Lottery
Monday, 8:00am
Tuesday, 8:00am
Wednesday, 8:00am
Thursday, 8:00am
Friday, 8:00am
Saturday, 8:00am
General Rush
Tuesday, 10:00am
Wednesday, 10:00am
Thursday, 10:00am
Friday, 10:00am
Saturday, 10:00am
Sunday, 10:00am
Bernard B Jacobs Theatre
242 West 45th Street
New York, NY 10019
Entrance:
45th Street, between 8th and Broadway
Theatre Information
Parade Marquee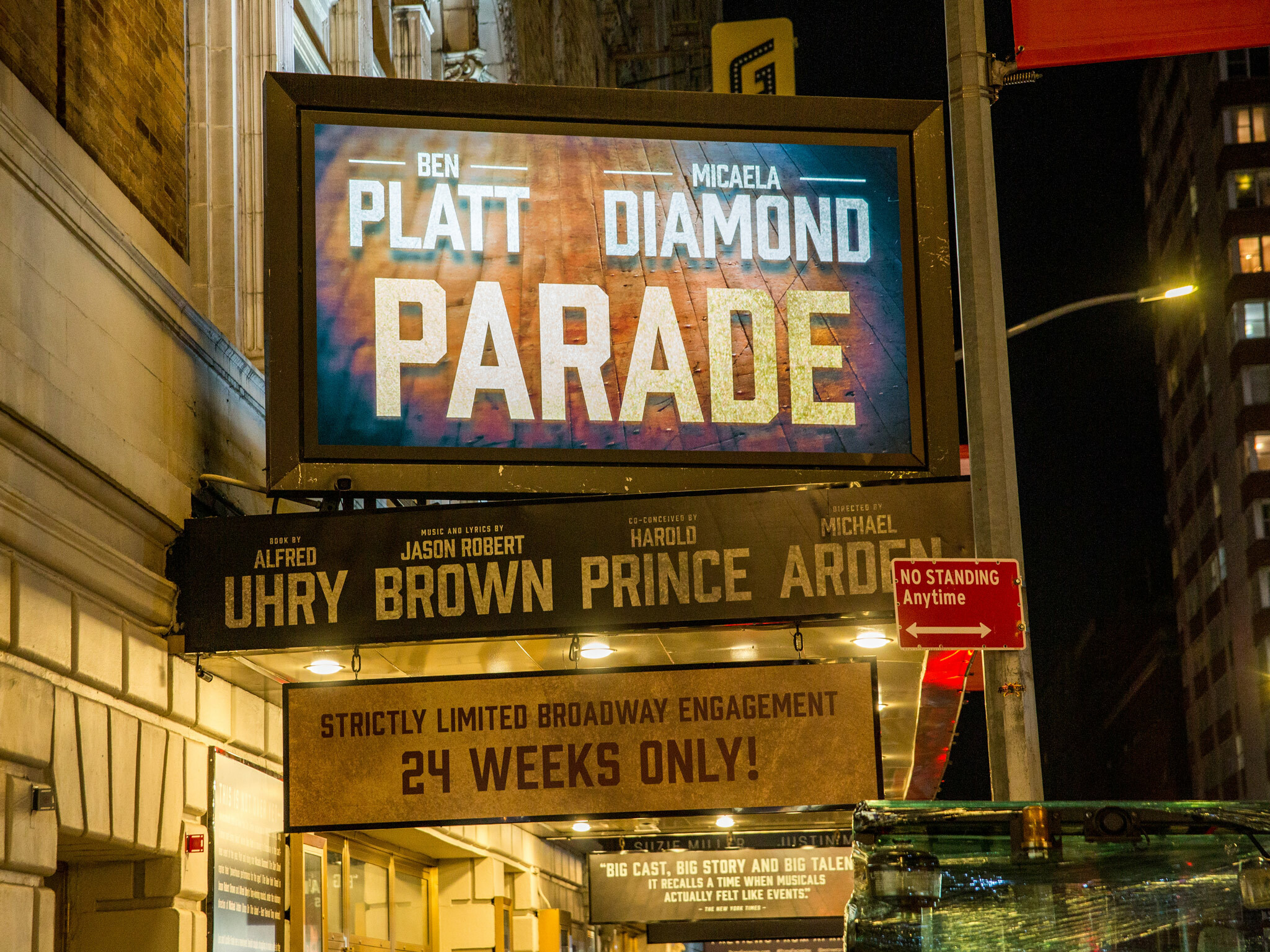 Lucille Frank

Micaela Diamond
Jim Conley

Alex Joseph Grayson
Governor Slaton

Sean Allan Krill
Old Soldier/Judge Roan

Howard McGillin
Hugh Dorsey

Paul Alexander Nolan
Britt Craig

Jay Armstrong Johnson
Mrs. Phagan

Kelli Barrett
Mary Phagan

Erin Rose Doyle
Tom Watson

Manoel Felciano
Minnie McKnight

Danielle Lee Greaves
Frankie Epps

Jake Pedersen