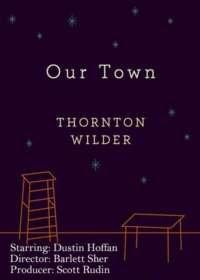 Our Town
Broadway Show Tickets: Not Currently Available
Discount Broadway Tickets For Our Town - This Show Is Now Shelved
Show Status: Shelved

Genre: Play

Our Town is 2 hours and 35 minutes long, including an intermission of 15 minutes

8 Shows per week

Show Closes: Open ended
Modernist metatheatrical play about a fictional American town in 1901, from the perspective of everyday people, as told by the town's theatre stage manager
Our Town

on Broadway Background
Esteemed American actor, Dustin Hoffman returns to Broadway to star in the lead role of the 'Stage Manager' in playwright Thornton Wilder's Pulitzer Prize winning play, Our Town.
The show is overseen by the director, Bartlett Sher, who was also the director on the 2018 Broadway production of To Kill a Mockingbird. Scott Rudin is the show's executive producer and this is his first show post-Covid.
Rudin has also produced countless Broadway hits including The Book of Mormon, West Side Story and King Lear. The announcement for this production came out during the extended Broadway theatre COVID-19 shutdown, which was a global virus pandemic that ravaged New York City and then went on to infect all 50 states.
Our Town is a three part 'Metatheatre' styled play following the story of the fictional small town of Grover's Corner, New Hampshire in 1901 to 1913.
The story is told from multiple peoples perspectives, but mostly the narrative comes from two families who have children who get married to each other.
The theatre stage manager who choreographs a theatrical production within the main show, cleverly narrates the main production as well. The 'meta' nature of the show allows for a high-level, in-depth analysis of the internal production that is unfolding. The characters regularly break the 'fourth-wall' format and talk directly to the audience to tell them what is going on inside the character's head at that point in time.
The stage manager character (played by Dustin Hoffman), speaks directly to the audience the most. His lengthy monologues cover many issues including human psychology, general cognition, and the human issues of mortality. It is the last matter that commences within the third and final act of the play.
Is
Our Town

Good for Kids?
This show is intended for people over the age of 15 due to the intense nature of the topics discussed in the story.
Nederlander Theatre
208 West 41st Street
New York, NY 10019
Entrance:
41st Street between 7th and 8th avenues
Theatre Information
Stage Manager

Dustin Hoffman