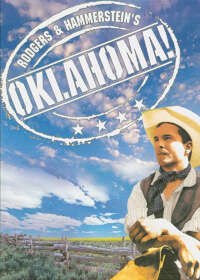 Oklahoma! (2002)
Broadway Show Tickets: Show Closed No Longer Available
Oklahoma! (2002) on Broadway: Show Is Now Closed
Show Status: Closed

Genre: Musical - Revival

Oklahoma! (2002) is 3 Hours long, including an intermission of 15 Minutes

8 Shows per week

Previews Began: February 23, 2002

Show Opened: March 21, 2002

Show Closed: February 23, 2003
Classic Broadway musical following the romantic adventures of several citizens of a small town of Claremore in the up-and-coming state of Oklahoma in 1906
Oklahoma! (2002)

on Broadway Background
Oklahoma! is the first musical written by legendary Broadway writing duo Richard Rodgers and Oscar Hammerstein II. The show is loosely based on Lynn Riggs' 1931 play, Green Grow the Lilacs, which follows a nearly identical plot but with a different ending and altered character names. Oklahoma! made its Broadway debut on March 31, 1943 and became an instant Broadway success. The production ran for over five years, totalling in an unprecedented 2,212 performances as the demand for tickets steadily grew larger and larger after the show premiered. Oklahoma! would go on to be revived on Broadway on four separate occasions, though the 2002 revival is often considered the most successful, as it was nominated for seven Tony Awards and took home the award for "Best Featured Actor in a Musical". The show has seen success in London's West End as well having debuted in 1947 and received two revival adaptations in 1980 and 1998. The 1998 West End revival featured the likes of Hugh Jackman and went on to win several Olivier Awards, including "Outstanding Musical Production" and "Best Set Design". Oklahoma! even received a film adaptation in 1955 starring Gordon MacRae, Shirley Jones, and Rod Steiger, and won several Academy Awards including "Best Music, Scoring of a Musical Picture" and "Best Sound, Recording".
What's
Oklahoma! (2002)

Like?
Oklahoma! follows Curly McLain, a cowboy who falls in love with a farm girl named Laurey. After denying Curly's invitation to a local dance, Laurey decides to go with Jud, the disturbed farm hand with an obsession for her, to spite Curly because she thinks he waited too long to ask her. After learning this information, Curly confronts Jud about Laurey, but only serves to deepen Jud's resolve to have her. Laurey, who has become confused on where her emotions lie, buys a magic potion from a local trader in order to reveal who she truly loves. After a psychedelic experience, Laurey understands that she loves Curly but must find a way to deal with Jud and his growing and dangerous obsession for her.
Is
Oklahoma! (2002)

Good for Kids?
A majority of the show is a light-hearted love story, however the ending of the show becomes darker, dealing with themes of murder and death, thus the show is only suitable for children above the age of 12.
Gershwin Theatre
222 West 51st Street
New York NY 10019
Entrance:
51st Street, between Broadway and 8th Ave
Theatre Information
Ado Annie Carnes

Jessica Bogart
Laurey

Josefina Gabrielle
Andrew Carnes

Michael McCarty
Mike

Michael Thomas Holmes
Cord Elam

Michael X Martin
General Manager

Alan Wasser Associates
Company Manager

Susan Bell
Casting Director

Tara Rubin Casting
Advertising Representative

Serino Coyne
Press Agent

The Publicity Office
Production Stage Manager

Mahlon Kruse
Book & Lyrics

Oscar Hammerstein
Choreographer

Susan Stroman
Settings & Costumes

Anthony Ward
Music Supervisor

David Caddick
Additional Orchestrations

William David Brohn
Musical Director

Kevin Stites
Original Orchestrations

Robert Russell Bennett
Assistant Choreographer

Warren Carlyle